Three ways to look at "gas transition" [Gas Transition]
With the bombardment of energy news that we are daily exposed to, how can we keep track of the impacts of the energy transition on the gas sector?
In this article I want to suggest three perspectives from which to look at what I call "the gas transition". I hope that this might be useful to readers.
1) Electrification and renewable energy
The first important megatrend is the growth of electrification and renewable energy. Electricity supplies only around 20% of the world's energy needs, but that share is expected to roughly double by 2050, as heating, industry and transport are expected to be increasingly electrified.
For the gas industry, electricity generation, industry and residential heating are the three most important sources of demand (in that order). Given the growth of electrification, gas runs a risk of being increasingly pushed out of the residential heating sector and perhaps also the industrial sector.
On the other hand, it could profit from electrification, but here it is facing increasing competition from renewables in combination with storage (batteries) and demand response solutions.
The International Energy Agency (IEA) published a report in September announcing that renewable power capacity additions would see double-digit growth in 2019, and it followed up with a report in October on offshore wind saying that "offshore wind has the potential to generate more than 420,000 TWh per year worldwide", which is "more than 18 times global electricity demand today." Interestingly, the IEA calls offshore wind "the only variable baseload power generation technology" as the offshore wind farms "have capacity factors of 40%-50%."
From countries like the US, Australia and some European countries, comes a steady trickle of reports of utilities opting for "clean energy portfolios", eg some combination of storage, renewable energy, demand response and efficiency, over gas-fired power.
For example, NextEra Energy, the biggest utility in the US, recently said that the cost of renewables and storage, without subsidies, is lower than other forms of power generation, including gas, coal and nuclear. "We see renewables plus battery storage without incentives being cheaper than natural gas, and cheaper than existing coal and existing nuclear," Jim Robo, the CEO, president and chairman of NextEra, told analysts in October.
In Australia, Territory Generation, the electricity company owned by the Northern Territory government, said in September that it faces an "existential risk" from the rise of solar power, which is outcompeting its predominantly gas-fired generation portfolio. And the government of the Australian Capital Territory (ACT) has announced that it will phase out the use of gas and "electrify all new government-owned buildings".
These are just some of many examples. The US-based think tank Rocky Mountain Institute (RMI), which is a good place to look for insights on the competition between "clean energy portfolios" and gas-fired power generation, came out with an interesting report recently on developments in battery technology. It concludes that "rapid advancements in battery technology are poised to accelerate the pace of the global energy transition and play a major role in addressing the climate crisis."
RMI notes that "with more than $1.4 billion invested in battery technologies in the first half of 2019 alone, massive investments in battery manufacturing and steady advances in technology have set in motion a seismic shift in how we will organize energy systems as early as 2030." According to RMI, these investments "will reduce the costs of decarbonization in key sectors and speed the global energy transition beyond the expectations of mainstream global energy models."
This will have significant consequences for gas-fired power generation, notes RMI: "These rapid improvements and cost declines … are already contributing to cancellations of planned natural gas power generation. … Natural gas plants that move forward are at high risk of becoming stranded assets, and as early as 2021, some existing power plants could be more expensive to continue operating than least-cost CEP alternatives, depending on gas prices."
Source: Rocky Mountain Institute, Breakthrough Batteries, October 2019
2) Hydrogen
As readers of this column will know, few experts believe that we can build an energy system on electrification alone, at least within the next several decades. "Gaseous energy", aka "molecules", will continue to play a role. If these are to be zero-carbon molecules, they will come mostly in the form of hydrogen, and then the question for the gas industry becomes: will there be a role for "blue hydrogen" (based on natural gas with CCS), or will the world be able to rely only on "green hydrogen" (based on electrolysis of renewable energy).
I have written about this topic extensively before. My conclusions in a nutshell, based on my interviews of experts and basic calculations: there is no way in which "green hydrogen" can scale up to the extent needed to build a significant "hydrogen economy" for at least several decades, and maybe more. It would make sense, therefore, to invest in "blue hydrogen" as a (long) bridge to a future green hydrogen system. However, that will require investment in CCS, which is currently lagging. The path to a gas-based hydrogen system, therefore, seems uncertain.
But before we can even talk about what type of hydrogen will win, the question to ask is whether hydrogen will get off the ground in the first place. Kobad Bhavnagri, head of special projects at Bloomberg New Energy Finance (BNEF), gave a talk on this topic at a BNEF summit in October, asking whether hydrogen "is really going to be the next big thing"?
According to Bhavnagri, hydrogen is a "huge prize", but to capture it four major hurdles need to be jumped over. The first one is cost: green hydrogen is still ten times as expensive as natural gas. However, costs should continue to fall, said Bhavnagri. By 2030, green hydrogen should be competitive with fossil fuel-based hydrogen and by 2050 it should be competitive with natural gas. (Bhavnagri noted that even today alkaline electrolysers in China are 80% cheaper than the ones made in western countries!)
Second, storing hydrogen is difficult, as it takes up 3.8 times as much space as natural gas. Nevertheless solutions are available, in particular salt caverns and, in places where there are no caverns, pressurized vessels. Conversion to ammonia or other compounds is also possible.
Third, transporting hydrogen is expensive. For short distances, trucks can be used, for longer distances pipelines and for distances over 5,000 km, ships. Yet high storage costs imply that hydrogen might be most efficiently used in large-scale industrial settings, Bhavnagri said.
Fourth, scaling up hydrogen production "requires policy, there is no way around that", noted Bhavnagri. To create industrial hydrogen clusters, will require "carbon pricing, industrial decarbonization policy, green product mandates, hydrogen blending mandates, and heavy transport emission standards". To create a more extensive hydrogen-based energy system, require similar policies, but with even stronger incentives. "Policy is the highest hurdle," he concluded.
Despite the hurdles, Bhavnagri ended on an optimistic note, pointing out that industrial processes in particular, including steel making and chemicals, could be served very well by hydrogen.
What I find interesting about his talk is that he did not even explicitly consider "blue hydrogen". His vision seems to be based entirely on "green hydrogen". Nor did he mention the hurdle of scaling up renewable energy production to produce all this green hydrogen, which seems to me a high hurdle indeed. I find it odd that an analyst from BNEF would provide no numbers on this.
3) Timing
This brings me to the third perspective on gas transition, which is timing. Although the combination of electrification and green hydrogen looks threatening to gas, their development will take a long time.
For the general public, timing is difficult to grasp. People can see that it is possible to replace fossil fuels with renewables, but they usually do not have a clear idea of the sheer size of the replacement that is needed. They tend to think of it perhaps as replacing the old telephone system with mobile phones. But the energy system is a bit bigger than that.
Someone who provides a useful perspective on this is scientist Roger Pielke Jr. In an article on Forbes recently, he calculated that getting to net-zero carbon dioxide emissions by 2050 requires building "a new nuclear power plant every day". Or actually: 1.5 nuclear power plants a day.
Looking at total fossil fuel use today and taking into account reasonable demand growth, to replace the amount of fossil fuels we will be using in 2050, "the world would need to deploy 3 (…) nuclear plants worth of carbon-free energy every two days, starting tomorrow and continuing to 2050," writes Pielke. "At the same time, a (…) nuclear plant worth of fossil fuels would need to be decommissioned every day, starting tomorrow and continuing to 2050."
He does the same calculation substituting nuclear power by wind turbines. In that case, what is needed is construction of about 1500 wind turbines of 2.5 MW every day starting tomorrow and continuing to 2050. The figure below illustrates the challenge: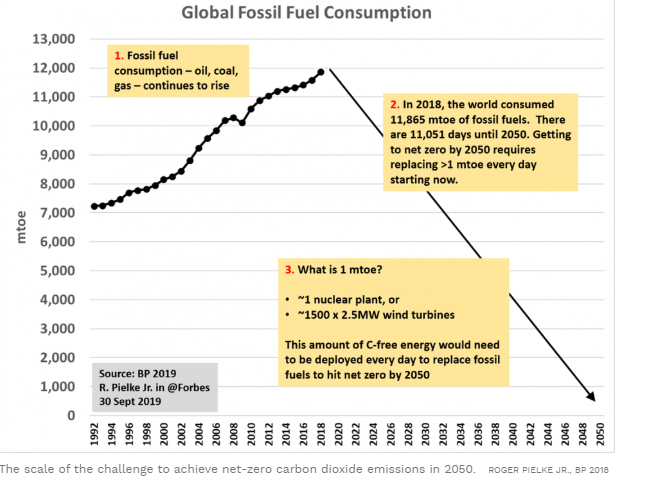 Source: Roger Pielke Jr, Forbes
In a follow-up article, published on 27 October, Pielke looks at what it would take to halve carbon emissions by 2030, and comes to the blunt conclusion that, despite politicians' promises, this is simply not going to happen.
He calculates that, if we assume 2.2% consumption growth per year, the world will need to add about 1,000 mtoe (million tons of oil equivalent) of carbon-free energy every year over the next decade to reduce fossil fuel emissions by half. Last year, a record 114 mtoe was added. To get from 114 to 1,000 is too big a leap for the world to make, argues Pielke.
It would also mean that "the deployment of new carbon-emitting energy would have to cease immediately." This while in 2018 more than 275 mtoe of fossil fuel production was added (more than twice as much as carbon-free sources!). Again, this is not a very likely scenario.
The bottom line, says Pielke, is that "there is simply no evidence that the world is, or is on the brink of" making the "rapid, far-reaching and unprecedented changes" that are needed to meet 2030 climate targets. This seems difficult to deny.
Drastic solutions
For the gas industry there is time, then, to navigate the energy transition. At the same time, it is very unclear at the moment whether the industry should decide to invest in electrification and/or hydrogen and CCS. The oil majors are obviously exploring possibilities in both sectors but have not fully committed themselves to any strategy yet.
In the end the key factor that will determine the future of the energy sector is likely to be government policy, as Bhavnagri of BNEF suggests. The reason is that the only way climate concerns can be addressed is through climate policies.
In this context Dutch energy expert Jilles van den Beukel made a very interesting observation in a column for a Dutch newspaper. He observed that oil companies like Shell use energy scenarios to cope with future uncertainties. Think tanks like the IEA do the same. Why don't government do this, he wondered?
Good question. Clearly it would help enormously if government instead of just setting targets and taking (fairly random) measures to achieve them, would set out various scenarios under which their targets could be reached. The pathways that we have today are all from energy companies or from think tanks and academics. It would be extremely helpful if governments started doing those exercises for themselves. That would make it clear to everyone what has to be done under given circumstances, notes Van de Beukel, for example, if certain climate tipping points are reached.
It might also make it clear, I would add, that perhaps drastic alternative solutions are needed in addition to the current measures. For example, huge programs of tree-planting, or nuclear energy, or soil restoration, or direct CO2 capture – to mention some possibilities. In such a context there could also be much more public support for such programs. This seems to me a more promising approach than taking oil companies to court or blocking public streets.
---
How will the gas industry evolve in the low-carbon world of the future? Will natural gas be a bridge or a destination? Could it become the foundation of a global hydrogen economy, in combination with CCS? How big will "green" hydrogen and biogas become? What will be the role of LNG and bio-LNG in transport?

From his home country The Netherlands, a long-time gas exporting country that has recently embarked on an unprecedented transition away from gas, independent energy journalist, analyst and moderator Karel Beckman reports on the climate and technological challenges facing the gas industry.
As former editor-in-chief and founder of two international energy websites (Energy Post and European Energy Review) and former journalist at the premier Dutch financial newspaper Financieele Dagblad, Karel has earned a great reputation as being amongst the first to focus on energy transition trends and the connections between markets, policies and technologies. For Natural Gas World he will be reporting on the Dutch and wider International gas transition on a weekly basis.
Send your comments to karel.beckman@naturalgasworld.com