Engie to Divest E&P to Carlyle-Backed Neptune
Engie announced later on May 11 that it is to sell its 70% interest in Engie E&P to UK-based Neptune Energy, which is backed by Carlyle Group, CVC Capital Partners and smaller investors. The remaining 30% has been owned since 2011 by Chinese sovereign wealth fund CIC.
Carlyle said Neptune Energy has entered into an exclusivity agreement under which it proposes to acquire Engie E&P for $3.9 bn (€3.6bn).
Neptune is led by Sam Laidlaw, who has more than 30 years' experience in the energy sector at Hess, Enterprise Oil (until its takeover by Shell), US major Chevron, and CEO from 2006 to 2014 of UK marketer Centrica. Subject to regulatory approvals, the completion is expected by early Q1 2018.
The deal will mean Engie's complete exit from the upstream, with the exception of a partial stake in Algeria.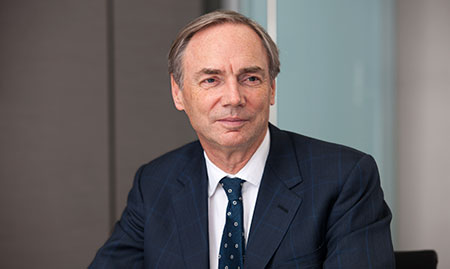 Neptune executive chairman, minus trident, Sam Laidlaw (Photo credit: Rio Tinto)
Engie E&P at 100% equity has production of more than 150,000 barrels of oil equivalent/day, plus proven and probable reserves of 672mn boe, split roughly between oil and gas across the North Sea, North Africa and South-East Asia regions.
Under the envisaged transaction, Engie would keep a 30% interest in the Touat gas project (currently Engie E&P 65%, Algerian state Sonatrach 35%) now under development in southwest Algeria, which is officially due to start up this year but which many expect to slip into 2018; plateau production at 100% from the ten Touat fields is 4.5bn m³/yr.
Engie said the planned divestment represents "a major step in the implementation of its .. plan.... to reduce its carbon footprint and exposure to commodity prices", adding that the deal's net value of €3.6bn translates into €4.7bn gross less €1.1bn of decommissioning liabilities. Its CFO Judith Hartmann said, once completed, Engie will have fulfilled 70% of its €15bn divestment programme, and cut Engie's debt by €2.4bn.
Neptune executive chairman Sam Laidlaw said his ambition was "to create a leading international independent E&P company within the next five years." Laidlaw is also a non-executive director of mining giant Rio Tinto, as coincidentally is former Shell CFO Simon Henry.
In just the last seven months, Carlyle has been involved in deals to buy Shell's onshore E&P business for $587mn and Total's Atochem chemicals business for $3.2bn. It has also begun appraisal drilling offshore Romania for gas. Other private equity funds meanwhile have been involved in buyouts of major E&P businesses, such as of Shell interests in the UK North Sea.
Mark Smedley