Shell Announces $3.8bn N Sea Sale
Shell said January 31 it is to sell a package of mostly former BG UK North Sea assets to UK-based Chrysaor for up to $3.8bn, including an initial sum of $3bn and a payment of up to $600m between 2018-2021 subject to commodity price, with potential further payments of up to $180m for future finds.
The package of mainly gas assets consists of Shell field interests as follows: Buzzard (21.73%), Beryl (39.4%), Bressay (18.4%), Elgin-Franklin (14.1%), J-Block (30.5%), the Greater Armada (76.4%), Everest (100%), Lomond (100%), Erskine (32%) and Schiehallion (10%). Shell is the operator of Armada, Everest and Lomond so, upon completion of the sale, Chrysaor will assume operatorship of those assets.
Except at Schiehallion, where Shell will retain a 45% stake, the percentages listed above represent Shell's total interest in each of the assets. Its divestment at Greater Armada will exclude the small Gaulpe oil and gas field.
The package represents total production of some 115,000 barrels of oil equivalent/d (Shell share) in 2016. Shell's total UK North Sea production during 2016 was around 211,000 boe/d. Chrysaor said it is acquiring more than 350mn boe of proven and probable (2P) reserves in the deal. Following completion, Shell will retain "a significant, more focused and strengthened presence in the UK North Sea" with production from the Schiehallion redevelopment and Clair Ridge project expected to come onstream. On completion, around 400 staff are expected to transfer to Chrysaor.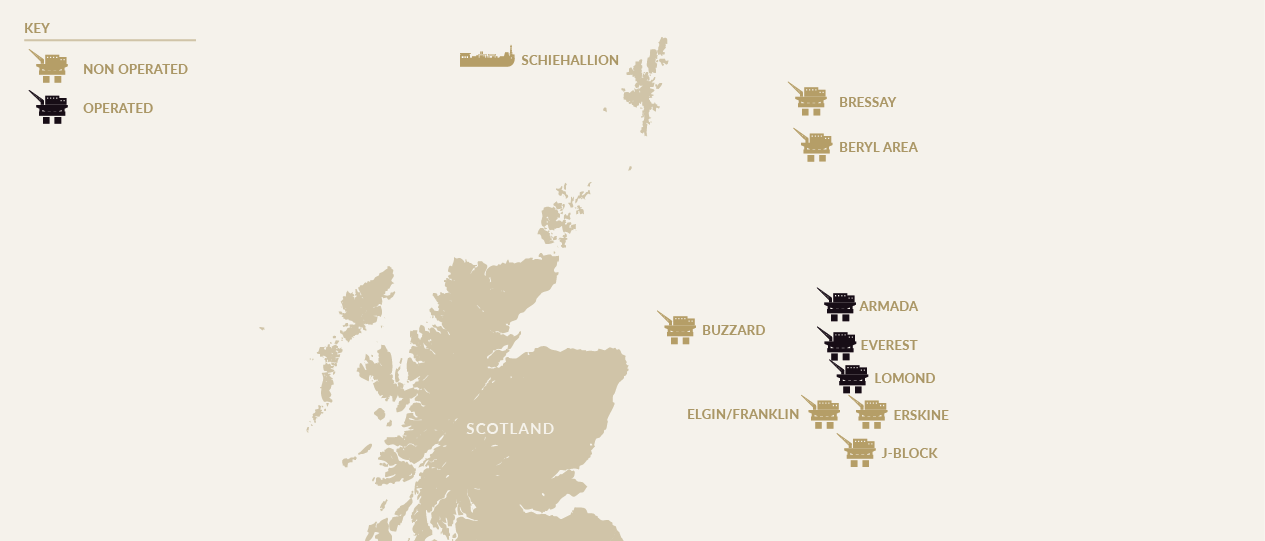 Map of Shell stakes in UK North Sea fields that will transfer to Chrysaor (Map credit: Chrysaor)
Based on the initial consideration received, Shell expects to record an accounting gain on sale against the values of both the Shell and former BG assets included in the package. The decommissioning costs associated with the package are currently expected to be $3.9bn, of which Shell will retain a fixed liability of $1bn and Chrysaor will assume the remaining liability.
The deal is subject to partner and regulatory approvals, with completion expected in 2H2017. The transaction's effective date is 1 July 2016.
Chrysaor said it is to establish the leading UK independent E&P company.
CEO Phil Kirk said: "Chrysaor is acquiring a high quality package of assets which combine low cost production, a substantial reserves and resources base with strong cash flows and a highly competent and skilled workforce. These assets, combined with our own experience and the outstanding team who will transfer from Shell, provide an excellent platform for change and growth in the North Sea."
North Sea-focused Chrysaor is backed by US private equity fund EIG Partners, which already has stakes in US firms Cheniere and Chesapeake.
Shell upstream director Andy Brown said: "Shell has a long and proud history in the UK North Sea, to which we remain committed. This deal complements the great strides we have made over the last two years in improving the competitiveness of our UK upstream business. We believe this deal is a vote of confidence in the UK North Sea and offers proof that the industry's increasing competitiveness."
Reports that Shell was about to sell over $3bn of North Sea assets emerged in the media late last week but both parties declined to comment.
Shell also January 31 announced the planned sale of its stake in the Bongkot gas field in Thailand to Kuwait's Kufpec.
Mark Smedley