Turkish hopes pinned on Sakarya success [Gas in Transition]
Turkey's state oil and gas firm is pressing ahead with plans to develop its Black Sea gas deposits, announcing encouraging well test results in January at the Sakarya gas field. First gas is anticipated in 2023 and Turkish Petroleum (TPAO) has enlisted the support of a third drillship to expedite a 10-well drilling campaign, while further exploratory work will continue nearby.
The field's development comes at a critical juncture for Ankara, which has seen gas contracts come up for renewal as its currency depreciates and energy prices rise.
Results
In early January, the company reported that the Türkali-1 appraisal well had achieved a daily flow rate of 1.15mn m3/day of gas from the R2 reservoir, estimating that the well could potentially produce at a rate of 2.7mn m3/d.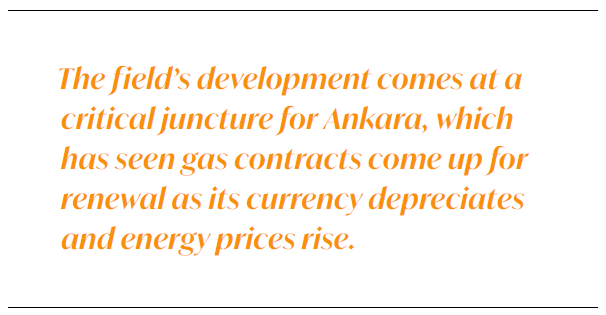 "The well flow test will continue with the next reservoir level, and the data obtained will be used for the optimisation of the preliminary engineering and design studies to be completed immediately after the well test in the development of the field," TPAO said in a statement via its Twitter page.
The results are a marked improvement from Türkali-2 which flowed at 0.623mn m3/d in August last year, underperforming a test a month earlier that suggested the reservoir reach around 1.2mn m3/d.
In early February, TPAO CEO Melih Han Bilgin said that the Türkali-1 test "proved excellent well deliverability and reservoir connectivity. He noted that having now completed tests on five reservoirs at Türkali-1 and Türkali-2 using the Kanuni drillship, "all planned well tests [have now been] completed successfully".
TPAO has so far drilled and completed six Türkali wells to target the discovery it made in August 2020 at the Tuna-1 drill site. This hit 320bn m3 of gas, which was upgraded to 405bn m3 and renamed Sakarya two months later. The field was expanded further in June 2021 when TPAO announced the discovery of another 135bn m3 with the Asmara-1 well.
To this point, the drilling and test work has been carried out by the Fatih and Kanuni drillships, though local reports suggest that they will soon be joined by the Yavuz with a recently acquired fourth drillship potentially joining in on the project midway through the year.
Fatih is currently carrying out work to complete the Türkali-7 appraisal well before repositioning and resuming exploratory drilling as TPAO seeks to expand the discovery eastwards.
Speaking in early January, Energy and Natural Resources Minister Fatih Dönmez said: "We are preparing for exploratory drilling in a new area adjacent to the Sakarya field. I hope we will share similar good news in 2022."
Kanuni will continue with completion work and Yavuz is expected to mobilise to Sakarya in March to begin installing wellhead and other equipment on the seabed.
Ankara announced in November that TPAO had acquired a fourth drillship, the West Cobalt, from South Korea's Daewoo Shipbuilding & Marine Engineering (DSME), and this unit is expected to be mobilised to carry out exploratory work from the summer of 2022.
Start-up
While already the country's largest hydrocarbon project, the development of Sakarya is given greater significance by the planned timing of its launch. The field is seen feeding around 3.65bn m3/year into the domestic grid during 2023, which marks a century since Mustafa Kemal Atatürk founded the Turkish republic, hence the diversion of all available E&P resources to focus on its timely development.
Tie-back work is also ongoing following the award of a major engineering, procurement, construction and installation (EPCI) contract to US firm Schlumberger and Luxembourg-registered Subsea 7 in October. This centres on the construction of a 9.9mn m3/d early production facility (EPF) and a 170-km of gas export pipeline connecting Sakarya to the port of Filyos, where the foundations of a gas processing facility were laid in June.
The companies will also provide infield flowlines, tie-in connections, associated subsea equipment and a monoethylene glycol (MEG) injection pipeline alongside subsurface solutions to facilitate.
Italy's Saipem was hired in November to install the tie-back pipeline, while UK-based Wood Group was contracted to provide integrated project management consultant (PMC) for the first EPCI phase.
Deliveries of pipe to Filyos began in January with pipeline construction expected to begin once the full consignment has been received. The installation of the tie-back pipeline is expected to take around five months and will be completed by year-end.
TPAO's capital expenditure to deliver first gas to processing facilities at Filyos is estimated at around $3.0-3.5bn.
An earlier plateau production target of 15bn m3/yr by 2025 now appears to have been pushed back with local media citing a date of 2027/28 for the field to reach a "sustainable production plateau".
Supply security
The ramping up of development efforts at Sakarya comes as Ankara faces serious concerns about long-term energy security in the face of rising prices, the depreciation of the lira and Iranian supply issues.
A "technical issue" with a pipeline in Iran led to industrial users facing supply cuts of up to 40% for a week or so in late January before flows ramped back up. The National Iranian Gas Co. (NIGC) provides Turkey with 9.6bn m3/yr via the Tabriz-Ankara Pipeline under a deal that expires in mid-2026.
Such interruptions have happened before, but with Iranian demand continuing to outpace production despite ramping up output at the supergiant South Pars, particularly in winter months, issues like this may become more frequent.
Iranian gas supplies play an important role in diversifying Turkey's import slate away from Russia and Azerbaijan, which together account for around 73% of the country's 58bn m3/yr total.
Over the last year, Turkey has sought to renew long-term international supply contracts covering billions of cubic metres of gas, with 15.9bn m3/yr worth of gas contracts expiring in 2021 alone (see table 1). Midstream operator BOTAS announced deals in October and January for the renewal of deals with Azerbaijan Gas Supply Co. – in which TPAO owns a 15.2% stake – and Gazprom, respectively. At three and four years, these are modest extensions but will provide 6.15bn m3/yr more than the expired agreements.
BOTAS is yet to extend the 1.34bn m3/yr contract with Nigeria LNG (NLNG) that ended in October, while negotiations between Gazprom and seven private sector companies – Akfel Gaz, Avrasya Gaz, Bati Hatti, Bosphorus Gaz, Enerco, Kibar Enerji and Shell Enerji – are understood to remain ongoing to extend their 4bn m3/yr deal that expired in December.
While the renegotiated contracts provide some flexibility, Turkey relies on LNG (mainly spot) cargoes from Morocco, Qatar and the US for around a third of gas consumption and this has been made even more costly by the lira's freefall.
Amid such concerns, Turkey's relentless push to bring Sakarya online is unsurprising. Its gas cannot come soon enough for Ankara and it will play a key role in shoring up supply security in the long term.