Qatar prepares for LNG lift-off [Gas in Transition]
State-owned QatarEnergy started the year with a bang, handing out major offshore engineering work that will facilitate the tiny island nation's huge liquefaction capacity expansion.
McDermott International was awarded a multi-billion-dollar engineering, procurement, construction and installation (EPCI) contract in early January for the offshore scope of Qatar's North Field Expansion project, which is key to ambitious plans to ramp up LNG output.
Expansion
The contract is the latest to be awarded under the approximately $29bn development which will expand total liquefaction capacity from 77.9mn metric tons/year to 110mn mt/yr by 2025 or 2026 by tapping North Field East (NFE), with the addition of North Field South (NFS) raising capacity to 126mn mt/yr by 2027. It is the world's single largest LNG project.
Having awarded billions of dollars' worth of contracts for the project in 2021, the company is keen to maintain the momentum in 2022, particularly with the US set to take the global LNG export top spot having shipped 7.7mn mt in December and cargoes seen reaching 88mn mt this year.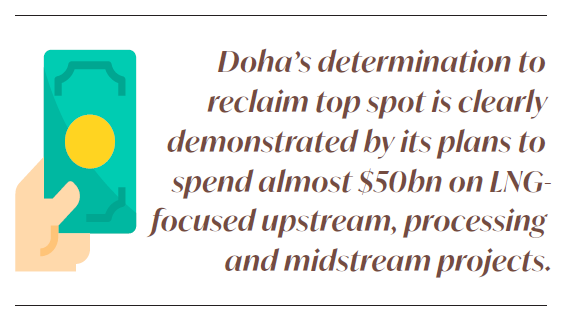 Qatari capacity has changed little over the last decade while Australian output has risen sharply, seeing it take first place in 2021, with the US following the same trajectory. In 2021, American, Australian and Qatari cargoes accounted for around 60% of total global LNG exports
This poses stiff competition for Doha though QatarEnergy still stands to benefit from the US surge, albeit marginally, owing to its 70% stake in the Golden Pass facility where capacity will increase by 2.5mn mt/yr to reach 18.1mn mt/yr by 2026.
According to data from the US Energy Information Administration (EIA), Qatar will regain its crown in around 2025 as the first North Field projects come to bear.
Doha's determination to reclaim top spot is clearly demonstrated by its plans to spend almost $50bn on LNG-focused upstream, processing and midstream projects. Meanwhile, the progress it has made in the sector since beginning exports in 1997 has given rise to confidence that it can go it alone where necessary. In April, it announced it would not renew the Qatargas Liquefied Natural Gas Company Ltd (Qatargas 1) joint venture's concession when it expired on December 31 and QatarEnergy subsidiary Qatargas has now assumed full control.
Awards
McDermott's North Field Expansion contract covers topsides, offshore pipelines and subsea cables for NFE and includes an option for the award of topsides for NFS which is expected to be made later in the year. The company said that the contract is one of the largest deals it has ever been awarded, with estimates pegging the total value at $3-4bn.
The US firm will fabricate and install eight wellhead topsides for NFE and another five for NFS, more than 500 km of pipelines and over 225 km of subsea cables, with the subsea infrastructure and four of the topsides to be built at the QFAB yard in Qatar. The remainder will be fabricated in Indonesia and shipped to the Gulf.
The deal takes the total value of North Field Expansion contracts awarded by QatarEnergy in the past 12 months beyond $20bn.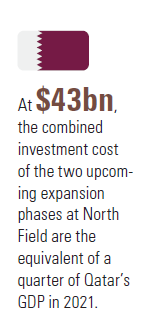 The largest of these was the $13bn EPC deal signed with a JV of Japan's Chiyoda and Paris-based Technip Energies in February covering the construction of four LNG mega-trains and associated facilities. Meanwhile, a $1.7bn EPCI went to Italy's Saipem for various offshore facilities; while a $2bn lump-sum EPC contract was handed to Samsung C&T for the expansion of LNG storage and loading facilities and a contract worth an initial $500mn was awarded to Spain's Tecnicas Reunidas for the expansion of liquid products storage and loading, both at Ras Laffan Terminal.
Aside from these major contract awards, Doha has also splashed the cash to expand its fleet ahead of the anticipated increase in LNG availability.
In 2020, QatarEnergy reserved capacity for LNG carrier construction with South Korean and Chinese shipyards to build as many as 100 new LNG carriers by the end of 2027 in a programme worth more than $19bn. Late last year, it placed a $770mn order with China's Hudong-Zhonghua Shipbuilding Group for four vessels, then two further orders for four and two vessels with Daewoo Shipbuilding & Marine Engineering (DSME) and Samsung Heavy Industries (SHI), respectively. Qatargas' existing fleet consists of 45 Q-Flex and Q-Max LNG carriers.
Sales deals
Meanwhile, a raft of new long-term supply deals have also been signed to help cover these costly developments.
Last year alone, nine sales and purchase agreements (SPAs) were agreed with customers in Asia. Of these, cargoes running at 12.75mn mt/yr begin this month, with another for 1mn mt/yr to start by early 2023.
These will deliver a combined total of more than 186mn mt of LNG to customers in China, Pakistan, South Korea and Taiwan over periods of 10, 15 and 20 years.
The timing is opportune, with 10 or more of Qatar's medium and long-term gas supply contracts covering nearly 17mn mt/yr said to have expiry dates between 2021 and 2025, and more deals should be anticipated in the coming months.
Differentiation
With Qatari flows to Asia accounting for more than 59mn mt during 2021 and this number set to rise further, Doha's gaze is clearly facing eastwards. This is true of both Australia and the US, however, the economies of scale offered by the supergiant North Field gives Qatar wellhead costs of just $0.3/mn Btu or less and a project breakeven price below $5/mn Btu, far lower than its competitors.
This has allowed Doha to be aggressive with its pricing, as it stakes its claim for market share and as the emirate moves to control more and more of its supply chain, it is likely to be able to further differentiate from other suppliers on cost.
Meanwhile, following its rebrand from Qatar Petroleum, QatarEnergy is positioning itself as a global "energy transition partner" and intends to benefit from the lower carbon emissions associated with gas.
When launching the new brand, HE Saad Sherida Al-Kaabi, Qatar's Energy Minister and the President and CEO of QatarEnergy said: "We are making sure that we protect our environment by keeping our carbon footprint at a minimum. This is why we are utilising sophisticated carbon sequestration methods to capture and sequester 9mn tonnes of CO2 a year by the end of the decade."
These credentials will be further burnished when the company enters the nascent market for blue hydrogen, another area in which its low-cost gas production will be a competitive advantage.