Gazprom Could Join Tap Through Open Season
Russian gas exporter Gazprom could use additional capacity in the TransAdriatic Pipeline (TAP) to bring its gas to Europe, it emerged this week. TAP was built on the premise that it would allow new sources of gas into Europe, but theoretically Gazprom could end up with half the line's capacity, if it is doubled.
The line is now being built in Greece, Albania and Italy and it is fully committed to transporting Shah Deniz 2 gas from Azerbaijan section of Caspian to Europe, the company told NGW.
TAP is underpinned by a long-term gas transportation agreement for a period of 25 years with initial volumes of 10bn m³/yr. "Our pipeline is strategically important for Europe to diversify gas supply sources in southeast Europe," TAP said, adding that it has been designed with option to expand to 20bn m³ as and when further gas volumes come on stream.
But in his address to the European Gas conference in Vienna January 24, Gazprom deputy chairman Alexander Medvedev said Russia's monopoly may be interested in using the TAP to deliver Russian gas to Italy.
According to TAP, the pipeline's capacity could be doubled with construction of additional compressor stations along the route.
The pipeline will be expanded based on a completed open season, TAP said. It expects the next open season no later than the start of TAP's commercial operations date and in line with TAP's regulatory obligations.
The actual expansion time will depend on the outcome of that open season and the technical solution that needs to be implemented. TAP is expected to become operational in early 2020 when Shah Deniz 2 gas reaches Turkey's border with Greece.
While TAP declined to comment on Gazprom's recent remarks, some of its individual shareholders have not offered resistance.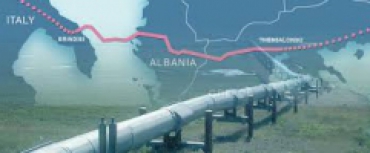 (Credit: TAP)
"If a shipper of any gas requests transportation capacity in TAP on the secondary market or during the open season and complies with the regulatory framework, TAP will provide capacity and services to any other third party shipper," Enagas told Azerbaijan's news outlet Trend.
Representatives of Fluxys and Snam also reportedly raised no objections when asked about this at the European Gas Conference in Vienna this week. If there are no other shippers able to deliver gas to the starting point of TAP and Gazprom bids high enough to justify expansion, then it could win all the new capacity.
Olive branches
Progress in laying the pipeline in Italy has been discussed at the country's economic development ministry with Azerbaijan's ambassador to Italy Mammad Ahmadzade. Azerbaijan's energy ministry reported that the talks referred to the local difficulty posed by a grove of olive trees that stand in the way of the pipeline.
Local authorities in Puglia, where TAP has to come ashore in Italy, were concerned with the preservation of the local olive trees. The TAP consortium obtained a permit to move 231 olive trees in order to save them.
Italian officials assured the ambassador that the relevant agency in Puglia is expected to issue permission for that in the near future. Work is underway to get timely permissions for other phases of the project, they said.
TAP's shareholder Snam also awaiting permission to lay a pipeline from San Foca to Brindisi, which will connect TAP to Italy's national transmission system. TAP will transport natural gas from Shah Deniz 2 from Greece–Turkey border at Kipoi, Evros, where it will be connected with the Trans-Anatolian gas pipeline.
It will run across Greece, Albania and the Adriatic Sea and come ashore in Italy near San Foca.
The total length of the pipeline will be 878 km. TAP's shareholders are the UK major BP, Azerbaijan state oil company Socar, Italy's Snam, Belgian Fluxys, Spain's Enagas and Swiss Axpo.
Kama Mustafayeva