Gassco Takes over at Nyhamna
Gassco took over October 1 as operator for the giant onshore gas processing plant at Nyhamna on Norway's west coast, as had been expected.
Nyhamna was originally built to handle onshore processing and export of gas from the Ormen Lange field in the Norwegian Sea.
It now can also handle gas from the future Aasta Hansteen and Dvalin fields in the Norwegian Sea that have or will be tied into the Polarled pipeline, following a substantial increase to Nyhamna's process capacity. Gassco said it will now operate Nyhamna and handle its further development, by virtue of its role as the neutral state-owned operator of Norway's offshore gas pipeline system. Aasta Hansteen is due to start producing late 2018 with Dvalin some two years later.
"The Nyhamna expansion project has helped to boost its processing capacity and permits better utilisation of the surplus capacity established earlier in the Langeled pipeline to the UK," said Gassco CEO Frode Leversund: "That provides flexibility and opportunities which in turn create renewed interest in the Norwegian Sea as a gas province. Our goal is to fill the Polarled-Nyhamna-Langeled axis with gas."
Most gas now exported from Nyhamna from Ormen Lange goes to the UK, via the Langeled pipeline that entered service in phases in 2006-2007.

The new Polarled pipeline, running for 482km from Aasta Hansteen to Nyhamna, will also allow the processing plant to receive gas from additional fields. Gassco already took over operatorship of the 70mn m³/d Polarled pipeline, Norway's first to cross the Arctic Circle, on May 1 2017 from Statoil.

Opened 2007, Nyhamna was dedicated to gas from Ormen Lange. With Aasta Hansteen as its second field, it now has a 84mn m3/d (30.66bn m3/yr) export capacity.
"This electrically driven facility allows gas from the axis to be brought to market with very low CO2 emissions per unit of gas delivered," said Leversund, while Shell vice president for Norway Odin Estensen added: "We've prepared well for this change. Gassco is taking over the commitments related to operation and further development."

Ownership of the Nyhamna plant was transferred October 1 from the Ormen Lange licence to the new Nyhamna partnership of Statoil, Norwegian state Petoro, Shell, Ineos, Wintershall, OMV, ExxonMobil, Total, ConocoPhillips, CapeOmega, Edison and DEA.
Shell will remain the technical service provider for Nyhamna, in the same way that Statoil is the Norway's two main Karsto and Kollsnes plants.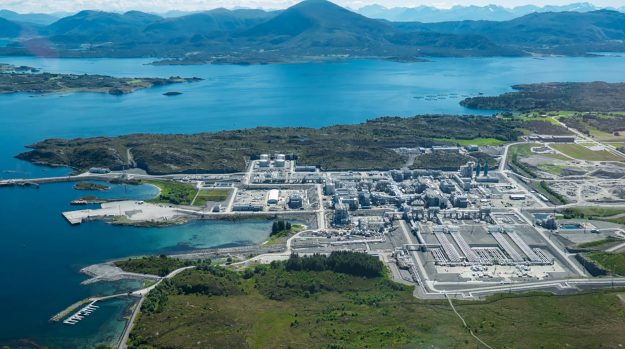 Aerial view of the Nyhamna gas process and export terminal in Norway (Photo credit: Shell)
Mark Smedley