Shell Cleared to Boost Ormen Lange Flows
Norway's upstream regulator said February 10 it has granted consent for start-up of the expansion of the Nyhamna gas plant in mid-Norway, which it said will allow the Shell-operated Ormen Lange field in the Norwegian Sea to boost production by between 25bn and 30bn m³ during the field's lifetime.
The upgrade – also called Nyhamna expansion – consists of two main parts, said the Norwegian Petroleum Directorate (NPD).
The first, expansion of the gas plant, includes land-based compression of gas from Ormen Lange. A new compressor will maintain gas pressure at Nyhamna as pressure in the reservoir drops.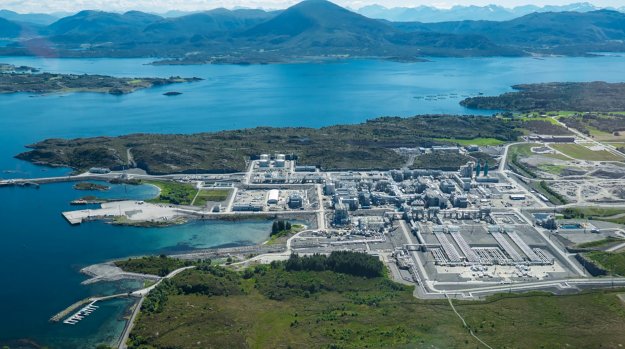 An aerial view of the Nyhamna gas plant, where Ormen Lange gas comes in, and is connected to the Langeled export pipe and now also Polarled pipeline (Photo credit: Shell)
The other part includes export and process facilities for Polarled; this pipeline will transport gas from the future Aasta Hansteen field to Nyhamna.
Polarled compression and export are scheduled to start in autumn 2018. Gas from the Dvalin field, with planned start-up in autumn 2020, will also be transported through Polarled. Shell said five months ago that its "multi-billion" dollar Nyhamna expansion would be completed on schedule this year.
The expansion will increase Nyhamna's export capacity from 70mn to 84mn m³/day (the equivalent of from 25.55bn to 30.66bn m³/yr). Gas will be continue to be exported through the Langeled pipe, via the Sleipner A platform in the North Sea to the Easington gas terminal in northeast England.
"This is a large and important project for improved recovery, and onshore compression is the first step. The next step is compression closer to the field," says Kalmar Ildstad, NPD's assistant director of development and operations in the Norwegian Sea.
The next project for increased gas production from Ormen Lange – which is at a depth of 800-1100 metres – is offshore compression solutions. Shell and its partners are studying different concepts in order to utilise compression when the need occurs – most likely in the mid-2020s.
Ormen Lange was proven in 1997, and production started ten years later. The field's lifetime extends beyond 2035. Shell is the operator with a 17.81% interest; other licensees are Norwegian state Petoro 36.48%, Statoil 25.35%, ExxonMobil 6.34% and Danish state-run Dong Energy 14.02%. Dong expects to sell off all its upstream assets, of which its Ormen Lange stake is the most important, by the end of this year.
Throughout this winter, Langeled has typically flowed in excess of 70mn m³/day gas from Ormen Lange to Easington in England; as at 9.45am UK time February 10 it was landing just under 75mn m³/d there.
In other news, Shell said that Simon Henry, who steps down as finance chief next month and leaves Shell at the end of June, has been appointed a non-executive director at mining giant Rio Tinto from July 1, 2017.
Mark Smedley