Russia's Pipeline Prospects
Two new pipes…
On December 2, Gazprom commenced gas pipeline supplies to China[1]. This major infrastructure project was delivered on time with using solely Russian service and technology. Even if the ramp up is supposed to be gradual to 38bn m3/yr in 2025, I would expect Gazprom to be flexible enough to meet the Chinese requirements if domestic gas demand growth was to re-accelerate above the actual 10%/year. We must keep in mind that this pipe provides not only new additional revenue to Gazprom but also the ability to soon impact global gas markets. With Power of Siberia, Gazprom moves into a new league: the biggest gas producer is becoming a worldwide actor even with relatively little LNG production. We can safely assume that Gazprom's target to reach 13% market share in China by 2035 is going to be successful.
For TurkStream and Nord Stream 2, Gazprom's target is to maintain its European market share, that should stay around 35%+ in the 2018-2035 period. It provides also the option for Russia to get rid of the Ukrainian transit in the long-term. TurkStream onshore section 1 dedicated to Turkey alone should be operational as expected in January 2020 and should allow Gazprom to reduce Ukrainian transit flows by 15bn m3/yr. TurkStream onshore section 2 to Europe via Bulgaria is delayed but we can expect it to be fully operational from 2025.
Divided European Union and the US oppose Nord Stream 2 hoping that transit in Ukraine will continue. In "Russian gas import pipelines and the European Union: moving from a love-hate relationship "with adults in the room"?"[2] Jean-Arnold Vinois and myself assumed that Nord Stream 2 will not be operational before mid-2020 and the new European regulation could limit the use of Nord Stream 2 to only 50% until at least 2025. With the laying of the Nord Stream 2 now suspended since December 21[3], our scenario that looked, back 10 days ago, very pessimistic vs consensus (that had a faster ramp up) could prove too optimistic, as it is now very difficult to even assume when the building of Nord Stream 2 will effectively be finished.
It is interesting to note that Gazprom is perfectly successful when investing alone as in Power of Siberia and TurkStream but much less so in Nord Stream 2 in spite of the help of its European financial partners. Clearly its financial partners didn't assess properly the political risk in their home countries![4]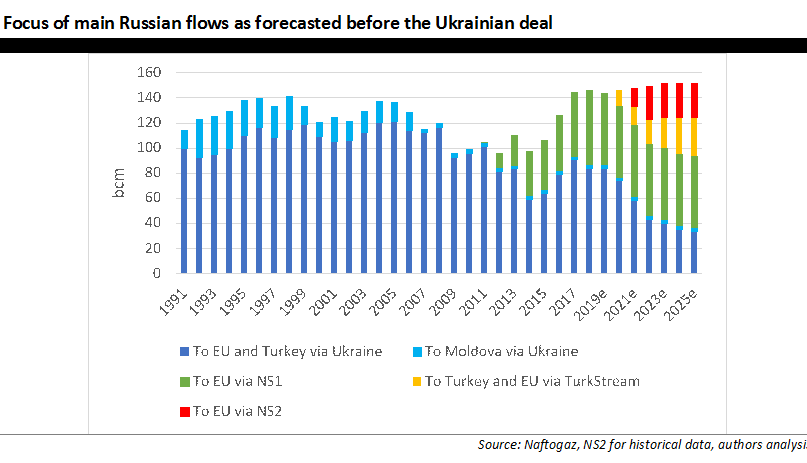 … Record gas in EU storage…
For the 22 EU Member States that report timely data in the Jodi database, gas demand in Jan-September 2019 was up 2.9% vs same period last year 2018. The top three markets saw contrasting evolution. While in the UK demand was down by 3.9%, it was up in Germany (+5.1%) and Italy (+4.9%). This can be explained by the coal-to gas switching that is happening right now in Germany and Italy due to low gas prices while it is nearly finished in the UK that went through this process in the past few years due to an added taxation that made coal-fired power plants uncompetitive a while ago. On the supply side in 9M19 vs 18, EU domestic production was down 7.9%.
So far, for the period Jan-Nov, Gazprom exports to the EU are up by 3.1%[5], while LNG regasification is up by 69%[6] Y-o-Y! This explains the present record storage level of 89.5%[7] (99.3bn m3) out of an EU total working volume of 110.9bn m3). We should therefore expect at the end of the year 87% gas in stock. This will be 11% higher than the maximum ever recorded at the end of the year or 12bn m3 extra gas in storage.
2020 will start with record storage level; domestic demand growth and production decline cannot rebalance this alone.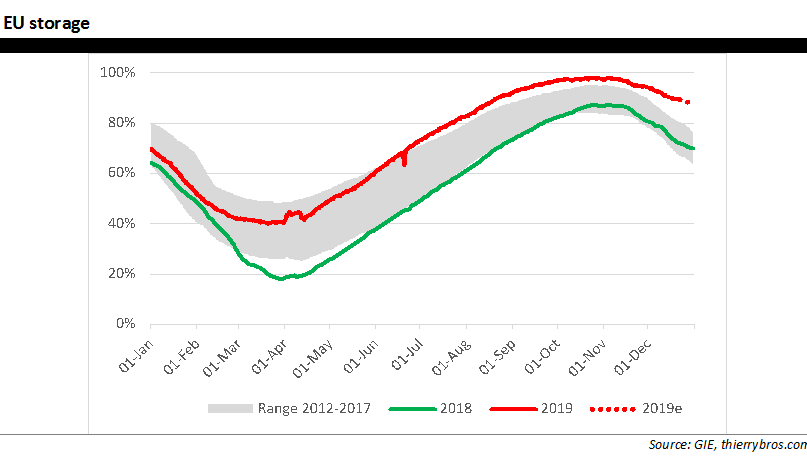 … And a transit deal after the Berlin trilateral talks of 20 December…
This deal to be finalized before 29 December will also help maintain an important role of natural gas when the EU Green Deal is discussed. If we assume, Gazprom will transit exactly the set amount stipulated in the contract ie 65bn m3 in 2020 (and then 40bn m3/yr in 2021-2024), the company would witness a drop-in European sale of 7bn m3 in 2020 vs 2019. For Gazprom this loss could be partially offset by 5bn m3 more sales in China. But more importantly this should help to partially rebalance the EU storage overhang (12bn m3). Norway could also help to further rebalance the market as it did already in 2019 (-6.7bn m3 in 2018/2019 vs 2017/2018). On top we could expect less LNG to reach Europe… Gazprom is in the driving seat to rebalance the EU system, but the path is narrow as it needs to fine tune its own exports and the EU price to reduce LNG arrivals while staying profitable to provide the economic benefit the Russian state is expecting. The 65bn m3 to be contracted to transit in Ukraine gives us a good idea of Gazprom's thinking for 2020: it is prepared to reduce its sales but will also push other suppliers to do the same.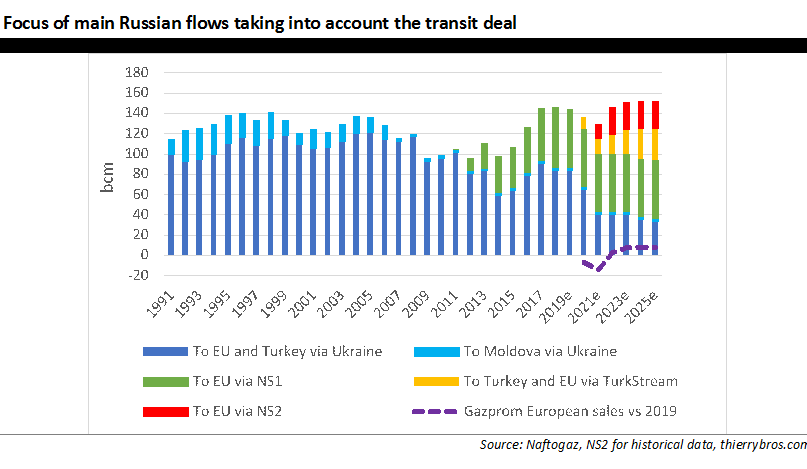 … But still a big question left
For 2021, the biggest unknown is now the completion of Nord Stream 2. If Gazprom can operate it at 50% for the full year, then it would only need to transit 40bn m3 in Ukraine (as we assumed for 2022) but if the pipe is still not operational, Gazprom would then need 60bn m3 transit via Ukraine. Gazprom was, like the consensus, viewing our model with a 25% load factor for 2021 for Nord Stream 2, as too pessimistic as it would not envisage cutting its European sales by 14bn m3 vs 2019. Again, as the transit deal was struck before the US sanctions, the 40bn m3/yr to be contracted gives us a good idea of Gazprom's thinking for 2021 (then). Gazprom even agreed to look at the possibility of gas transit through 2034 as it is not sure the EU would ever allow a full use without Third Party Access of Nord Stream 2. But could the US sanctions enacted post the Berlin trilateral talks, have an impact on the deal to be signed by 29 December 2019? For sure, the Nord Stream 2 saga will continue for months if not quarters… Stay tuned and enjoy your Holidays!
Thierry Bros
23 December 2019
Advisory Board Member of Natural Gas World
---