TurkStream to Change SE Europe Gas Markets Next Year
The Russian onshore section of the new export route, the southern gas corridor, is ready. During the 2015 investor trip hosted by the gas export giant Gazprom, I had already visited the Russkaya compressor station in Anapa on the Black Sea coast that was then being finalised. The landfall facility in Russia (2.2 km) and the 935-km offshore pipeline with two lines and a total capacity of 31.5bn m³/yr were laid in 2017/2018 and are now filled with nitrogen, hence ready to be filled with methane as soon as possible.
The offshore pipe was completed in November 2018 as it benefited from all the work done by South Stream, when the project was, until 2014, a joint venture between Gazprom (50%), Italian Eni (20%), French EDF (15%) and German Wintershall (15%).
Early this month, we went to Kiyikoy in Turkey to visit the receiving terminal. The onshore pipeline up to the receiving terminal (1.9 km) as well as the two lines to Turkey (onshore section 1 - OS1) and Europe (onshore section 2 - OS2) are being built. On the day of the visit, July 4, TurkStream was 87% complete and Gazprom insisted that the complete route would be up and running in December 2019. This looks tight but feasible.
Kiyikoy receiving terminal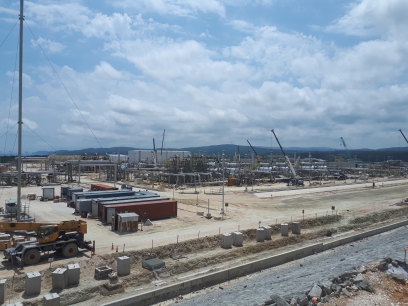 (Credit: Thierry Bros)
South Stream was transformed into TurkStream after the 10 October 2016, Russia-Turkey intergovernmental agreement on a line directly to Turkey, replacing Bulgaria as the destination. With Turkey insisting on a dedicated line (OS1) for its domestic market, we can expect Botas to build on time the 70-km section to be ready to connect the receiving terminal to the Turkish grid by December. It is already half constructed.
The intergovernmental agreement sets out in article 11 the change of delivery point, from the border of Bulgaria to the offshore section without affecting the commercial conditions. Botas and Gazprom will be ready to reroute the 13.8bn m³/yr Russian transit via Ukraine to Turkey (2018) as soon as possible.
According to the latest BP Statistical Review, 2018 was a year of very high gas demand (+5.3%) with Turkey experiencing a major drop in consumption (-8.3%). Once the Turkish economy recovers, this new route could also provide Gazprom with an opportunity to grow its 57% market share in Turkey if its pricing is competitive .

Source: BP Statistical Review 2019, thierrybros.com
The OS2 line is jointly owned by Gazprom and Botas. Out of the 140 km needed to reach Bulgaria, 35% is already laid. Here again, Botas should be incentivised to finish this part on time to be able to collect transit fees. The OS2 continues into Bulgaria with 486 km to be built by the national TSO Bulgartransgaz; Gazprom having booked 17.5bn m³/yr of capacity, or a little over the 15.75bn m³/yr capacity of one line. Leaving Bulgaria, OS2 crosses Serbia. This 402-km pipe, owned by Gazprom (51%) and the Serbian gas company (49%) has an exemption from the EU third energy package and will have a 13.8bn m³/y capacity. All those pipes have a target to start operation at the end of 2019.
If we look at Gazprom's 2018 sales, 3.3bn m³ were sold in Bulgaria (100% market share) and 2.1 bn m³ were sold in Serbia. If we add gas sold in Hungary (5.8bn m³ – 56% market share), Greece (2.9bn m³ – 57% market share), Croatia (2.1bn m³ – 68% market share), Romania (1.2bn m³ – 10% market share), Bosnia Herzegovina (0.2bn m³ and the former Yugoslav republic of Macedonia (0.1bn m³) then we end up with a total volume of 17.7bn m³, very close to the 17.5bn m³/yr capacity booked in Bulgaria where TurkStream starts to serve the European market!
Without taking into account the Russian part of the southern corridor, the capex can be split between offshore (€7bn), the Turkey landfall (€0.4bn) and the Serbian part (€1.4bn). The Turkish Botas OS1 and Bulgarian Bulgartransgaz OS2 section not being paid at all by Gazprom.
My conclusion from this site visit is that Gazprom is quietly but very efficiently preparing for the TurkStream routes to be ready by January 1, 2020 as stated in the October 2016 intergovernmental agreement. Even if the construction contract in Bulgaria is still not finalised, the 486-km line with its two compressors should be ready by end 2020 at the latest. Hence, we should expect Ukrainian transit to go down from the 86.8bn m³ witnessed in 2018 to about 55bn m³ in 2021, assuming Nord Stream 2 is by then still not operational.
And if later demand in southeast Europe is higher and/or Gazprom's share increases, Gazprom could easily operate TurkStream at a slightly higher capacity, as it does its other pipelines. This clearly shows that the transit via Ukraine to Hungary, Romania and Moldova is going to stop in the next 18 months. Turkey's Botas instead of Ukraine state Naftogaz, will be the company collecting the 17bn m³/yr fee for channelling Russian gas into southeast Europe. As this should amount, on a distance cost-based, to 12% of the Ukrainian fees, Gazprom should be better off by 88%! This also shows that Gazprom has no incentive to sign a long-term transit contract via Ukraine for 60bn m³/yr as the European Commission wants…
Analysts and policy makers should be aware that TurkStream will, from January 2020, completely change gas flows in southeastern Europe. And this new milestone is much more certain than Nord Stream 2, so far only 60% built.
1 86.8bn m³ according to Naftogaz 2018 annual report for Europe & Turkey (page 78) – 73bn m³ calculated for EU alone.
2 Market share is calculated using Gazprom Export 2018 sales volumes and BP Statistical Review 2018 consumption data, all in EU-measured bn m³.
3 Today in Turkey, LNG is more competitive than Russian gas
4 http://www.gazpromexport.ru/en/
5 Blue Stream and Nord Stream 1 can effectively transport more gas than their designed capacity (respectively 16bn m³/y and 55bn m³/yr).
Thierry Bros
July 9, 2019
Advisory Board Member, Natural Gas World