Eni-Egyptian Exports Talk Triggers Israeli Response
Eni and the Egyptian government have agreed a plan to resume natural gas exports from Egypt, according to a report in Daily News Egypt, an Egyptian website. There has been no confirmation from other sources and it is not clear how Egypt will cover its energy deficit if it goes ahead.
The gas for the LNG plant will be supplied from Eni's Zohr gas field, now under development, and will be liquefied at the 5.5mn mt/yr Damietta liquefaction plant. Production from Zohr is planned to reach 28bn m³/yr, almost four times the Damietta plant capacity.
Two and a half years ago, Israel's Tamar Partnership signed a memo of understanding with Union Fenosa Gas (UFG) -- a 50-50 joint venture of Eni and Spain's Gas Natural -- to export 105 bn m³ gas from Tamar in a 15-year contract from the terminal.
But no firm contract has been signed. If the new agreement between Eni and the Egyptian government goes ahead it will use the whole of the Damietta LNG plant capacity and will not leave spare capacity for gas from Tamar. Damietta, which cost €1bn ($1bn in today's currency) is owned 80% by UFG and 20% by Egyptian state entities, the joint venture being known as Spanish Egyptian Gas Company.
After this report appeared, the three Israeli energy partners in Tamar – Delek Drilling, Avner and Isramco Negev – said in filings to the Tel Aviv Stock Exchange that talks with UFG are ongoing. If the speed of the response was intended to prop up the share prices it failed as they fell 2%-3% in trade December 19.
According to the report, Eni will establish a pipeline from the gas processing plant to Damietta LNG plant. In the last few weeks Eni sold 40% of its holdings in the Shorouk concession; first, 10% to BP and then 30% to Russian Rosneft.
Both buyers have an option to purchase another stake of 5% in the concession, which would mean Eni holding 50%. The report also said that Rosneft plans to lay a pipeline from Egypt to Europe in order to transmit gas.
Damietta LNG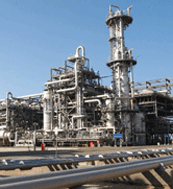 Credit: Segas
The Egyptian government's agreement to export gas from Damietta is contingent upon UFG waiving its arbitration case with the Egyptian authorities in which UFG claims $8bn compensation for the suspension of LNG sales from 2012.
Ya'acov Zalel