BP takes a dim view [NGW Magazine]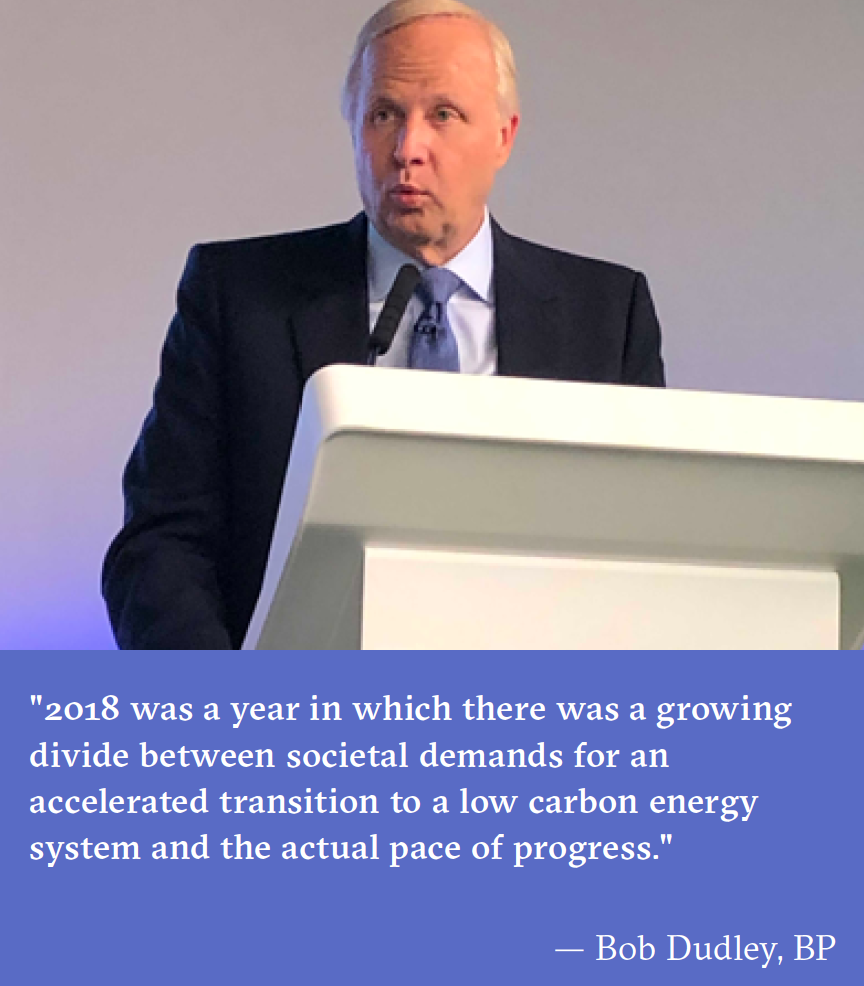 Launching the annual statistical review of world energy in early June, BP CEO Bob Dudley said: "2018 was a year in which there was a growing divide between societal demands for an accelerated transition to a low carbon energy system and the actual pace of progress." His three key takeaways from the Review were:
The world needs carbon emissions to fall dramatically but they continue to grow – now at their fastest rate for seven years. The acceleration in energy-related carbon emissions was the direct result of increased energy demand. It was driven largely by energy demand growth in India and China, but also in the US.
The US delivered record increases in oil and gas production, the largest ever for any country in the 68 years of the Review. These had major impact on the market balance, global energy trade, but also geopolitically.
Electrification increased strongly, by 3.7%, driven by renewables providing a third of this increase, but also by gas; and coal provided a similar contribution, its use growing for the second year running. It is a worrying trend. If this continues, electrification without decarbonisation is of little use in cutting emissions.
This shift towards greater electrification has a vital role to play in the energy transition, but only if it is accompanied by a decarbonisation of the power sector. This is the single most important challenge facing the global energy system over the next 20 years. Renewable energy has a vital role to play in this and is growing far more rapidly than any other form of energy, but not fast enough – it is unlikely to be able to do so on its own. But as Dudley said "this is not a race to renewables, it is a race to reduce carbon emissions across many fronts."
Dudley concluded by saying: "This Review is a reflection of all reasons for the rising concerns around the globe. The world is not on a sustainable path. If anything, we are moving further away from it rather than getting closer. There has to be an increased sense of urgency. The longer carbon emissions continue to rise, the harder and more costly will be the necessary eventual adjustment to net-zero carbon emissions."
The key findings from the Review are:
Global energy demand grew by 2.9% and carbon emissions (excluding methane emissions) grew by 2.0% in 2018, faster than at any time since 2010 to 2011.
Natural gas consumption and production was up over 5%, one of the strongest rates of growth for both demand and output for over 30 years.
Renewables grew by 14.5%, just under their record-breaking increase in 2017 – remaining the world's fastest growing energy source – but this still accounted for only around a third of the increase in total power generation.
Coal use, up 1.4%, and production, up 4.3%, rose for the second year in a row in 2018, following three years of decline: 2014-2016.
The US recorded the largest-ever annual production increases by any country for both oil and natural gas, the vast majority of the additional output coming from onshore shale plays – and adding to flaring as well (see separate feature).
Summing this up, Spencer Dale, BP's chief economist, said: "At a time when society is increasing its demands for an accelerated transition to a low carbon energy system, the energy data for 2018 paint a worrying picture, with both energy demand and carbon emissions growing at the fastest rates seen for years." He added that "in a statistical sense, it's possible to explain this acceleration in terms of a combination of weather-related effects and an unwinding of cyclical movements in China's pattern of growth." But "what does seem fairly clear is that the underlying picture is one in which the actual pace of progress is falling well short of the accelerated transition envisaged by the Paris climate goals." Echoing Dudley, he concluded: "Last year's developments sound yet another warning alarm that the world is on an unsustainable path."
Growth in primary energy and carbon emissions
Global primary energy demand grew by 2.9% in 2018, the fastest since 2010, and almost double the average growth during the previous ten years, 2007 to 2017, about 1.5%. At the same time, energy-related carbon emissions grew by 2.0%, the fastest since 2011 (Figure 1).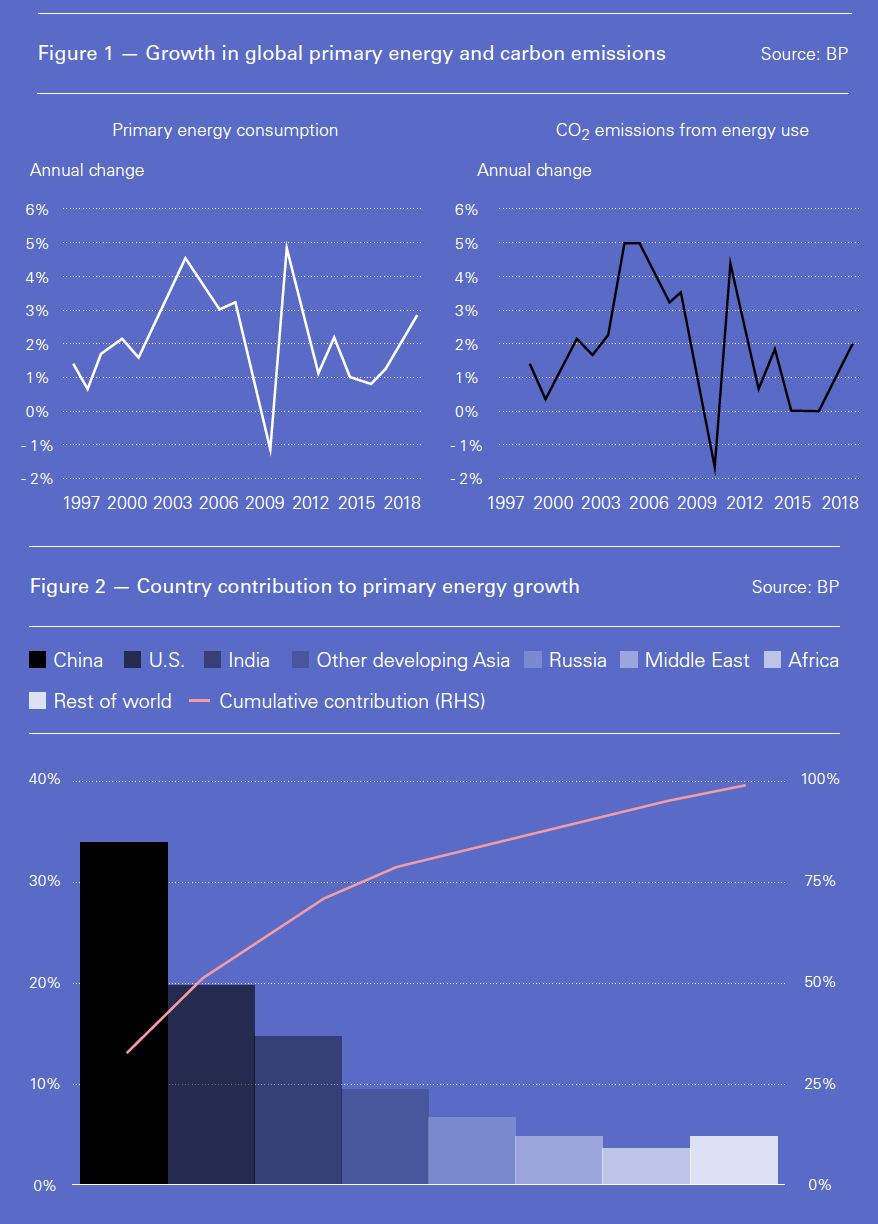 This growth in energy demand was largely driven by China, US and India, which together accounted for over two-thirds of it (Figure 2). In fact the US saw its fastest growth year on year, 3.5%, in 30 years – in contrast to the trend decline seen over the previous 10 years.
But the rest of developing Asia, Russia and the Middle East also made significant contributions to this.
All fuels grew and most by more than their historical averages (Figure 3).
Natural gas accounted for 43% of the growth in global primary energy in 2018. Renewables grew strongly, contributing 18%, but not fast enough relative to the higher energy demand.
The balance was largely provided by fossil fuels contributing close to 71% to this growth – the highest share in 5 years. Fossil fuels still dominate, accounting for 84.7% of the total mix, just 0.4% less than in 2017.
Carbon emissions in 2018 were up by 2% in comparison to an average annual growth of 1% during the previous 10 years. China, India and the US were responsible for around 69% of the global increase in carbon emissions, with China being the single largest contributor. Chinese carbon emissions grew by 2.2% in 2018, Indian by 7% and US by 2.6%, while EU emissions declined by 2%, a big part of which will have come from the UK, due to leave the EU later this year.
The growth in carbon emissions in 2018 was the direct consequence of the higher increase in primary energy growth and the dominant contribution of fossil fuels to this. In fact, without the strong contribution from natural gas displacing coal it could have been worse.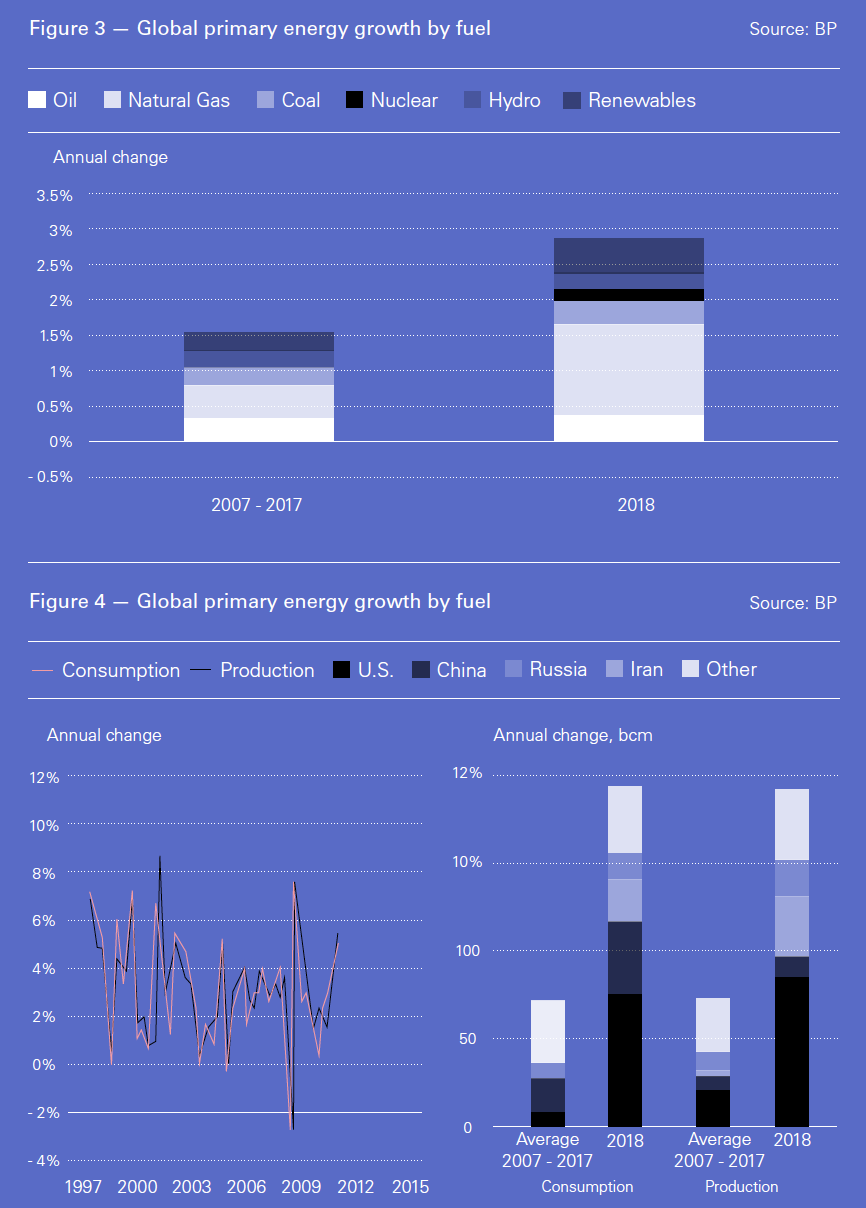 Natural gas
BP called 2018 a "bonanza year for natural gas", with global consumption increasing by 5.3% against an average 2.2% during the previous 10 years – the corresponding numbers for global production are similar (Figure 4). This was one of the strongest growth rates in either gas demand or production for over 30 years.
However, according to International Energy Agency (IEA) global gas demand growth is expected to slow-down to 1.6%/yr going forward to 2024, owing to slower economic growth and declining potential for switching from coal to gas.
The main contributor to this was the US, accounting for almost 40% of the global consumption growth and over 45% of the increase in global production, driven by shale plays. BP does not see this as a 'unique aberration'. As it says, the US shale revolution is "alive and well and it's powering strongly" in both oil and gas.
US gas demand rose by 78bn m³, about 10.5%, in 2018 – about the same as total annual gas consumption in the UK. This was largely due to weather-related effects, with rising demand for heating and cooling in buildings and growth in gas-fired power generation (Figure 5).
Chinese gas demand grew by a record 18%, driven by clean-air policies and coal-to-gas switching in industry and buildings (Figure 5). Robust growth in industrial activity was key. Apart from increasing domestic gas production, this was fed by increasing LNG imports.
Global LNG supplies continued to grow in 2018, by about 10%, mostly coming from Australia, the US and Russia (Figure 6). While Australia is slowing down, the US and Russia are ramping up, with Qatar and east Africa also adding more early next decade.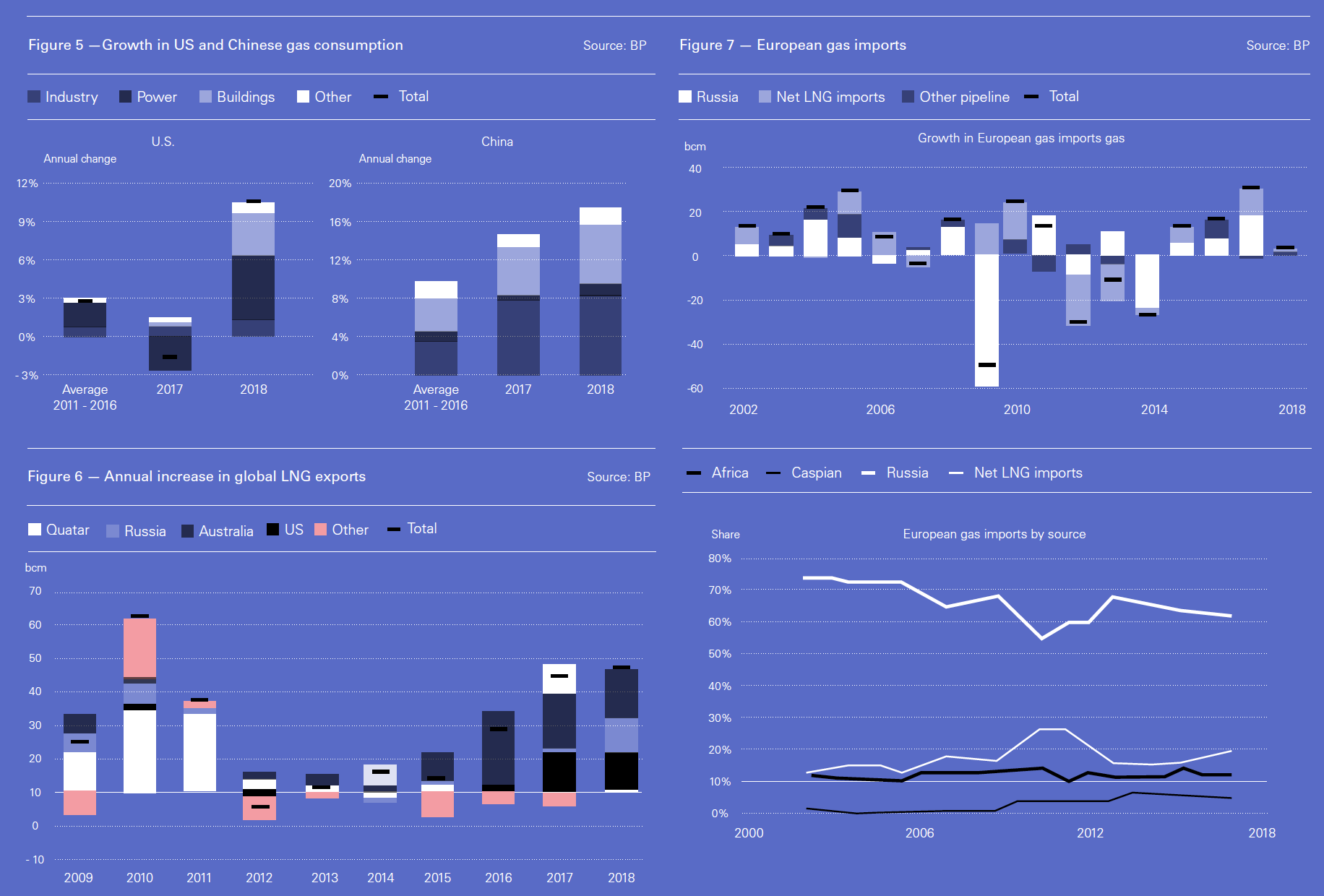 Most of this was absorbed by Asia and China, but the strength of Asian LNG demand growth started slowing down towards the end of 2018. This and a surge in LNG exports drove prices down. With more LNG expected to enter the market in 2019, BP sees a possibility of curtailment of some LNG supply capacity over the next couple of years.
This depends greatly on the European market, which acts as a 'market of last resort'. European gas demand declined by 11bn m³, or 2%; but contraction in indigenous gas production was greater, by 13bn m³ (Figure 7).
The small short-fall was met by LNG imports, especially as the Asian premium over European gas prices disappeared. Russian pipeline gas exports to Europe remained largely unchanged but hit a new record.
Oil and coal
For oil 2018 was another turbulent year, with Brent prices bouncing between extremes, reaching $85/barrel in October and closing the year at about $50/b. Oil demand maintained strong growth, by about 1.4mn b, driven by China, India and the US (Figure 8).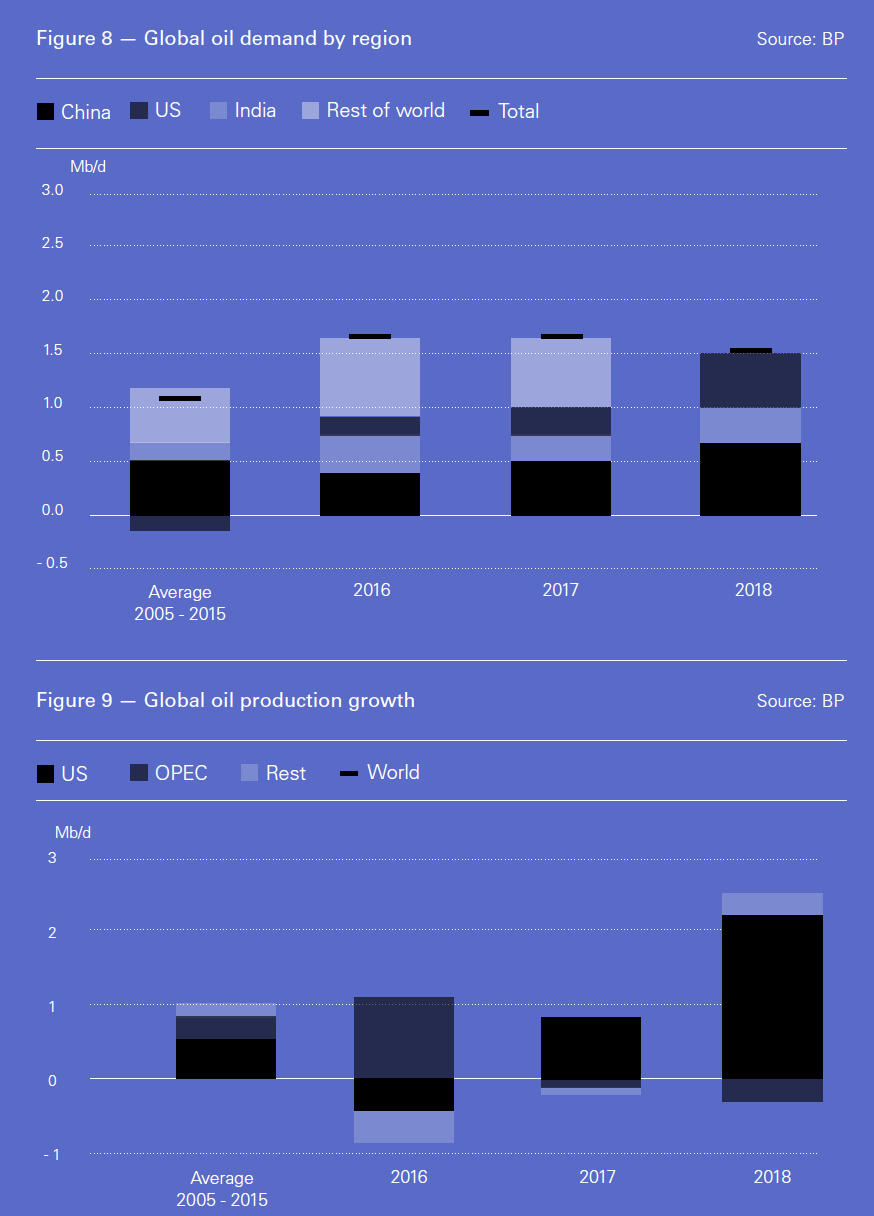 More demand for oil products in the petrochemicals sector accounted for half of this increase. Both BP and the IEA agree that non-combusted use of oil will be driving demand over at least the next 20 years.
The largest increase in oil demand was in the US, by 0.5mn b – its largest increase for well over 10 years – reflecting lower prices and economic recovery.
Net global oil production increased by 2.2mn b, more than double the historical average during the previous 10 years, despite a fall in Opec production by about 0.3mn b (Figure 9).
The largest contributor to this was the US, where production increased by 2.2mn b – the largest ever annual increase by any country.
BP expects the turbulence in the global oil market to continue for some time to come.
Coal also had another strong year in 2018, with demand and supply going up 1.4% and 4.3% respectively – their fastest rates for five years (Figure 10). China and India were the main demand centres.
Both coal consumption and production increased for the second year running. This puts into question the view that global coal consumption peaked in 2013.
Despite their rapid growth, renewables are not keeping pace with the strong gains in power demand, with coal coming in as the balancing fuel.
Power and renewables
The power sector is the single largest source of carbon emissions within the energy system. As such, it must play a central role in the transition to a low carbon energy future.
Global power demand grew by 3.7% in 2018, one of the strongest growth rates during the last 10 years. It also absorbed about half of the growth in global primary energy.
China and India accounted for about two-thirds of this growth, with the US contributing 17% (Figure 11).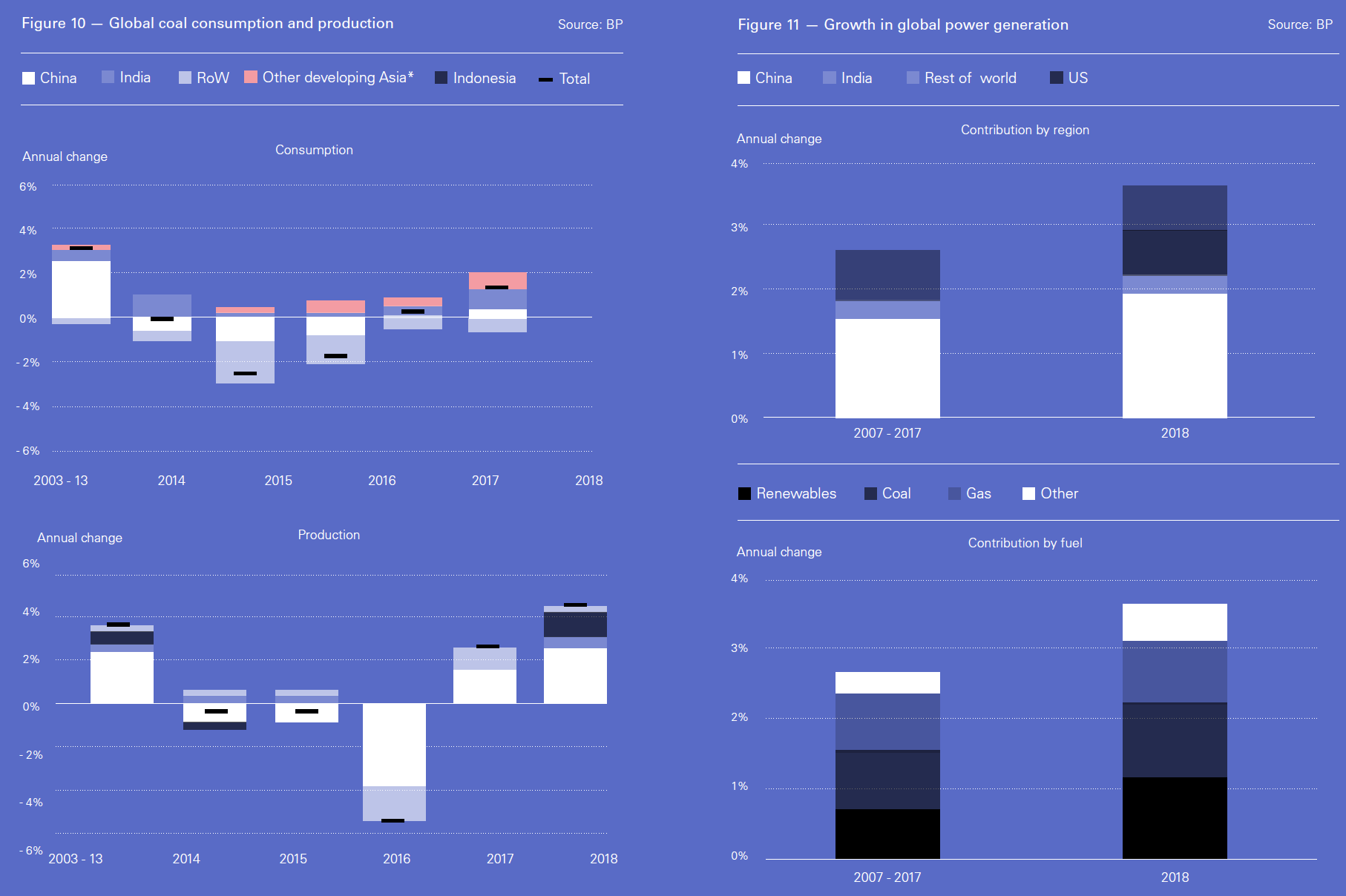 Renewables and coal contributed a third each and natural gas almost a quarter.
However, the increase in wind and solar power capacity stalled during the last two years, with net additions to installed capacity remaining at just under 150 GW (Figure 12) – but still impressive. China alone contributed 45% of the global growth in renewable generation in 2018.
Growth in global wind and solar power generation was close to its highest ever increase, with Dale stating that "renewable energy has come of age," adding that "renewables can't grow quickly enough."
But nevertheless, despite these achievements, renewables provided only one-third of the increase in global power generation, with coal and gas coming in to provide most of the balance – especially in China and India.
This resulted in higher carbon emissions, up by 2.7%, the highest rate of growth in the power sector for seven years. In fact the power sector accounted for about half the growth in global carbon emissions.
Despite the increasing penetration of renewables, the fuel mix in global power generation remains flat, with the share of gas and oil, 26%, and coal, 38%, unchanged from their levels 20 years ago (Figure 13).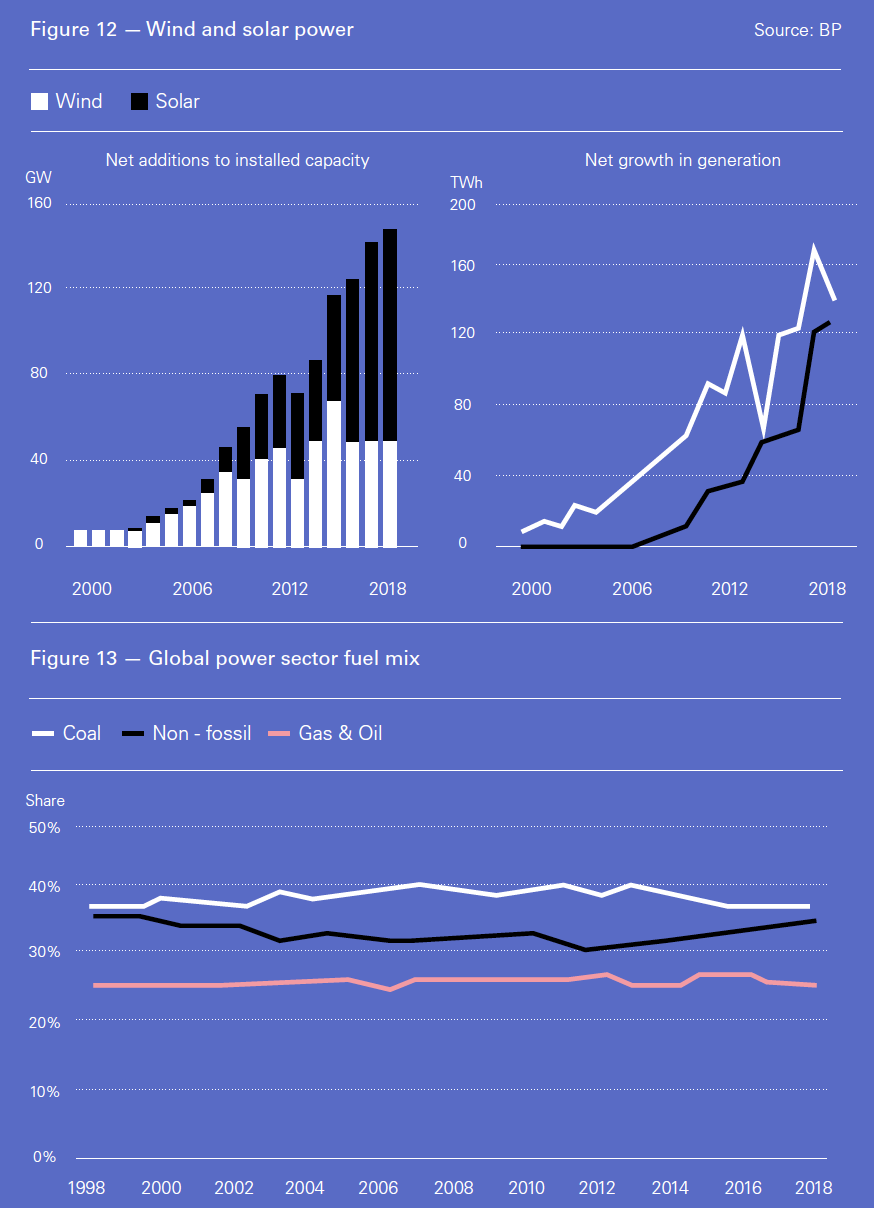 Similarly to the IEA, the Review draws the conclusion that "even if renewables are growing at truly exceptional rates, the pace of growth of power demand, particularly in developing Asia, limits the pace at which the power sector can decarbonise." In fact, increases in power demand feed through directly into higher carbon emissions, leading to the conclusion that "electrification without decarbonisation is of little use."
The Review states that: "A shift towards greater electrification helps as a pathway to a lower carbon energy system only if it goes hand-in-hand with a decarbonisation of the power sector," So far this is not receiving the attention it needs. Adopting global carbon pricing may be an answer.
Implications
What is remarkable from this Review is BP's unequivocal statement that world energy is on an unsustainable path – coming from an oil company, it highlights the seriousness of the problem. Dudley spoke about the urgency for the world to change. But with renewables providing only 4% of global energy consumption – despite rapid growth during the last 20 years – how to get there, while providing the levels of energy the world needs on demand, affordably and reliably, still needs to be worked out.
What the Review has shown is that the global energy system is not finding it easy to break the link between energy demand and carbon emissions, a necessary task in order to meet the Paris climate agreement goals.
As BP pointed out, in order to maintain the level of carbon emissions from the power sector at its 2015 level, renewable generation would have needed to grow by close to 250% over the past three years, from 800 TWh to 1800 TWh. This is equivalent to the entire renewable generation of China and the US combined in 2018 - an enormous challenge. Using gas to replace a tenth of the power output from coal fired plants would have had the same effect.
Trade wars, tariffs, sanctions and other such threats to globalisation, are increasing concerns about security of energy supplies, pushing countries to produce more and import less. That generally favours coal and renewables over gas.
The IEA identified in its annual World Energy Investment report (WEI) a growing mismatch between current trends in global investments in energy efficiency and renewables – which slowed down during the last three years – and the paths to meeting the Paris Agreement and other sustainable development goals. What is even more worrying is that new renewable capacity added in 2018 was almost the same as in 2017, making it the first time since 2001 that annual new installations failed to increase from the previous year. This led IEA chief Fatih Birol to warn: "Compared with 2015 when the Paris climate agreement was signed, the appetite to push low carbon investments and policies is slowly fading."
There are many uncertainties. Increasingly people are campaigning for action against climate change, but also many are resisting measures that impact lifestyles: Gilets jaunes, versus Extinction Rebellion. The world, in fact, needs to produce even 'more energy' to allow more people's living standards in Asia and Africa to continue to improve closer to those in the developed world. BP refers to it as the dual challenge of providing more energy with fewer emissions.
At a meeting at the Vatican June 14, Pope Francis, addressing global energy leaders and major investors, declared a 'state of emergency' and warned of catastrophic effects of global heating, calling for a 'radical energy transition'. Statements agreed and issued at the end of the meeting called for a "combination of policies and carbon pricing mechanisms … designed in a way that simultaneously deliver innovation and investment in low-carbon solutions while assisting those least able to pay."
Dudley said after the meeting: "The world needs to take urgent action to get us on a more sustainable path and it is critical that everyone plays their part, companies and investors, governments and individuals. This requires all of us to come together, build understanding and collaborate to find solutions." He added: "we all want the same things… for the world to move to net zero carbon emissions… where differences lie is in how to get there."
BP said that governments should look at adopting a wide range of fuels and technologies to meet climate change targets, rather than just relying on renewables. This includes switching from coal to gas, a widespread adoption of carbon capture and storage, carbon pricing, and improving energy efficiency to cut down on demand.
As BP pointed out, relying on renewables alone during energy transition is not enough. There is too big a gap between hope and reality. Governments need to drive reductions in carbon emissions through policy; and customers, by being more thoughtful about consumption. Industry alone cannot do it.