Crisis chokes Alberta's revenues [NGW Magazine]
A senior official in the Alberta government's energy department told an industry conference in June that the province's dry gas industry – lacking the financial boost of producing valuable natural gas liquids – is in a "crisis" that threatens the entire gas value chain.
"Traditional markets are over-supplied, gas prices have crashed, existing pipelines within Alberta are full and new capacity is late in coming to the party," Barbra Korol, executive director of Alberta Energy's strategic policy branch, told the Canadian Energy Research Institute's (CERI) 2019 petrochemical conference. "For us in government, this means that government revenues have crashed."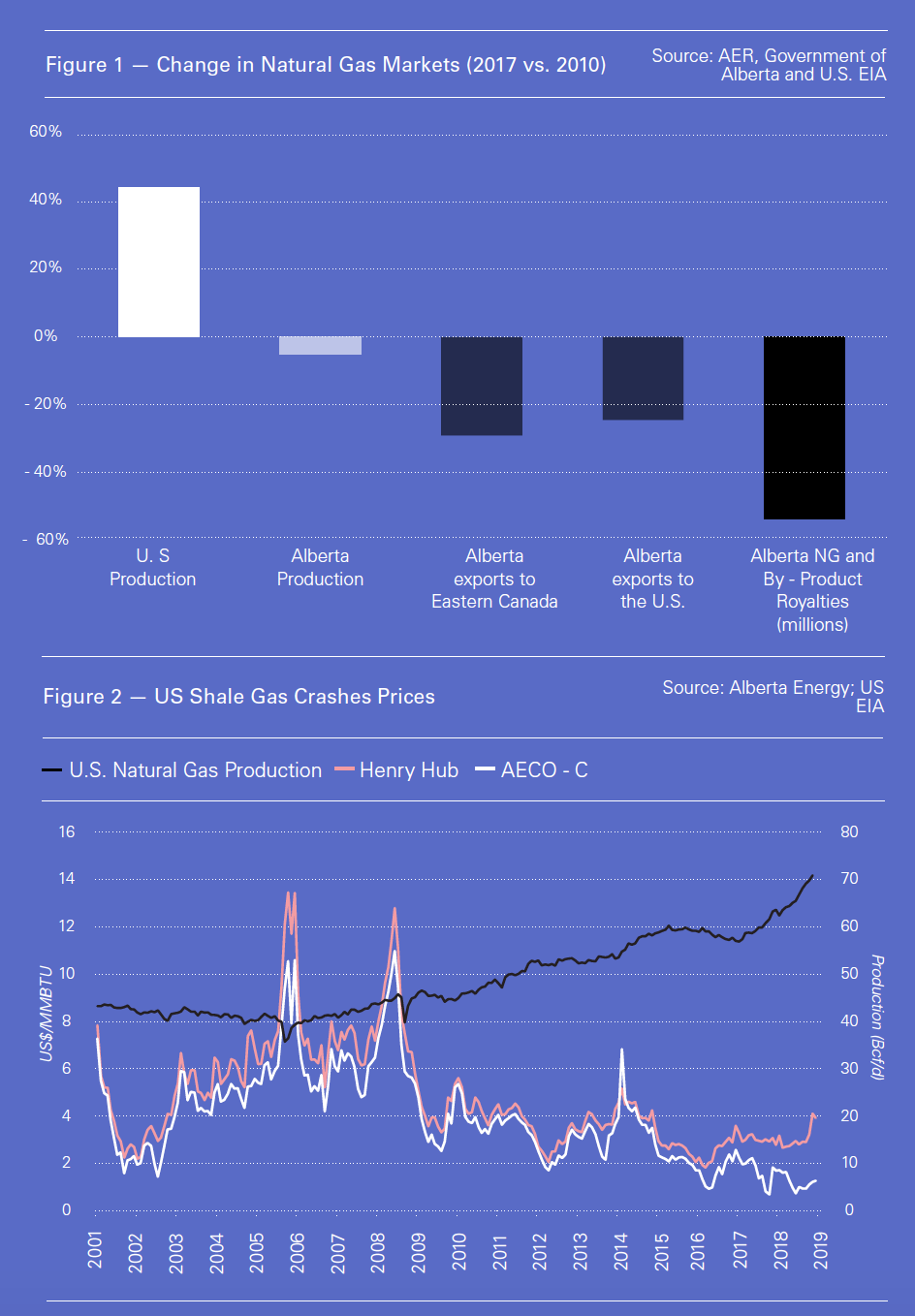 The previous NDP administration in Alberta – headed by Rachel Notley – created an external panel to search for ways to assist the gas industry. It is now up to the new government, under premier Jason Kenney, to implement that panel's wide-ranging suite of recommendations, Korol said.
"The natural gas advisory panel was established after the summer of 2017 which saw natural gas prices crash," she said. "We saw an inability to move gas on the Nova system and increasingly natural gas producers were coming to the Alberta government and saying we are in danger of becoming insolvent."
The crisis the gas industry now finds itself in, Korol said, is a coalescence of a variety of factors. Production has risen sharply with the targeting of liquids-rich natural gas in Alberta and neighbouring BC; at the same time, new take-away capacity has stalled, both within Alberta and to markets outside the province; and the same shale gas frenzy that pushed production higher in Alberta has stripped the province's producers of their traditional customers in the US, as that country has become, almost overnight, the largest gas producer in the world – and Alberta's chief competitor.
"This is the context within which the natural gas advisory panel was established," Korol said. "They were tasked with examining intra- and inter-provincial Alberta gas transmission issues. They were tasked with looking at storage issues and the storage market. And they were asked to propose potential commercial solutions."
Ground zero
Korol characterised the shale gas frenzy in the US as ground-zero for Alberta's natural gas woes. Natural gas production there rocketed to more than 74bn ft3/day in 2017 from 58bn ft3/day in 2010 – and today exceeds 90bn ft3/day. Production gains in Canada, and particularly in Alberta, have failed to keep pace – total Canadian production averaged 16bn ft3/day in 2017, a miniscule improvement over 2010 production of 15mn ft3/day.
In the seven years between 2010 and 2017, US natural gas production has increased by about 45%, while Alberta production has actually shrunk, and the province's total gas production today is less than half the growth in US production. Exports of Alberta gas to eastern Canada are down by 30%; exports to the US are off by 25%.
"North America is awash in natural gas," she said. "Not surprisingly, this has tanked prices in the US, but more important it has tanked prices in Canada and in particular in Alberta."
The benchmark Aeco price in Alberta, Korol said, averaged about C$4/mn Btu in 2010; in 2018 it hovered just above C$1/mn Btu, and during the summer maintenance season that year – and again this year – it has dropped into negative territory, largely because of new policies implemented by TC Energy, which operates the Nova Gas Transmission (NGTL) system in Alberta and western Canada, that restrict the ability of producers to move gas into storage, where it can await stronger winter demand.
Compounding the price collapse, she said, is the loss of market share by Alberta producers in eastern Canada and the northeast US, two key markets which now have easy access to affordable production from the Marcellus shale gas basin.
"While this may be good for natural gas consumers in those markets, it is particularly bad for governments collecting royalties," Korol said.

When gas was king
Natural gas was once the king of royalty income streams in Alberta, peaking at more than $8bn in the 2005-2006 fiscal year. But as the shale gas revolution took hold and prices at Aeco collapsed, so too did the provincial government's royalty take, to less than $450mn – or about 1.4% of total non-renewable resource revenue – in the fiscal year that ended this past March.
The natural gas advisory panel's report was released in December 2018, outlining six desired outcomes and carrying 48 recommendations that the panel suggested could improve the lot of Alberta gas producers. There was little consensus among producers about the efficacy of the recommendations, Korol said, with opinions largely split according to size.
"All, however, agreed that the size of the prize to the Alberta economy was such that actions needed to be taken," she said.
Heading the list of 48 recommendations was a recognition of the importance of ongoing LNG development in Canada so that Alberta producers could participate in the global natural gas economy. It is the only "material market" that can grow and expand the province's natural gas sector, Korol said, pointing out that cumulative LNG revenue to the Alberta government could reach $5bn by 2035 and $20bn by 2063.
Number two on the list of recommendations was to actively support the growth of intra-provincial gas consumption, a path the previous Notley government took when it launched a Petrochemical Diversification Program (PDP) that awarded up to C$500mn in royalty credits to qualifying projects.
Those two recommendations, Korol said, have formed the foundation of the government's plan to fix the ailing gas industry, elements of which, she said, include:
the appointment of an associate minister (Dale Nally) and associate deputy minister (David James) of natural gas;
respect existing PDP agreements and remain open to examining options that encourage future projects;
support LNG projects that open the door to improved market access for Alberta producers;
accelerate pipeline development and increase throughput;
reduce red tape and increase regulatory efficiency, and;
review and implement the advisory panel's key recommendations.
One of the projects that benefited from the PDP was Nauticol Energy, which in October 2018 had announced plans to build a $2bn methanol manufacturing facility near Grande Prairie (northwest of Edmonton, on the flanks of the massive Montney shale gas field) that would use 300mn ft3/day of natural gas to produce 3mn mt/year of methanol. In February 2019, Nauticol received a commitment from the former Alberta government for $80mn of royalty credits to be applied to the first of three stages of construction; the current administration, Korol said, will honour that commitment.
"There is a real acknowledgement that industry and capital markets lack confidence that the natural gas industry and the value-added sector is one which is valued and desired and we have mis-aligned federal and provincial policy," she said. "There is a lack of confidence that this is a sector that governments want to see grow, and that is why establishing a clear vision for the natural gas industry and then supporting it was a key recommendation of the advisory panel."
Nauticol Energy CEO Mark Tonner told the CERI conference the private company's decision to build a world-scale methanol facility in Alberta was directly related to the availability of a world-scale natural gas resource base.
"It is easy to say that we are awash in natural gas," he said. "It was just screaming at us that natural gas was abundant, that the market fundamentals were not going to shift in Canada."
Those same fundamentals are also supporting Nauticol Energy's joint venture participation, with ammonia producer IFFCO Canada, in the development of a facility in Quebec that will use 155mn ft3/day of western Canadian natural gas to produce 1mn mt/yr of methanol and 700,000 mt/yr of urea.
Nauticol is discussing with its partners ways to accelerate a final investment decision on the Grande Prairie project by the end of this year, and to perhaps proceed to build all three methanol production trains at the same time, rather than in stages as originally contemplated.
"The fact is, we need to take bold steps – we need five more companies like this," Tonner told the CERI conference. "The environment is here: we've got an abundance of natural gas; we've got great access to markets now; we've got a great labour pool; we've got world-class contractors and suppliers. The opportunities that will be available in Alberta are only going to get bigger – it should get bigger – and I challenge everyone in this space to step up and do more."