Black Sea Gas May Need Rethink, if Hungary Blocks Pipe: OMV
Hungary's refusal to build its section of the BRUA pipeline will have implications for how OMV and ExxonMobil market their deepwater gas reserves offshore Romania, said OMV CEO Rainer Seele August 10.
Asked about the OMV-Exxon 50-50% deepwater reserves in the Neptun Deep block in the Romanian section of Black Sea, Seele said the upstream project was still being appraised: "In second half 2018 we shall need to decide on development, but we must decide on how we will market the gas."
Seele said the BRUA (Bulgaria-Romania-[H]ungary-Austria) pipe project, planned to terminate at the Austrian gas hub at Baumgarten, is being jeopardised because Hungary has now said it will not build it. "We have to face that uncertainty and we will need to take BRUA into account," the CEO said, adding this meant other pipeline solutions might need to be evaluated in order to monetise Neptun gas.
Romanian and Hungarian gas grids said July 31 they will proceed with an Open Season for cross-border capacity that could develop into BRUA.
But earlier that month Hungary's foreign and trade minister Peter Szijjarto on a visit to Moscow was unequivocal when he said his country, and leading state-owned importer MVM, will source extra gas through the Gazprom-led Turk Stream pipe now being built, rather than sourcing extra LNG or other non-Russian gas; he also criticised a lack of progress on alternative infrastructure projects such as LNG Croatia and BRUA.
OMV and Exxon, based on the Domino-1 discovery well in their Neptun Deep block in 2012, estimated a gas accumulation of 1.5 to 3 trillion ft3 (42bn to 84bn m3). OMV's subsidiary Petrom is operator, with Exxon an equal 50% partner. In 2013 OMV assessed that Neptun might produce 6.5bn m3/yr but both have consistently said that first production would not be before 2020.
Romania's total gas output could continue to expand into the 2020s from 10.3bn m³ in 2015, if OMV-Petrom and Exxon go ahead with its Neptun development and if US private equity fund Carlyle develops its offshore Midia gas field.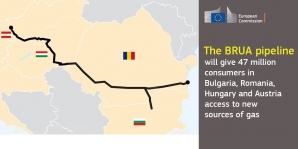 Map credit: EU's Vienna representation
Separately, OMV downstream chief Manfred Leitner said it was too soon to say whether a Black Sea mini-liquefaction study with Gazprom might be affected by new US sanctions, as that the LNG venture is only at the assessment stage following a memo of understanding signed June 2017.
Mark Smedley