Carlyle To Resume Black Sea Drilling
US private equity giant Carlyle's Romania subsidiary has awarded a drilling rig contract.
Black Sea Oil & Gas (BSOG), wholly owned by Carlyle International Energy Partners, announced April 11 it and partners have awarded a contract to drill two offshore exploration wells in their XV Midia shallow block in the Romanian sector of the Black Sea to local drilling services firm GSP Offshore. The latter's jack-up drilling rig GSP Uranus will drill the two wells in water depths up to 100m starting 4Q2017 and will also provide back-up services.
All the approvals required to develop the Midia gas development project are currently being obtained, said BSOG adding that, assuming they are secured in 2017, it will take a further two years to build the offshore platform, drill development wells, lay gas pipes, and construct a gas treatment plant. It awarded front-end engineering last November to UK based consultancy Xodus.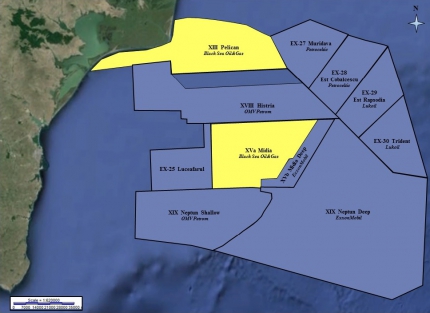 Carlyle-owned BSOG's two operated blocks offshore Romania (Map credit: the company)
BSOG has a 65% operating interest in XV Midia and XIII Pelican Block in Romania's Black Sea. Other partners are Italy's Gas Plus, and Petro Ventures Europe. The Ana and Doina gas fields – with contingent resources of 320bn ft³ – are some 100 km offshore Romania on the XV Midia block; they were discovered in 1995 and 2007 respectively by the licence's previous operator Sterling Resources which divested to Carlyle in 2015.
Deeper offshore Romania
OMV-Petrom and ExxonMobil drilled seven exploration wells between mid-2014 and early 2016 on their XIX Neptun Deep block, to follow up on their 2012 Domino-1 discovery of gas reserves estimated at 1.5 to 3 trillion ft3. Partners are looking at a potential field development early next decade.
Mark Smedley