Romania-Hungary Pipe to Flow By End-2019: FGSZ
Hungarian gas transmission grid operator FGSZ and its Romanian state counterpart Transgaz declared July 31 they still plan to launch the Open Season Procedure regarding Romania-Hungary segment of a prior scheme to pipe gas north to Austria.
"We would like to underline the commitment in continuing the partnership in order to develop the bi-directional capacity on the Romanian-Hungarian border in two project phases that will ensure the gas transport based on the objectives of the BRUA corridor (Bulgaria-Romania-[H]ungary-Austria)."
Phase one shall provide 1.75bn m3/yr of firm bi-directional capacity on the border of Romania-Hungary by end-2019 and has been cleared by both countries' regulators, with respective final investment decisions (FIDs) already taken. The project is already at the developmental stage, said FGSZ, adding: "There is no delay foreseen in the following period."
Phase two shall create a 4.4bn m3/yr firm bi-directional capacity on the border of Romania-Hungary by end-2022. Works required for phase two would include: on the Hungarian side a new compressor at Csanadpalota and expansion of existing ones at Varosfold and Szada, plus a tie-in at Godollo to the FGSZ trunkline from Vecses to Szada; and on the Romanian side a new 50-km, 32-in pipe from Recas to Horia of 63 bar, new compressor units at Podişor, Bibeşti and Jupa; and the extension of an existing gas metering station at Horia.
FID on that phase 2 will follow positive interest, if expressed during the upcoming Open Season. But FGSZ said bookers of such capacity would be able to consider, besides the Hungarian virtual trading point, also export capacities bookable to the neighbouring countries.
FGSZ, the regulated gas pipelines subsidiary of Hungary's Mol, operates a 5,782-km system in Hungary.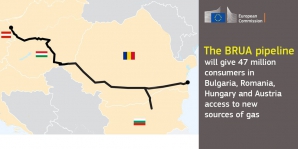 The BRUA corridor (Source: the EU's representation in Vienna)
Mark Smedley