Output constraints no longer explain Russian gas supply cuts
Gazprom's gas deliveries to Europe so far in January represent a record low for the month in the last seven years that data is available. In its January 17 release [1], Gazprom confirmed it had effectively reduced its exports "as requested by consumers in line with contractual obligations."
Gazprom's monthly gas exports to Europe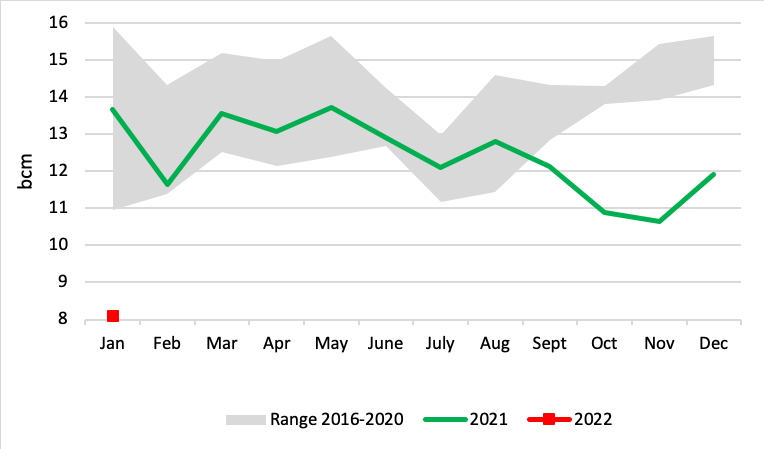 Source: Gazprom, Entsog, thierrybros.com
Gazprom could have delivered more gas in Q3 2021 but decided not to. It supplied its customers without refilling the storage sites it manages in Austria, Germany and the Netherlands.
The curtailment in exports in Q4 2021 could be be explained by a lack of spare production capacity in Russia. There was also extremely high demand in Russia, and therefore we can deduce that the reduction in European supply was not because of a hidden political agenda.
In contrast, the substantial additional cut this month cannot be explained by any production constraints. Gazprom should be able to produce and ship an additional 3bn m3/month (100mn m3/d). A contributing factor may be Gazprom's decision to no longer sell volumes on its electronic sales platform, but volumes sold on that platform were very low in January 2020 anyway, reaching only 0.2bn m3.
Therefore, a deal with buyers to reduce flow must have been agreed in order to explain most of the decline this month. We should be asking European utilities why they are only requesting what could be considered the minimum contractual amount of gas. Were they told by Gazprom that this is all the gas they can get, or do they have strategic motives? Were they offered guarantees of Russian supply against the backdrop of increased tensions between Russia and Ukraine if they only requested this minimal amount?
Up-to-date market information is vital to answering these questions. But in the midst of Europe's worst ever energy crisis, it is telling that the only source of up-to-date data is Gazprom. Meanwhile, the European Commission has only just published its now-irrelevant data for Q3 2021 [1], while European utilities have not disclosed any information.
Under their December 2019 transit deal, Gazprom has to pay Naftogaz to ship 40bn m3/year of volumes between 2021 and 2024 via Ukraine, regardless of how much it actually sends. After transiting the contracted amount in 2021, Gazprom is now transiting less than 50% of ship-or-pay volume.
As record prices made Europe more attractive a few weeks ago, LNG send-out in January could top the former monthly record achieved in November 2019.
European LNG send-outs (excluding Malta)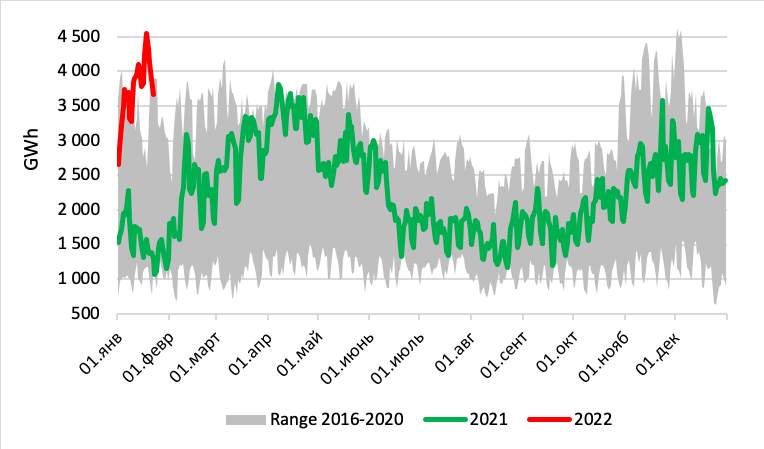 Source: Gazprom, Entsog, thierrybros.com
Europe's storage facilities began the withdrawal period in October last year at a worryingly low level of utilisation of 77%. By the start of 2022, this had fallen to 54%. But so far, the steep fall in Russian exports this year has been completely mitigated by extra LNG.

European gas storage utilisation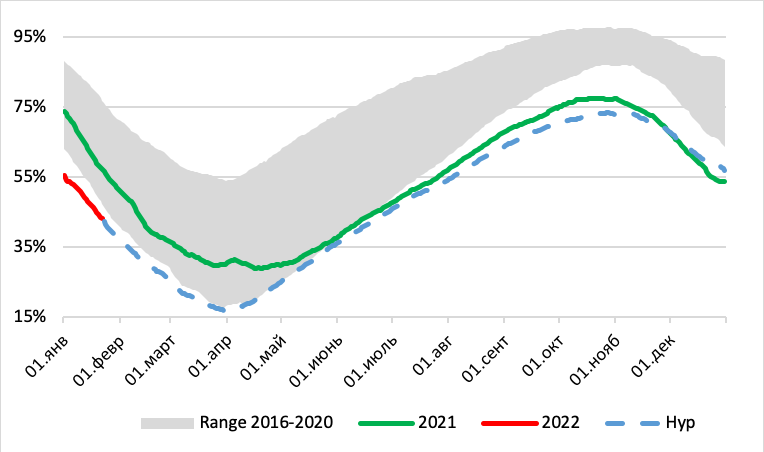 Source: GIE, thierrybros.com
In 2012, I forecasted in my first book[1] that the surge in US oil and gas production, combined with the European energy transition, would deeply alter energy and geopolitical landscapes. Since 2020, the US and Russia have had the ultimate say on European gas prices by de facto collaboration or confrontation. After sleepwalking into this crisis, and since realising that Gazprom will not provide additional volumes, Europe has turned to the LNG spot market for the extra gas it needs. With this now the new norm, Europe could end winter with its storage facilities only 17% full, with 19bn m3 left in stock. If we assume we could in theory end winter with no gas in storage, Gazprom could reduce its supplies by an additional 19bn m3 until the end of March, in the event of a military crisis, bringing them to de-facto zero.
On a more realistic basis, we could expect Gazprom to be willing to continue exports via Nord Stream 1 and TurkStream as this would have the added benefit of 1) continuing receiving a maximum amount of cash and 2) further dividing EU between countries still receiving their contractual Russian volumes (Austria, Bulgaria, Estonia, Germany, Greece, Hungary, Latvia and the Netherlands), those cut off from required supply and left struggling to balance demand at record prices (Lithuania, Poland) and those that can receive their required amounts from Gazprom as long as they remain politically quiet (Czech Republic, France, Italy).
Gas dependency on Gazprom per country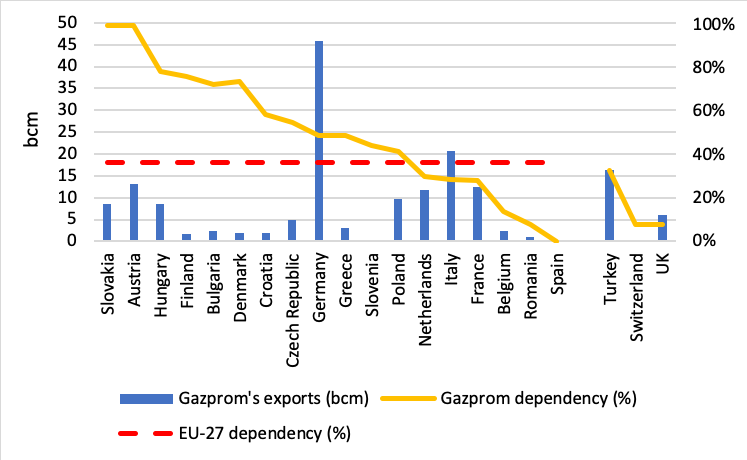 Source: Gazprom Exports, BP Statistical Review, thierrybros.com
---
Dr. Thierry Bros
Prof SciencesPo & Energy Expert
January 25, 2022