UK Regulator Contracts for More Seismic Data
UK upstream regulator Oil & Gas Authority (OGA) has awarded PGS and WesternGeco the contracts to start acquiring seismic data from under-explored areas of the UK's continental shelf (UKCS) this month. The programme is expected to yield up to 15,000 km of data from the East Shetland Platform and southwest Britain respectively, regions chosen following engagement with industry and endorsed by the Maximising the Economic Recovery UK Exploration Board. The data will be supplemented by selective reprocessing of legacy seismic datasets.
Data is expected to be released to industry in Q2 2017, mirroring the 2015 seismic programme which saw more than 40,000 line km of new and reprocessed data released to industry earlier this year. The OGA expects these areas to be made available for licensing in the 31st Frontier Licensing Round which will be held in 2018.
Last year's programme, which covered the Rockall Trough and Mid-North Sea High areas, sparked significant interest in these frontier areas of the UKCS, OGA said July 13. "Studies of these areas are being carried out which will provide valuable insight into their potential ahead of the 29th Offshore Licensing Round which we hope to announce imminently, subject to completion of the strategic environmental assessment."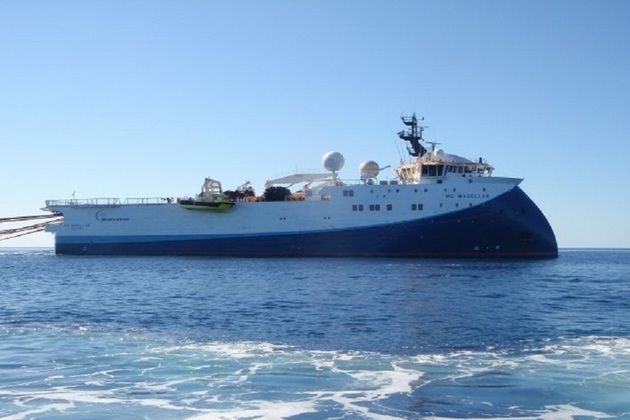 Survey vessel 'Magellan' (Credit: WesternGeco)
PGS vessel the Nordic Explorer is scheduled to carry out seismic surveys across the East Shetland Platform which includes the East Orkney Basin, East Fair Isle Basin and Dutch Bank Basin. WesternGeco vessel WG Magellan is scheduled to carry out seismic surveys around South West Britain, including the Celtic Sea, Western English Channel, Bristol Channel, St George's Channel and the Irish Sea.
The UK government granted £20mn ($26.7mn) for data acquisition, to encourage companies to go looking for oil and gas. Earlier this week the Norwegian Petroleum Directorate (NPD) offered the rights to download a package of data taken from nearby giant Troll gas and oil field area, as part of its overall assignment to make data easily accessible to the industry in all phases of activities on the NCS. It made a nominal charge of Nkr1.52mn ($181,000) for each company.
William Powell