NPD Sells Seismic Near to Giant Troll
Norwegian Petroleum Directorate (NPD), the state's upstream regulator, said July 12 it has put 3D seismic data from an area south of the giant Troll gas and oil field up for sale.
Troll is the largest gasfield ever discovered offshore Norway, with original recoverable gas of 1432.8bn m3, 62% of which (891.6bn m3) had still not been produced as at end-2015, twenty years after the field started producing. Most of the oil cap, originally estimated at 280.4bn m3 of oil, however has now been depleted.
So the seismic data now up for sale, covering Block 31/5 and a small part of block 31/4, may attract interest from the industry. NPD said that the seismic data sale is part of its overall assignment to make data easily accessible to the industry in all phases of activities offshore Norway.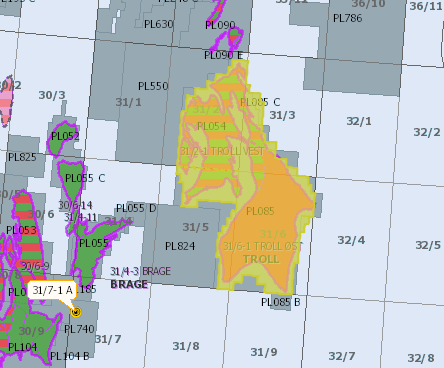 Section showing the Troll field in yellow and block 31/5 to the south and west (Map source: NPD)
The price of the seismic package is NOK 1,518,000 (about $180,000) plus value added tax, charged per company. Data will be distributed by Diskos.
The survey's name is: NPD-TW-08-3D-TROLLCO2. It was undertaken by the Ramform Challenger in 2008 to map the subsurface for potential carbon dioxide (CO2 ) storage sites, covers 300 km2, and was processed by French firm CGG in 2008/2009. More information is available here and here. The latter points to a possible shallow gas layer at 565 meters depth but does not discuss its possible size.
Mark Smedley