UK, France, China Ink UK Nuclear Plant Deal
Government and company officials representing the UK, France and China met in London September 29 to sign the final documentation to enable the 3.2-GW Hinkley Point C nuclear plant to be built. Business and energy secretary Greg Clark, EDF boss Jean-Bernard Levy and CGN chair He Yu agreed the terms including the contract for differences which determines the price; and the investor agreement.
EDF has also agreed that the UK may block the sale of the majority of its stake to third parties – the biggest change that prime minister Theresa May's government introduced into the mix, following its unexpected last once-over of the paperwork over the summer.
The project uses new technology, which should by now already be operating in Finland and in France but which has been beset by delays and cost overruns amounting to years and billions of dollars respectively. Using untested technology has added to the UK plant financing costs, which have been put at £18bn ($24bn). The steel used in a key element of the plant in France is undergoing strength tests now.
Artist's impression of Hinkley Point C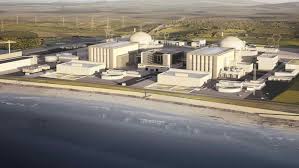 (Credit: EDF)
But all the risks associated with the project lie with the investors EDF (two thirds) and China General Nuclear (one third). The UK for its part picks up the fixed power output price of £92.50/MWh, which is a multiple of today's wholesale price, but may look cheap at some point during the plant's lifetime. A report two months ago put the expected cost of the project to UK consumers at £29.7bn, so well above the plant's estimated £18bn development cost.
For the government, Greg Clark said: "Signing the Contract for Difference for Hinkley Point C is a crucial moment in the UK's first new nuclear power station for a generation and follows new measures put in place by government to strengthen security and ownership. Britain needs to upgrade its supplies of energy, and we have always been clear that nuclear power stations like Hinkley play an important part in ensuring our future low-carbon energy security."
William Powell