UK Finance Minister Backs New Nuclear, Despite Higher Cost
The UK's new finance minister, Philip Hammond, on July 14 expressed his determination that the Hinkley Point C nuclear power plant should be built, despite a report the previous day that argues that its total cost to UK electricity consumers has risen to almost £30bn – from the original £24bn.
The report from the National Audit Office (NAO), which reports to parliament, said that: "The predicted value of top-up payments under existing and proposed CfDs [contracts for difference] has increased due to reductions in projected wholesale prices. The Department calculates that in the 2015-16 financial year the current value of future top-up payments through existing CfDs have increased by £5.6bn because of lower wholesale electricity prices.
"We estimate that the value of future top-up payments under the proposed Hinkley Point C CfD have increased from £6.1bn in October 2013, when the strike price was agreed, to £29.7bn in March 2016," the report warned.
It also said that, whereas the levelised cost of electricity (LCOE) produced from gas had not risen, it had risen for nuclear generation.
Hammond, in an interview with the flagship BBC Today programme July 14. was asked about the costs and answered: "I haven't seen those reports and I haven't looked at those figures yet but, obviously, I would want to do that during the course of today.
"We have to approach this on the basis that power generation, being able to deliver a reliable power supply, is an absolute pre-requisite for a modern, dynamic, functioning economy. We have to make sure that we continue to generate the power that's needed for the UK grid. Hinkley Point will make a huge contribution – 6% of our total power generation capacity – and we have to make sure that project goes ahead."
He alluded to the added uncertainty created by the UK's referendum vote in favour of leaving the European Union.
"We've been talking to our Chinese and French partners in that project. Obviously an atmosphere of uncertainty has been created by the events of the past few weeks. The fact that the new government is now in place that will be engaged with those partners again from today, I hope, will be able to bring the project to a conclusion very soon," said Hammond, who until July 13 was the minister for foreign affairs.
Falling cost of renewables
But NAO also argued that the case for Hinkley Point C (HPC) may have declined because of the falling costs of solar and wind technology in recent years. "One of the [government's] main reasons for including nuclear power in the generating mix is that it provides baseload capacity to complement the intermittency of renewable sources like wind and solar. If major advances are made in storage technology, electricity from wind and solar could be captured and used when the wind stops blowing or the sun stops shining."
EDF expects HPC to cost £18bn to build over 10 years, excluding financing costs, but there are also costs to deal with spent nuclear fuel, and decommissioning the facility once it has stops generating.
NAO also warns that, as part of the government's deal for HPC, the UK has provisionally agreed to guarantee up to £2bn of bonds that HPC developer, NNBG – a joint venture between EDF and Chinese state firms – will issue to finance HPC's construction repayable by the developer in 2020. If the developer fails to repay and the government's guarantee is ever called, funds required would be drawn from government budgets: "Additionally, the HPC deal includes a Funded Decommissioning Programme, whereby the [government] stipulates an amount that NNBG must set aside to cover decommissioning costs. The government will be liable for any decommissioning costs above the amount NNBG sets aside." NAO noted the government says the risk of this happening is very low.
A week ago, a government estimate of £37bn [£36,963.64 mn] was published for the total budgeted whole-life cost of HPC, including non-governmental spending. This reflects not what consumers will ultimately pay, but instead the difference between the cost of power from the new plant and the projected wholesale cost of electricity at the time – and is far higher than a government estimate just a year ago.
France is poised to inject €3bn into EDF, which is 84.5% state-owned, late in July. Due on stream originally in 2017, now 2025 is the earliest start-up date for HPC, which might now rely on more Chinese money than at present. Yet on June 28, French economy minister Emmanuel Macron – who has backed HPC all along – said his government is still backing the investment by EDF, despite the Brexit vote. The final investment decision, due in September, rests with EDF and its Chinese partners.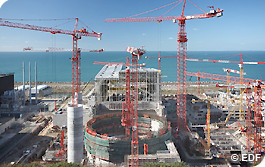 The Flamanville 3 new nuclear reactor being built by EDF in northern France is years behind schedule and billions of euros over its original budget (Photo credit: (c) EDF)
Campaigners such as Greenpeace, but also many mainstream economists, oppose the project – not least because of budget blowouts and delays at projects similar to HPC in Finland and France.
Mark Smedley