Total Spuds South African Well
Total has resumed drilling on Block 11B/12B offshore South Africa.
It re-entered the Brullpada-1AX well that was suspended in 2014, its junior partner the Lundin subsidiary Africa Energy Corp (AEC) announced December 27. Earlier this month the government confirmed that the rig Deepsea Stavanger is being used.
France's Total is operator with a 45% interest in block 11B/12B, while Qatar Petroleum and Canadian Natural Resources (CNRL) have 25% and 20% interests respectively. The remaining 10% is held by Main Street 1549, which is 51%-owned by Toronto-listed AEC.
"Brulpadda-1AX exploration well is a world-class, basin-opening opportunity in one of the last under-explored regions offshore Africa. We look forward to drilling results in 1Q2019," said AEC chief executive Garrett Soden.
AEC said the Brulpadda Prospect has gross prospective resources of more than 500mn barrels with significant follow-on potential in the success case. It said Block 11B/12B is located in the Outeniqua basin 175km off the southern coast of South Africa and the area has a proven petroleum system from the nearby Sable and Oryx oil fields.
Should the Total drilling campaign yield gas, one option could be to pipe it to the Mossgas gas-to-liquids refinery.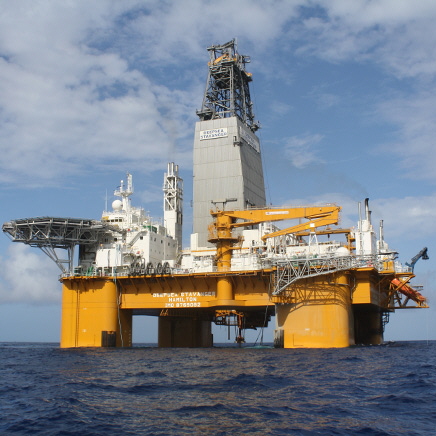 Deepsea Stavanger drillrig (Photo credit: the owner Norway's Odfjell Drilling)