Total to Start Drilling Off South Africa
Total announced November 13 its plans for new offshore drilling in its Block 11B/12B, off the south coast of South Africa.
Drilling is due to start in mid-December, it said, and expected to last for 3-4 months depending on the weather. The drilling area is 180km south of Mossel Bay, in the South Outeniqua deepwater basin (see map below). Block 11B/12B is operated by Total and covers some 19,000 km2 with water depths of 200 to 1,800 metres.
As a part of its work programme, Total said it is planning to re-enter the Brullpada-1AX (3522C-12-3-64-1) well that was suspended in 2014, in order to establish any traces of hydrocarbons. Partner CNR said that drilling in 2014 ceased prior to reaching targeted well depth, due to mechanical issues with marine equipment on the drilling rig then. The Odfjell-owned Deepsea Stavanger drill rig is currently in transit from Norway and is expected to arrive around mid-December to drill the well. Two supply vessels which will operate between Mossel Bay, Port Elizabeth and the rig on a 24/7 basis.
Petroleum Agency SA, the country's upstream regulator, lists block 11B/12B licensees as Total 45%, Qatar Petroleum (QP) 25%, Canadian Natural Resources (CNR) 20% and Main Street 10%. QP's farm-in to the block was announced in February. The stake held by Main Street, which is 49%-owned by Lundin subsidiary Africa Energy Corporation, is subject to completion, according to Total.
Mossel Bay is the location of South Africa's troubled Mossgas gas-to-liquids refinery, owned by loss-making state energy company PetroSA but now expected to be run on alternative feedstock. Should the Total drilling campaign be successful, one option could be to pipe the gas to Mossgas at a time when South Africa is planning to boost its reliance on natural gas.
Other international companies with exploration acreage offshore South Africa include ExxonMobil and Norway's Equinor (formerly Statoil).
Equinor indeed says it has interests in four blocks with water depths up to 3,000 meters, one which it operates, with the other three ExxonMobil-operated. In one of the three - Deepwater Durban which covers over 50,000 km2 - Equinor this year finalised a farm-in for a 50% stake with Exxon retaining the other 50%.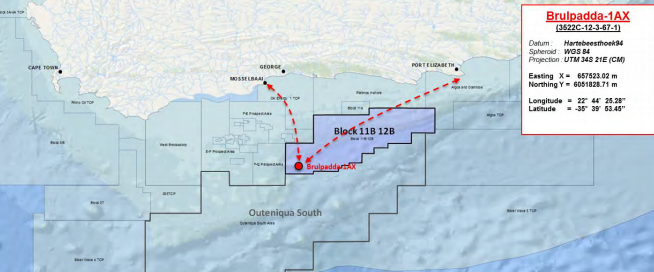 Total-operated block 11B/12B (Photo credit: the company)
A map of all offshore South Africa licences can be downloaded here from the country's upstream regulator