Total Gets Senegal Block as Minister Axed
Total has been awarded a 90% interest in a large exploration block offshore Senegal, oddly on the same day that its energy minister was sacked.
The French major said May 2 it signed two agreements with the government to enable Total to explore in the country's deep and ultra-deep offshore.
The first agreement involves an exploration and production-sharing contract for the Rufisque Offshore Profond block, covering 10,357 km². Total will be the operator with a 90% interest alongside state Petrosen on 10%. Total did not divulge any details of a signature bonus for the prized block in what has become an exploration hotspot.
The second is a co-operation agreement with Petrosen and Senegal's energy ministry under which Total will study the prospectivity of Senegal's ultra-deep offshore and become operator of an exploration block.
Energy minister dismissed
The announcement came on the same day that Senegal's president Macky Sall dismissed his energy minister Thierno Alassane Sall, according to state news agency APS, adding that his energy job would be handled by the prime minister Mahammed Boun Abdallah Dionne. No reason was given for the abrupt dismissal. He had been energy minister for two years.
Senegal becomes hot-spot
Rufisque Offshore Profond is further offshore than Rufisque Offshore licence. The latter is one of three operated offshore Senegal by UK Cairn Energy that also include Djiffere Offshore and Sangomar Deep in which it has made eight oil (some including gas) discoveries; Cairn's co-venturers are Woodside, Australian independent FAR and Petrosen. Both FAR and Chinese CNOOC have recently expanded into acreage south of Senegal, highlighting just how much interest there is in this part of Africa. Also BP late last year farmed in to Kosmos acreage offshore Senegal/Mauritania, including the Tortue gas discoveries and FLNG project, and guaranteed to invest $1bn. More recently BP also bought out a junior explorer's interest in the same area.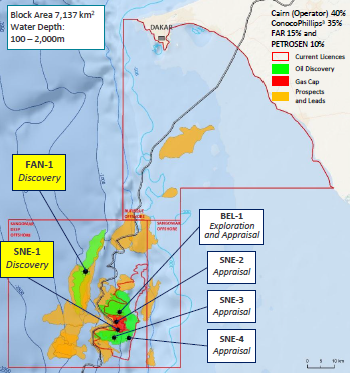 Discoveries offshore Senegal by Cairn and partners, Total's block is the unallocated area in the top left of the map (Photo credit: Cairn Energy)
Mark Smedley