TAP Provides Onshore Pipe Update
Trans Adriatic Pipeline says that May 17 marks the one-year anniversary since it began construction.
"Activity in each of the three host countries is on time, on track and on budget," it said in a statement issued May 16. However, in Italy that's open to question as TAP until last month was held up in the courts over preparation work required ahead of the start of onshore construction there.
TAP nonetheless said its contractors cleared roughly 49% of the project route in Greece and Albania (371 km out of 765 km) and that 22.6% of welded steel pipes were already laid in the ground. In Italy, it said work is ongoing with the first batch of olive trees temporarily stored so that construction of its 1.5-km micro-tunnel can start later in the year.
Some 68.5% of the total 55,000 pipes to be used for the construction of the pipeline have been received in Greece, Albania and Italy, noted TAP.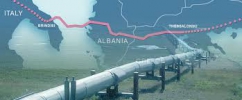 Most of the onshore pipelaying is in Greece and Albania, but a short section in Italy has caused most headaches (Photo credit: TAP)
Managing director Ian Bradshaw said: "We are pleased with our performance. In terms of overall project progress, we are approximately 41% complete, including all engineering, procurement and construction scope. We are on track to deliver first gas from Shah Deniz II in 2020, becoming an active part of the European energy network, enabling more competitive and secure energy to reach homes and businesses."
TAP said, by this time in 2018, it plans to have completed the clearing and grading of the route across Greece and Albania and have some 67% of welded pipes placed in the ground.
The 878-km TAP will be the westernmost section of the Southern Gas Corridor pipeline system being laid to bring Shah Deniz II (SD2) gas to Europe by 2020, comprising Tanap across Turkey; and before that, the South Caucasus Pipeline expansion in Georgia. First SD2 gas sales to Georgia and Turkey are targeted for late 2018.
TAP owners are BP, Azeri state Socar, Italian gas grid Snam (each with 20%), Belgium and Spain's gas grids Fluxys and Enagas (with 19% and 16% respectively) and Swiss utility Axpo 5% – owner of 1.8 GW of capacity in a number of gas-fired power plants in Italy that came with its purchase of EGL.
Mark Smedley