TAP Cleared to Resume Work
A district court in the Rome region, the Tribunale Amministrativo Regionale (TAR) Lazio, on April 20 reversed its previous ruling of April 6 that stopped the Trans-Adriatic Pipeline (TAP) company moving olive trees in preparation for construction of its pipeline in the southeastern Italian region of Puglia.
The move opens the way for TAP to resume its transplantation of the trees.
TAP issued a statement April 20 saying: "Following today's positive decision of the TAR Lazio, TAP continues to collaborate with all the authorities involved in the process to resume its activities on the ground as soon as possible, in order to remain on schedule."
"Once works can safely resume, the remaining olive trees could be removed and replanted in a matter of days. TAP has the legal rights to carry out all works to remove and replant the olive trees, in line with the approvals received by Italian authorities," said the pipeline developer.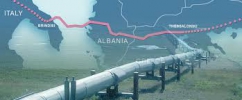 TAP's planned route across Greece, Albania, the Adriatic and Italy (Map credit: TAP)
Azeri and US authorities last week expressed concern at delays in TAP's construction, which they feared could set back the timetable for the whole Southern Gas Corridor project to deliver Shah Deniz phase 2 gas to Europe by 2020.
Mark Smedley