TAP Pauses Olive Tree Operation Again
Trans Adriatic Pipeline (TAP), the company planning to build a pipeline from Greece to Italy that will carry Azeri gas from 2020-21, confirmed April 7 it had temporarily halted its transplantation of olive trees in southeast Italy, following an April 6 ruling by a district court in the Rome region
The ruling by the court in Lazio blocks preliminary works on the construction of the gas pipeline in Melendugno at least until April 19 when the issue will be re-examined in court. Sought by the Puglia region, it overturns an order by the Italian government authorising the transplantation.
TAP wants to relocate the trees promptly, as doing so in the heat of summer could kill them. But it indicated it will likely challenge the latest Lazio court ruling – buoyed by a March 27 ruling in its favour by Italy's highest administrative court, the Council of State.
"The Single Authorisation permit granted by the Ministry of Economy to TAP May 20 2015 remains legally valid and effective, as stated in the same Decree of the Lazio TAR (regional administrative tribunal). TAP continues to collaborate with all the authorities involved in the process to resume its activities on the ground," said a TAP spokesperson, adding: "TAP has temporarily halted the removal and transportation work of olive trees following the TAR decision. We are doing everything in our power to ensure the already uprooted olive trees on site remain safe and healthy."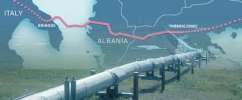 TAP route (Map credit: TAP)
Pipelaying of TAP is due for completion in 2Q2019, ahead of testing of both the pipeline and the pumping stations. TAP should accept the first gas from within the Shah Deniz 2 (SD2) project in early 2020, with Italy to receive 8bn m³/yr of the eventual 10bn m³/yr SD2 gas piped beyond Turkey to Europe.
Azerbaijan energy minister Natig Aliyev, speaking to media in Baku, sounded equally emphatic earlier on April 7: "We concluded an agreement with the Italian government, not with regional authorities…We encountered similar obstacles during work on the Baku-Tbilisi-Ceyhan pipeline and other projects."
Azerbaijan Desk, with Mark Smedley