Socar Supplies Malta's 1st LNG
Malta's first LNG cargo, supplied by Azerbaijan's state Socar, was delivered January 11 aboard the tanker Galea.
ElectroGas Malta -- which developed the new floating LNG import and storage terminal (FSU) at Marsaxlokk in southeast Malta and a nearby 200 MW gas-fired power plant at Delimara -- told NGW that the maiden 14,000m3-plus LNG cargo was supplied by Socar.
The cargo size delivered is small, compared to the size of Galea's 136,967 m3 hold, and is expected to be used for commissioning the new facilities.
"After the berthing of the Galea alongside the FSU, gassing-up commenced and is expected to continue until later this evening, January 12, when we can start to cool down the first FSU tank," added ElectroGas.
Electrogas Malta is a three-way consortium of Germany's Siemens, Socar Trading and privately-owned Maltese joint venture GEM Holdings. Its new 200 MW gas-fired combined cycle (CCGT) plant will double the Delimara power plant's generation capacity.
The FSU floating import terminal, Armada LNG Mediterrana, arrived in Malta three months ago on October 10 2016.
ElectroGas added: "The ship to ship transfer for this first cool-down cargo is anticipated to take around four to five days, whereupon Galea shall depart and the rest of the cryogenic equipment onboard the FSU and onshore in the regasification plant shall be cooled down to operational temperatures."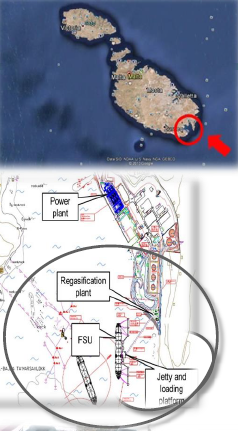 Layout of the FSU, regas plant, and power station (Graphic credit: Bumi Armada's May 23 2016 AGM presentation)
Sources told The Malta Independent that the new gas-fired CCGT would be fully operational by the end of this month; its report included a video clip of the Galea's arrival. Malta's energy minister Konrad Mizzi and EU energy commissioner Maros Sefcovic attended an event January 11 to mark its arrival.
Ship tracking services indicated that Galea reached Malta from Sagunto in southeast Spain where it set sail January 7; it is likely to have loaded LNG at the terminal there. Shell also confirmed to NGW that Galea, which it manages, arrived January 11 at Marsaxlokk.
Colder weather and snow across Europe this week have led to higher prices for wholesale gas and LNG. Spot gas prices for LNG-starved southeast France soared above Asian LNG prices – as the issue of NGW Magazine published January 11 analysed – and remain above still on January 12.
Mark Smedley
NGW Magazine issue 10 is now available at Joomag, for Apple (iPad and iPhone) and for Android.