RWE in the Black, Prepares for Spinoff
German utility RWE said August 11 its adjusted, first-half net income improved but its trading business made a steep loss. On the plus side, it reached an out-of-court settlement with Gazprom.
Net income fell by 74% year on year to €457mn, in contrast to E.ON's steep €3bn loss reported the previous day. Also RWE's adjusted net income was 10% higher at €598mn, once a €1.5bn gain from last year's sale of upstream business DEA is excluded.
Overall 1H operating result for RWE was down 7% at €1.88bn, with earnings from conventional power generation one-third higher at €390mn on a 5% higher production volume, with its UK gas-fired plants a key contributor. In contrast RWE's trading/gas midstream division slumped from a €73mn gain in January-June 2015 to a loss of €156mn in 1H2016, mostly in the second quarter. RWE said its trading/gas midstream full year result would be "considerably" worse than in 2015. It booked impairments in 1Q of €204mn on gas storage assets.
Yet on the plus-side, Gazprom in late May agreed to adjust the terms of RWE's long-term gas contract. RWE says this means it will not be exposed to price risks in the next few years. RWE CEO Peter Terium told a press briefing that both sides had agreed to keep the details confidential, but added that RWE's contracts generally have moved away from oil price exposure. Three years ago Gazprom lost an arbitration case brought by RWE over pricing. Meanwhile RWE in June contracted to buy up to 1.1mn mt/yr of LNG from Qatargas over 7.5 years, believed to be indexed to gas pricing.
Group electricity sales volume was up 4% at 133.5 terawatt-hours, but gas sales decreased by 7% to 145.7 TWh owing to switching in Germany from suppliers and mild weather. RWE said a restructuring of its UK retail arm, Npower, was bearing fruit; yet its 5mn UK customer count at end-June was some 10% lower than at end-2015. Retail is among the businesses that RWE is planning to spin off.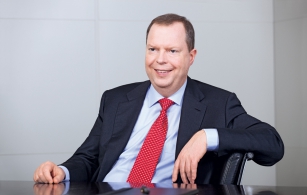 RWE's CEO since 2012, Peter Terium, will switch over to the top job at Innogy when floated. Born in the Netherlands, he joined RWE in 2003 and headed its Dutch subsidiary Essent from 2009-11 (Photo credit: RWE)
"Some people say: RWE sells the future, E.ON sells the past"
RWE is spinning off its grids, renewable and also retail business. This will be formally renamed Innogy SE on September 1, but has been largely operational since April. RWE CEO Terium told a 1H 2016 results briefing on August 11 that an initial public offering (IPO) in Innogy will be launched in this year's fourth quarter, depending on capital market conditions. The IPO is planned to increase Innogy's capital by about 10%, with proceeds earmarked primarily to finance growth projects.
Terium said that its spin-off model was finding favour with analysts, with some saying 'RWE sells the future, E.ON sells the past'.
After the planned IPO, RWE's CEO Peter Terium and CFO Bernhard Gunther will resign from RWE's board and hold the same roles on Innogy's board – at which point Rolf Martin Schmitz, RWE's deputy CEO, will become CEO of what is left of RWE.
Markus Krebber, now RWE Supply & Trading CEO, will succeed Gunther as RWE CFO and have the task of managing net debt, which grew to €28.3bn at end-June from €25.5bn six months earlier. Residual RWE will also retain the nuclear assets; like E.ON on August 10, it hopes for clarity over nuclear clean-up liabilities from the German government, along with a separate ruling from the Constitutional Court on the nuclear fuel tax, later this year.
RWE forecasts its operating earnings (Ebitda) to be €5.2bn-€5.5bn in full year 2016, with net income of €0.5bn-€0.7bn.
Mark Smedley