RWE Goes €5.7bn into the Red
German power group RWE on March 14 reported a net loss of €5.7bn ($6.1bn) in 2016, primarily resulting from €4.3bn impairments on power plants and the requirement to increase its contribution to the nuclear energy fund to €1.8bn, with negative effects of fair valuation of derivatives of €0.8bn also a factor.
The company forecast 2017 adjusted operating earnings (Ebitda) of €5.4bn-€5.7bn (actual 2016 Ebitda: €5.4bn). Meanwhile it declared its ambition to grow its energy trading business organically, both in Europe and elsewhere and "to be part of the strong growth of the Asian energy markets."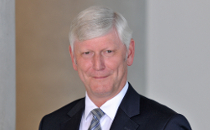 Rolf Martin Schmitz has been RWE's CEO since October 2016 (Photo credit: RWE)
RWE still generated over half its power from coal (44.3 TWh) and lignite (74.3 TWh) from its 2016 total of 216.1 TWh (up 1%), but its gas share rose from a fifth in 2015 (42.6 TWh) to a quarter (53.3 TWh) in 2016, with strong growth in the UK (up 24% to 36.2 TWh) and Germany (up 80% to 6.3 TWh).
Of its €4.3bn power plant impairments last year, €3.7bn related to Germany because of "the persistently difficult conditions in conventional power generation." The remaining €600mn was attributable to German gas storage and Polish windfarms (now both with spinoff Innogy), a Turkish gas-fired plant at Denizli, a biomass-fired unit in Scotland, and RWE's 30% stake in Dutch nuclear power plant at Borssele.
Net debt was reduced year on year by €2.75bn to €22.7bn at end-2016. RWE's main German rival, Uniper, last week reported a net loss of €3.2bn, inclusive of €2.9bn impairment charges.
Mark Smedley