Romania's GSP Lands Midia Contracts
Carlyle-backed Romanian gas developer Black Sea Oil & Gas (BSOG) and its two partners have awarded two main contracts for their Midia offshore gas development to Romanian contractor GSP Offshore.
Execution of the contract covers the engineering procurement, construction, installation and commissioning (EPCIC) of the complete subsea gas production system over the Doina field in the Black Sea, a new unmanned production platform to be located over the nearby Ana field (to be built at GSP's fabrication yard in Constanta) the subsea pipeline system to shore, an onshore pipeline, and a new gas treatment plant, to be built in Vadu. Also concluded was a contract for development drilling of five production wells for which the GSP Uranus jack-up rig will be deployed.
Building the entire project infrastructure is estimated to take two years, said BSOG. Although it did not disclose the value of the contract awards, it did say that "70% of the costs in relation to these contracting activities, which makes up the majority of the totaled installed project cost of $400mm, is estimated to be of Romanian content."
Execution of the EPCIC and drilling contracts, and earlier agreements with Transgaz on gas transport and Engie on gas sales, are conditional on a final investment decision being taken on the Midia project.
GSP chief executive Gabriel Comanescu said his company was proud to have been selected for this "important project for Romania". Mark Beacom, his counterpart at BSOG, said that Midia could provide 10% of Romania's gas needs, employ local contractors and subcontractors, and deliver significant benefits to the country.
Beacom, however, repeated that Romania's new Offshore Law, particularly in relation to new fiscal provisions, would be critical to its and partners' decision whether or not to take a FID on Midia. BSOG as operator has a 65% interest in the Midia project, Italian upstream gas producer, Gas Plus, has 15% and private investment group, Petro Ventures, has 20%.
The FID on another major gas project offshore Romania scheduled for this year, Neptun led by ExxonMobil and OMV Petrom, was shelved until 2019 last month pending clarifications about the law.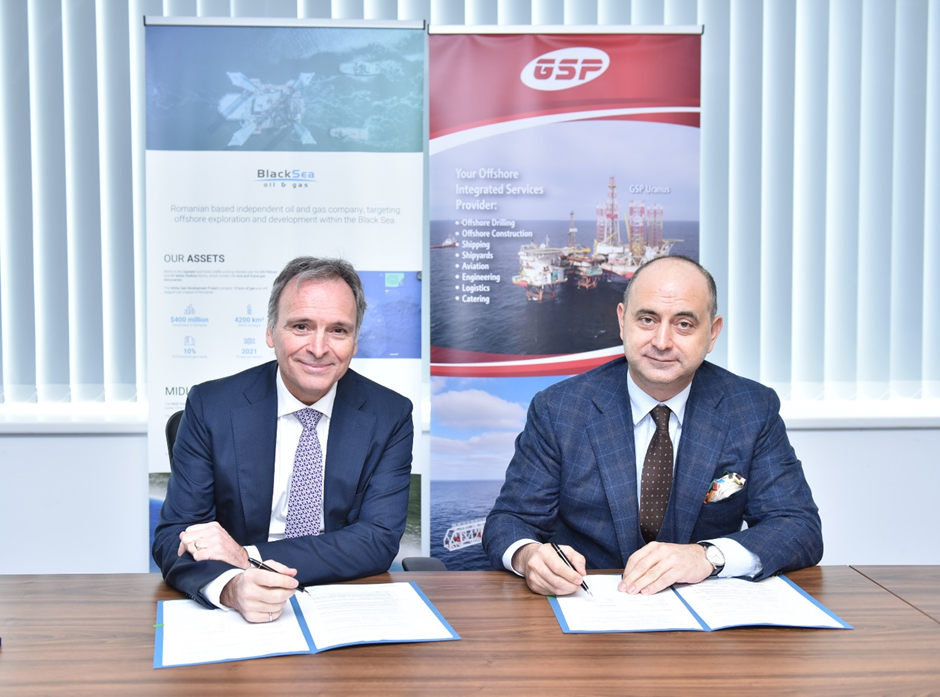 Signing of the two contracts in Bucharest, November 23, by the chief executives of Black Sea Oil & Gas Mark Beacom (left) and GSP chief executive Gabriel Comanescu (photo credit: BSOG)