Romania Says Brua Work Can Begin
Romania's energy ministry said last week that work on the Brua gas pipeline in Romania may begin, entitling state gas grid operator Transgaz to start work.
The decision by the ministry was issued March 21. Energy minister Anton Anton said: "We issued the exhaustive decision at the same time as Transgaz fulfilled all the legal conditions required for the construction of this European gas pipeline. This moment is important because it brings us closer to the role that Romania wants in the region. Through Brua, Romania will be able to exploit the huge potential of the Black Sea natural gas deposits and thus become an energy security factor in this part of Europe."
Brua, a gas pipeline project designed to connect Bulgaria, Romania, Hungary and Austria though remains in doubt. Hungary has said it will not build its section, arguing its interests are better served by importing Russian gas via TurkStream and by investing in other pipes – despite having pledged to support the project in 2016.
Austrian producer OMV said last year it might have rethink its planned Neptun gas field development in deepwater offshore Romania, if Brua is not fully built through Hungary to Austria. US supermajor ExxonMobil is OMV Petrom's equal partner in the field, on which a final investment decision is expected in the second half of this year.
The energy ministry says the deadline for the completion of Brua phase I is 2019. Last year the European Investment Bank (EIB) promised to lend €50mn to Transgaz towards work on Brua in Romania. The Romanian section of Brua consists of a pipeline of about 479 km long with three compressor stations (Jupa, Bibesti and Podisor) that will cross the regions of Giurgiu, Teleorman, Damboviţa, Arges, Olt, Valcea, Gorj, Hunedoara, Caras-Severin and Timis. Initial capacity of Brua on Romanian territory is expected to be 1.75bn m³/yr, but if fully completed in 2022 the entire project's capacity will be increased to 4.4bn m³/yr. Brua's fully completed length across four countries would be 1,318km.
Also March 21 Romania's energy ministry said it has received a EU grant of lei 8.9mn ($2.1mn) towards a new 3-km gas pipeline built to serve the gas storage facility at Depomures, at Targu Mures in north-central Romania.
The pipeline was approved as an EU project of common interest and the ministry authorised its construction in September 2017. It has been designed both to inject into the Depomures storage facility and to withdraw from it and deliver into the national Transgaz system. Minister Anton said: "Although it seems a local project, it is extremely important for the entire national gas transport system. This investment, completed and already in operation, has replaced an infrastructure over 30 years ago."
He said there had been occasions in the past, during peak-demand periods, when gas stored at Depomures could not be withdrawn. Depomures has working gas storage capacity for 300mn m3, and the new pipe will be able to operate at pressures of up to 100 bar (100 times atmospheric pressure).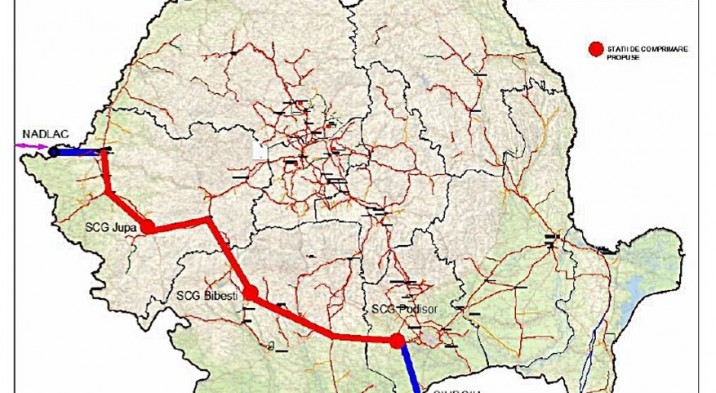 Map of the planned BRUA route across Romania (map credit: Romania's energy ministry)