[Premium] SGC Eyes More Suppliers, New Clients
The fourth meeting of the Southern Gas Corridor (SGC) advisory council was held in Baku February 15, involving several top EU officials. For the first time, the Turkmen president's advisor attended, raising speculation about the country's interest in selling gas through the SGC.
State-run Socar also signed a letter of intent with Albania's Albgaz (pictured below) on gas purchasing and building a 40-km pipeline from Fier to the city of Vlora; and also with Montenegro's state oil company Bonus, Croatia's Pinacro and Bosnia's BH gas companies to design the Ionian Adriatic Pipeline (IAP), expected to connect with the Trans Adriatic Pipeline (TAP) and run up the coast.
The 530-km IAP project will receive 1bn m3/yr gas from TAP at Fier although Albania is not among SD2 clients. Socar is also trying to interest other customers along the route of the 5bn m³/yr IAP, from the mid 2020s.
Bulgaria has already signed a 1bn m3/yr gas purchase contract from the second phase of Shah Deniz gas field (SD2) and has started negotiations with Socar to buy further gas from the state company's own reserves.
Turkmenistan and Kazakhstan have already started studying the possibility of joining SGC as supplier, including as compressed natural gas (CNG) or LNG.
President Ilham Aliyev said during the meeting that Baku is conducting active negotiations with foreign companies to develop new gas fields. "Our experience shows that the real reserves are much greater than the initial forecasts," he said.
The European Union's vice-president for energy union Maros Sefcovic also said that other suppliers in Central Asia and Iran may join the project as suppliers.
Albgaz CEO Genchi Giechi (left) and Socar's Balkans boss, Murad Heydarov (right) sign a letter of intent (Credit: Socar)
SGC, composed of BP-led SD2, South Caucasus pipeline extension (SCPX), Trans Anatolian Pipeline (Tanap) as well as the Trans Adriatic pipeline (TAP), is to carry 16.18bn m³/yr gas to Turkey (6bn m³/yr) and the EU by early 2020. In the future, the capacity of the pipe will be brought to 24bn m3/yr, and then to 31bn m3/yr.
EU strengthens market security
Answering NGW's question about the 18-year achievements of EU's decision on gas import diversification, Sefcovic said that the EU offered the Commission to study the plan and accelerate the processes, especially after interrupts in Russian gas flow in 2006 and 2009. "Let me say that we achieved significant results. You can see that the recent explosion at Austria's Baumgarten gas hub did not challenge the EU markets as much as the same interruptions in last decade. We should strengthen the market's security more, especially with interconnectors alongside the Union."
He said the EC had worked on the legal aspects of the SGC, especially focused on transparency issues. "All Union members should enclose the details of deals that account for more than 40% of the country's gas demand. The EU also focused on the expansion of LNG terminals and infrastructures, as well as interconnectors to reinforce the security and prevent suppliers dictating their interests to clients."
Gazprom increased its share in the European market from 33.1% in 2016 to 34.7% last year, exporting 165bn standard m³ in 2017, or 193.9bn m³, based on Gazprom's own smaller measure. It expects similar sales this year although directs sales to Ukraine from this March mean that it will sell less at European hubs, for redelivery to Ukraine.
Azerbaijan lightens cost burden, eyes revenues
The cost of 3500-km pipeline as well as the second phase of Shah Deniz gas field (SD2) now is below $40bn, about 12.5% under the initial estimates, Socar vice president in investment and marketing told NGW February 14.
Azerbaijan's share was $11.5bn, of which only 24% remains by 2020, when the project will become operational to deliver 16.18bn m³/yr gas to Turkey (6 bn m³/yr and EU. Of course the deliveries to Turkey will start in July 2018 in restricted amount and will reach contractual volume in two years.
Socar's deputy vice president for investments and marketing, Vitaliy Baylarbayov, told NGW that the cost burden had now lightened significantly. From February until the project is complete, Azerbaijan will spend only $2.77bn, of which $1.17mn will be spent this year.
Referring to the 2.1bn m3 gas imported in 2017, Baylarbayov said the company itself exported as much as this volume last year and in the coming two years, the production from other fields will increase. "French Total will start drilling in Absheron gas field in the end of this month," he said.
The first phase will produce 1.5bn m³/yr for the domestic market, but the second phase will add 3.5bn m³/yr to this volume, projected to be exported after reaching a deal between participants. Socar also is in talks with Total as well as Petronas to raise output from the Umid gas field and other fields are also to start soon.
BP released its annual report February 16, saying that in 2017, it spent about $451mn in operating costs and about $2.88bn in capital expenditure, the majority of which was associated with SD2. "SD2 first gas scope is now 99% complete, in terms of engineering, procurement, construction and commissioning," it said.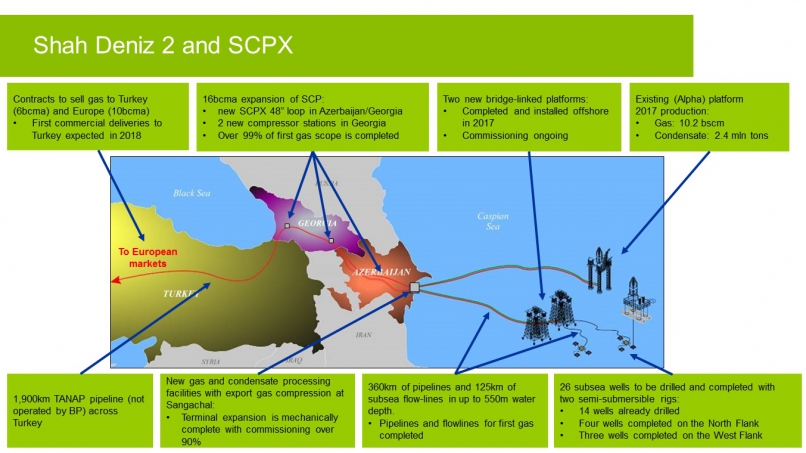 (Credit: BP)
BP's regional president for Azerbaijan, Georgia and Turkey, Gary Jones, told a press conference February 16 that the company would start drillings the Shafag-Asiman offshore block in 2019 and in case any result be achieved, the total production amount can be exported via SGC.
Socar told NGW that studies show a 40% possibility of significant amounts of gas in Shafag-Asiman, such that it is worth drilling with even a 20% possibility.
A representative of SD shareholders told NGW anonymously that SD1 will produce a stable 10bn m3/yr until 2028 and SD2 will still be flowing at about 16bn m³/yr by 2030s as well. He said that SD3, the biggest layer with 500bn m3 reserves, would offset production falls in SD1 and SD2 after the 2030s and export further gas to EU markets. "So SD will supply foreign markets for several decades to come," he said.