[Premium] GasTerra Focuses on Short-Term Future
The future of Netherlands based marketer GasTerra is becoming more and more short-term, despite the traditionally long-term nature of the gas business, according to its CEO Annie Krist.
In an interview with NGW May 16, Krist said that the Dutch government is not pro-gas – for example, starting in a few years' time, new houses will not be connected to the mains supply – and the economy ministry has drawn up the timetable for winding down production at Groningen, all of which is sold to GasTerra. This is despite the state owning 40% of the Groningen field and 50% of GasTerra.
GasTerra's two other shareholders, Shell and ExxonMobil each with 25%, which have seen their former cash-cow and the foundation of Europe's gas market since the 1960s, the low-calorie Groningen field, forced to cut its output. It is now highly unlikely to be producing post-2030, leaving an estimated €50bn of value in the ground, at today's prices. In the meantime, the market will bear the cost of nitrogen-injecting facilities so that high-calorie gas can replace gas from Groningen in its long-term gas supply contracts.
Groningen accounted for about a third of GasTerra's 57bn m³ gas sales in 2017; imports another third, and Dutch offshore gas from 'small fields' the other third.
"We have a difficult four to five years before the nitrogen plant comes on, in terms of balancing the low-calorie market. If you are told that the backbone of your supply is to be turned off by the end of 2029, that lends a certain flavour to your activities, it tones down your ambitions," said Krist who became GasTerra CEO in February 2017 after running the Dutch gas transmission system GTS.
"We cannot speak for our owners but GasTerra was set up as a single-purpose vehicle, to market Groningen gas. Norwegian, Russian and the small fields gas came later. We cannot say whether any of them will retain their interest in GasTerra but if the backbone is gone then the optimisation strategy will be different. The government could exit, so could the other two."
Krist said she had mixed feelings from the Flame conference which was then in progress. She detected "more optimism than there was a couple of years ago: there is more alignment between long term gas and renewables. More and more companies at Flame are advocating power to gas, hydrogen, renewable gas solutions: we need the molecules as well as the electrons. This gives a more optimistic feeling for long-term solution."
However, the European Union's position on gas is uniquely odd: it has the greatest resistance to gas, compared with all other markets. Some member states have an adverse attitude to it: Netherlands and France, for example, she said. "So it is good to hear about growth markets, LNG from the US for example." Krist though said that GasTerra is not looking at US LNG to top up its supply portfolio.
"Gas used to be long-term: we would find the gas, build the pipelines and market it. Now it is short term and we have moved from oil- to hub-pricing. Our pipelines were built in the 1960s so we will have to invest more in those, and in nitrogen injection. The market will pay for that.
"Our last long-term gas sales contracts end in 2029 but we look first at 2022, when nitrogen injection means we can sell 6bn m³/yr low-calorie gas as a substitute for Groningen, out of 20bn m³/yr today. Some parts of our supply portfolio will move to high calorie gas, but also more nitrogen facilities will come on to produce low-calorie gas."
Groningen is exclusively offered to GasTerra while the small fields may go to other buyers. In the early days of competitive markets, Gasunie was accused of market dominance using the flexibility of the Groningen field. "Having Groningen in the portfolio used to make it easier to buy gas from small fields as we could nominate the daily output to fit with uneven offshore production. Now we are more restricted in the way the gas is offered. However we do have the Norg storage facility for low calorie gas which we can use as Groningen back-up."
Norg can hold about 5bn m³ of low-calorie gas; an application to expand it to 7.5bn m³ was rejected, an industry source told NGW, who also said that the other big Dutch storage facility at Bergermeer failed to meet customer demand last winter, contributing to the exceptionally high prices in northwest Europe at the start of March. He said also that it was concerns over Groningen that have made storage more important if not more highly valued: the German networks regulator Bundesnetzagentur (BNetzA) has started a consultation on the benefits of extending the discounts on entry-exit tariffs for storage operators, from the 50% discount already available, to 75% off the network fees.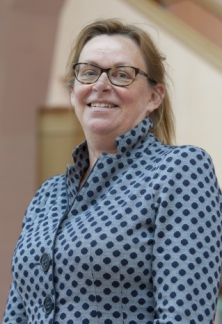 GasTerra CEO Annie Krist (Photo credit: the company)