Pioneer to Buy Parsley in $4.5bn Stock Deal
Pioneer Natural Resources will buy fellow Permian basin producer Parsley Energy for $4.5bn in stock, the companies announced on October 20, marking the latest in a series of mergers and acquisitions (M&A) deals in the struggling US shale industry.
Parsley shareholders will exchange each of their shares for 0.1252 shares in Pioneer, representing a 7.9% premium on the closing prices on October 19. Including Parsley's debt that will be assumed by Pioneer, the transaction's value is $7.6bn.
Pioneer CEO Scott Sheffield said the deal would create "an unmatched independent energy company by combining two complementary and premier Permian assets," while his counterpart at Parsley Matt Gallagher said the combined company would "thrive as we forge a strong new link at the low end of the global cost curve."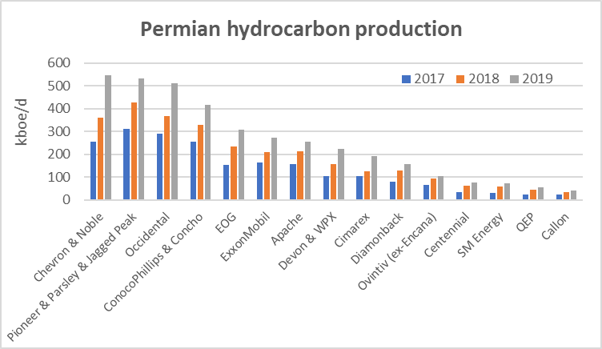 Source: Thierry Bros
Pioneer produced some 375,000 barrels of oil equivalent/day in the second quarter against Parsley's 183,150 boe/d, all exclusively in the Permian. The companies expect to generate some $325mn in annual synergies from the tie-up.
The transaction is set to be closed in the first quarter of 2021, pending regulatory and shareholder approvals and other conditions being met. Quantum Energy Partners, Parsley's largest shareholder with a 17% stake, has already come out in support of the deal, which it said offered investors "new structural advantages including a lower cost of capital, a fortified balance sheet, economies of scale, and enhanced environmental, social governance capabilities."
Earlier this week ConocoPhillips announced it would build up its Permian business through the takeover of Concho Resources. Chevron also expanded in the Permian and other US shale areas when it completed the acquisition of Noble Energy in early October.