ConocoPhillips to Buy US Shale Firm Concho for $9.7bn
ConocoPhillips announced on October 19 it would buy US shale producer Concho Resources in an all-stock transaction worth $9.7bn that marks the largest US oil deal since the pandemic began.
Each share in Concho will be exchanged for 1.46 shares in ConocoPhillips, representing a 15% premium to Concho's closing share price on October 13. The combined company will have a $60bn value, boasting 23bn barrels of oil equivalent in reserves and over 1.5mn boe/day of pro-forma production. It will have an average cost of supply of under $30/barrel of West Texas Intermediate, the US benchmark crude.
Concho operates in the Midland and Delaware sub-basins of the Permian and lifted 331,000 boe/d of hydrocarbons last year.
ConocoPhillips CEO Ryan Lance said in a statement that Concho was a "tremendous fit" for the US major. The pair "will have unmatched scale and quality across the important value drivers in our business: an enviable low cost of supply asset base, a strong balance sheet, a disciplined capital allocation approach, environmental, social and governance excellence and great people," he said.
"Through this combination, we are joining a diversified energy company with even more scale and resources to create a shareholder value in today's markets and beyond," Concho CEO Tim Leach added.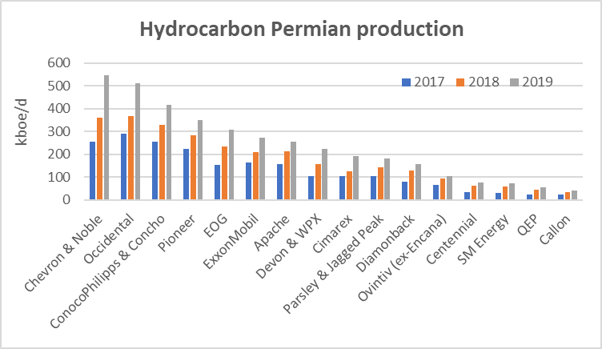 Source: Thierry Bros
The pair expect to make $500mn in annual cost and savings by 2022 as a result of the transaction, which is expected to close in the first quarter of 2021 after shareholder approvals, regulatory clearance and other conditions. Leach will join ConocoPhillips' board of directors and serve as the company's president for the lower 48 once the deal is completed.
"The combination is remarkable. Just in regards to scale, ConocoPhillips is adding enough Permian production to nip at the heels of ExxonMobil's massive programme," Edinburgh-based Wood Mackenzie said in a research note. ""We like the distinctives each firm brings too. Concho has a history of acquisitions in the region and brings a considerable amount of incumbent Permian knowledge. ConocoPhillips has proven itself as a leader in shale technology." The deal is good for the Permian's longer-term prospects too, it said.
Concho itself acquired another independent producer called RSP Permian in 2018 for $9.5bn, or almost as much as ConocoPhillips is paying in shares. It has not posted an annual profit since that year, and booked a $435mn loss in the second quarter of 2020, versus a $97mn loss a year earlier. It had $3.9bn in long-term debt at the end of June.