Nigeria-Morocco Pipe: Forty NGOs Condemn It
Some 40 non-governmental organisations (NGOs) including ones from Nigeria and Morocco have condemned a plan announced late 2016 to link those two countries by gas pipeline.
In a joint declaration March 23, the NGOs said the planned 5,000-km gas pipeline "project will be a financial sinkhole. It is likely that the forecast cost of US$20bn will be probably doubled and will lead to an exponential increase of the debt burden of our countries."
They say it also raises climate change and fishery concerns and fails to take into account people's and environmental needs: "It is a top-down project ...While Nigeria is Africa's largest exporter of gas and oil, less than half of the population has access to electricity. In Benin, Togo, already served by the West Africa Gas Pipeline [WAGP], barely a third of the population have access to electricity." The NGOs voice concerns about the risks of leakage and corrosion; most of the planned route is offshore.
The NGO signatories, mainly lobbying for environmental and human rights, include Friends of the Earth (US and Europe), Oil Watch, Egi Human Rights and Environmental Initiative of Nigeria, Nigeria's Homef, anti-globalisation group ATTAC Morocco, and Food & Water Europe.
A memorandum of understanding for the Nigeria-Morocco gas pipeline project was signed by their respective leaders, Muhammadu Buhari and King Mohammed VI, during an official visit of the latter to Nigeria on December 1-3, 2016. The project would be a continuation of the existing 678-km existing, but underused, WAGP and would cross 12 countries with an estimated combined population of 300mn people. Its extension to Europe has even been mooted. But very few financial and phasing aspects of the projects have been disclosed.
The Nigerian press revealed August 2017 that financing to conduct feasibility study for the project had been released and experts from both sponsor nations were involved, but no information regarding starting date for construction works was provided.
Many regard the project as a pipe dream, not least because of the dismal record of its sponsors.
Nigeria lacks gas production to run its own power plants, let alone export to its neighbours. Morocco has had some success in developing renewable energy generation capacity but is at least 15 months behind schedule in announcing the winners of a multi-billion dollar international tender – which in early 2016 garnered 93 expressions of interest, including many IOCs - to develop a 5bn m³/yr onshore LNG import terminal and two large gas-fired power plants, each of 1.2 gigawatts.
Talk of expanding WAGP even to Cote d'Ivoire, the next country to the west as advocated by Nigerian state Nigerian National Petroleum Corporation (NNPC) and the subject of a feasibility study by Penspen during 2015-16 for Ecowas, remains shrouded in uncertainty and secrecy.
NNPC's previous attempt to develop a transcontinental gas pipeline was announced in 2002 with Algerian state Sonatrach: the 4,128km, 30bn m3/yr, $7bn Trans-Saharan Gas Pipeline project should have started up in 2015. By 2010 its estimated cost had tripled to $21bn but nothing had been built or is ever likely to be built. The intended European gas market crashed in 2008-2014, while Islamist insurgency would have made the construction route unsafe. But the case suggests that a $40bn price-tag for the Nigeria-Morocco project looks low.
Another factor is that Nigeria, Algeria and the world moved away from the idea of exporting gas via pipeline, and towards the expanding and globalised LNG market.
LNG too looks likely to become a much more scaleable and flexible way to open up new markets in west and northwest Africa – especially as projects open out, like the BP-led Tortue FLNG venture offshore Senegal/Mauritania aiming to start exports late 2021 to world markets.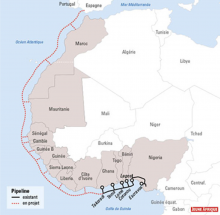 Map credit: Nigeria's Homef (Health of Mother Earth Foundation)