NGW Magazine: Timera Warns of Five-Year Supply Glut
The LNG market is in the early stages of an unprecedented ramp-up in supply with global liquefaction capacity set to rise by more than 50% by 2022, according to a recent briefing note by London-based consultancy Timera Energy.
A total of 205bn m3/year (149mn metric tons/yr) of new liquefaction capacity has taken financial investment decisions (FID) and is either being built or it has come on stream since 2015.
Two years on, the world is only...
Full article in Issue 2 Vol.2 of Natural Gas World Magazine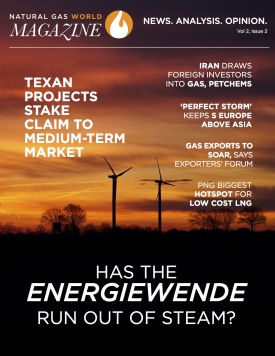 ---
Natural Gas World welcomes all viewpoints. Should you wish to provide an alternative perspective on the above article, please contact editor@naturalgasworld.com
Kindly note that for external submissions we only lightly edit content for grammar and do not edit externally contributed content.