Marathon Starts Eq.Guinea Gas Platform
Marathon Oil said July 14 it achieved first gas production through its new Alba B3 compression platform off Equatorial Guinea, West Africa.
"The Alba B3 compression project will allow us to maintain plateau production for the next two years, mitigating base decline, while extending the Alba Field's life by up to eight years," said Mitch Little, vice president of conventional production at Marathon.
Production from B3 will allow Marathon to convert some 130mn bbls oil equivalent of proved undeveloped reserves, more than doubling the company's remaining proved developed reserve base in Equatorial Guinea.
Marathon has a 63% (65% with government carry) working interest in the Alba Field, with fellow US Noble Energy holding the other 35%. Execution of the Alba B3 compression project involved engineering and construction in four countries with Dutch contractor Heerema the main contractor. An Equatoguinean construction firm fabricated both the platform flare and bridge structures as part of Marathon's commitment to local content.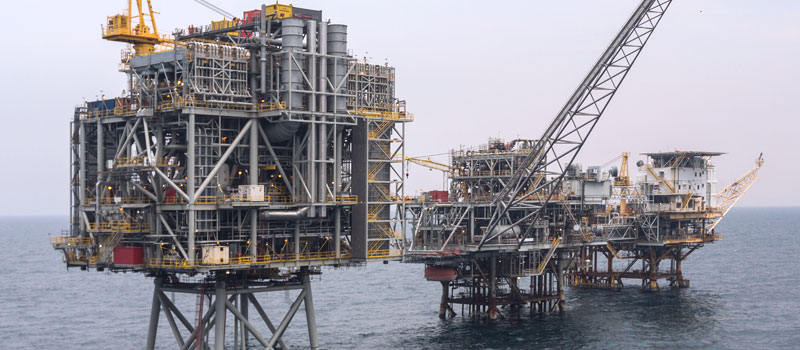 The Alba B3 platform offshore Equatorial Guinea (Photo credit: Marathon Oil)
Most of the gas is expected to maintain feed gas supply into the 2020s at the 3.7mn metric ton/yr capacity EGLNG plant at Punta Europa on Bioko Island that is 60%-owned by Marathon, 25% by state Sonagas, Japan's Mitsui with 8.5% and Marubeni with 6.5%.
EGLNG is contracted to supply Shell for 17 years from 2007 to 2024 with 3.4mn mt/yr, which in 2013 was reported to be the most lucrative for the offtaker (then BG). Shell is now believed to be assisting Equatorial Guinea in developing a Gas Master Plan.
Marathon also has a 52% equity interest in the Alba LPG plant and 45% equity in Atlantic Methanol Production Company, which produces about 1mn mt/yr of LPG.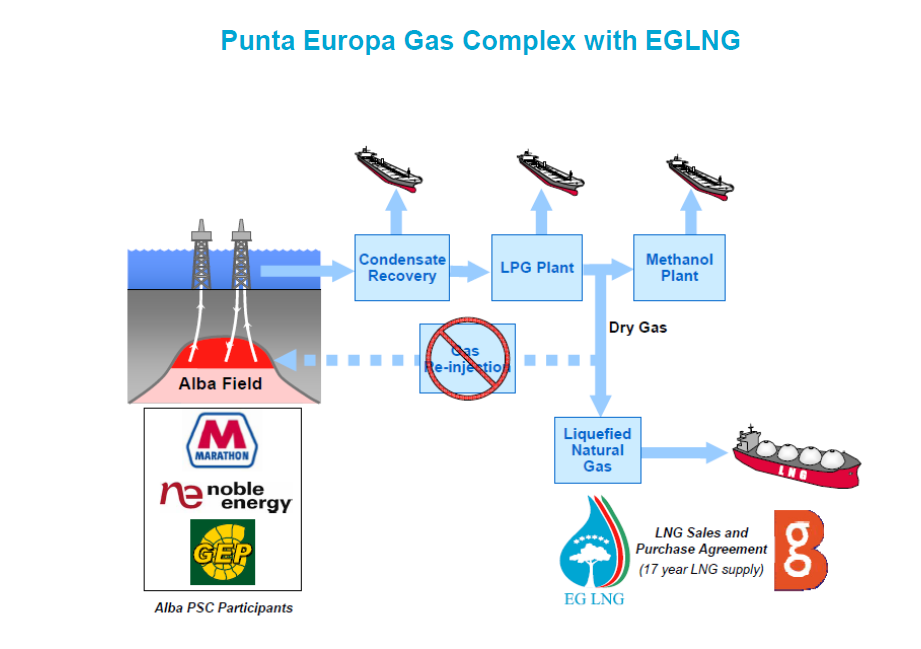 Graphic showing the Alba gas chain, including the EGLNG, methanol and LPG plants (Graphic credit: Equatorial Guinea LNG)
Data from Noble's 1Q 2016 earnings show that the realised price on its well head gas in Equatorial Guinea was a mere $0.27/'000 ft³, although it does earn revenues as a shareholder in the methanol and LPG plants.
Mark Smedley