Shell Signs Gas MOU with Equatorial Guinea
Shell has signed a Memorandum of Understanding (MOU) with the government of Equatorial Guinea.
Under the MOU, signed July 4, Shell will support the Ministry of Mines & Hydrocarbons to identify and assess potential opportunities for them to monetise their gas resources, with one source telling NGA that the agreement is to assist in developing a Gas Master Plan for the country.
According to the Equatorial Guinea government, the minister for mines & hydrocarbons Gabriel Mbega Obiang Lima and BG's Joaquin Quintana signed the document accrediting Shell as the new owner of all shares and activities of its successor in the country, in the presence of the ministry's deputy minister Agapito Edu Ndong.
BG – which was acquired by Shell in February 2016 – contracted in 2004 to buy 3.4mn metric tons/yr for a period of 17 years, beginning late 2007, from the EGLNG plant on Bioko Island; the contract is scheduled to expire 2024.
The government also said that the document also "outlined evaluation work between the ministry and the oil company". The ceremony was attended by Shell's vice-president for the Middle East, North Africa and Southeast Asia, Mounir Bouaziz (on right, in picture), among others from Shell-BG and the ministry.
The meeting took place in the context of a new upstream licensing round, opened by the minister in June 2016 at Cape Town, that will offer all of Equatorial Guinea's blocks that are not already operated or under bilateral negotiation. The round is expected to close in late November, with winners selected in January 2017. A map of blocks licensed, prior to the country's 2014 round, can be found here. Existing upstream oil and gas operators and producers include ExxonMobil, Glencore, Hess, Noble and UK-based Ophir – but not Shell or BG.
There was no indication that Shell had entered into any direct negotiations on any upstream licence.
EGLNG, 60%-owned by US firm Marathon Oil, remains the country's only gas export project; it shipped its 500th LNG export cargo on June 4 this year. Shell lifts almost all its cargoes – and the one loaded June 4, with 170,000 m³ aboard the SCF Melampus, was destined for Aqaba in Jordan.
A second LNG plant is planned – however in April 2016, Ophir Energy deferred its target for taking a final investment decision on this Fortuna floating LNG project from mid-2016 to "during 4Q 2016, with first gas now forecast for early 2020" – rather than first gas in 2019, following a decision by Schlumberger not to invest in the project.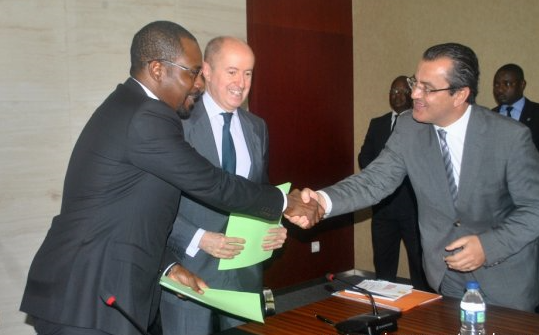 The minister, Gabriel Mbega Obiang Lima (left) shakes hands and Mounir Bouaziz, vice-president of Shell (Photo credit: Mansueto Loeri Bomohagasi, Equatorial Guinea government press office)
According to World Bank data, 66% of Equatorial Guinea's population had access to electricity in 2012 – a higher ratio than Nigeria's 56%. However Equatorial Guinea has only half a million inhabitants who are far less widely dispersed than Nigeria's. There is also a continuing issue with associated gas being flared, for example at ExxonMobil's Zafiro oil field.
Mark Smedley | naturalgasafrica.com | naturalgaseurope.com