Engie Closes Twinerg CCGT
Gas demand in power-generation sector rose last year in Luxemburg but the future remains sombre in Belgium. Shortly after EDF Luminus announced its intention to close four of its gas-fired power plants, French Engie and its partners decided to close a similar plant, the 385-MW Twinerg combined-cycle gas turbine, by October 2016.
This plant is in the south of the grand duchy of Luxemburg, but is connected to the Belgian power grid. Engie owns a majority (65%) of the shares, while Enovos (Luxemburg) and ArcelorMittal each hold 17.5%. The past months they were seeking a buyer, but unsuccessfully.
Strategic reserve
During the last winter Twinerg was integrated in the Belgian strategic reserve. This means it was maintained to start electricity production whenever an urgent need to do so occurred. Now Engie says the economic and legal situations regarding power generation capacity make it impossible to keep the plant operational and it will be shut and dismantled.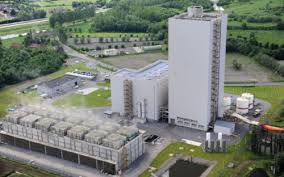 Twinerg plant (Credit: Engie)
In 2015, Belgian power plants used 44.6 TWh of natural gas, 12.4% more than in 2014. It was the first increase – after an unbroken decline since 2010, which, with 67.11 TWh, was the record. The main cause was the temporary shutdown of four of Belgium's seven nuclear power plants in 2015. A smaller cause was the lower price difference between electricity produced by CCGTs and electricity produced by burning coal, after allowing for the (very low) price of carbon allowances as set by the EU-created emissions market.
Retail market switching
Most of Belgium's imports come from the Netherlands, Norway and Qatar – but the number of suppliers is growing and the consumer market is becoming more fragmented. The Herfindahl-Hirschman index that indicates market concentration is slowly drifting in the right direction in Flanders and in Wallonia. In the Brussels federal capital region however, the historic dominance of Engie remains strong. New players here are also scared off by the strong legal protection of consumers with payment problems.
According to a recent study of the federal energy market by the regulator Creg, the number of supplier switches increased again in 2015, keeping Belgium among the top five countries for switching. In 2015, 17.7% of Flemish and Walloon natural gas consumers chose an alternative supplier. Brussels was more conservative, at 11.7%. This can change in the near future, as the number of licensed natural gas suppliers in Brussels grows from 14 to 18 in 2015. Wallonia saw one newcomer and had 28 natural gas suppliers by the end of the year. Flanders remained the most appealing market: it had 33 natural gas suppliers by the end of 2015, five more than one year earlier.
Market shares
Engie still was the main supplier in Belgian's gas retail sector with 30.4%, beating Eni (23.9%) and EDF Luminus (9,3%). Eni has a strong position with large industrial consumers. Engie is even more prominent in the number of customers, with a majority of households: 43.4%, against 19.1% for EDF Luminus, 10.8% for Lampiris (now owned by French Total) and 9.5% for Eni. However the market dominance of Engie continues to diminish, with exception for Brussels, where it still has 67.0%. In Flanders it has fallen to 3.6%, less than half the share it had in 2004, the year the market really opened.
Koen Mortelmans