Options for Delivering Iranian Gas to Europe Via Turkey
As the struggle between Russia and the West in Ukraine deepens, Europe is beginning to reconsider its options vis-à-vis weakening Russia's energy monopoly in the European market. Throughout the political negotiations with Moscow, the energy dependency has remained starkly obvious as Europe's 'Achilles heel'. In the context of changing international environment, Iran's role in delivering gas to European markets introduces an interesting new dynamic, representing a potential alternative in the diversification of European energy sector. According to old estimates, Iran has the world's second-largest natural gas reserves after Russia. BP's recent statistics, however, indicates that Iran has risen to the first place with its 33.6 trillion cubic meters of blue fuel. International sanctions have targeted Iran's energy sector since 2010, limiting its technical and financial capacity to deliver gas to international markets, largely by hindering the development of its energy sector's infrastructure. Now, following the sanctions relief resulting from the November 2013 interim agreement to curb its nuclear activity, Iran is seeking to bring more foreign companies into its energy sector. If the international sanctions against Iran are removed entirely, Iranian gas could be delivered to European markets; this would increase the significance of the Turkish route. This analysis will look at the possibility of exporting Iranian gas to Europe via Turkey, evaluating the existing problems and obstacles along with the advantages of the TANAP and TAP projects, constituting the EU-proposed Southern Gas Corridor.
Analysis
There are several options for delivering Iranian gas to world markets. Going through Turkey is considered by Iranian Deputy Oil Minister for International Affairs Ali Majedi and top Iranian officials to be the most cost effective route. Back in November 2008, notably, the Turkish and Iranian energy ministries signed an agreement under which state-run Turkey Petroleum Co. (TPAO) agreed to develop three blocks of Iran's giant South Pars gas field and pipeline, which crosses Turkish territory to deliver Iranian gas to Europe. But due to the international sanctions and concerns in the US that Iran could use the revenues to develop non-peaceful nuclear capacities, the development of the project has been halted. The tender has been given to a Turkish company, a project developer called Turang Transit Tasimacilik, which is a subsidiary of a minor Turkish petroleum trading company called Som Overseas Petroleum. In June 2013, the Turkish Cabinet approved the urgent expropriation of land along the proposed route of the pipeline. According to the project's developer, the total length of the Iran-Turkey-Europe (ITE) pipeline will be about 5,000 kilometers, approximately 1769 km of which will run from Iran to Turkey's İpsala/Edirne border with Greece, and from here on to Germany. This pipeline will be newly constructed, and will not use the existing Iran-Turkey gas pipeline (Tabriz-Ankara). But there are a number of significant problems and concerns; notably, it remains unclear whether the November nuclear deal easing economic sanctions will be extended beyond the initial six-month term, i.e. from July 2014.
The ITE gas pipeline: opportunities and problems
In addition to political complications, the ITE gas pipeline faces technical and operational difficulties.
First, the project developer, Turang Transit Tasimacilik, does not have experience in developing a giant gas pipeline, and all the necessary infrastructure that ITE will require. Therefore, the exact timeline of the project's construction remains an unknown factor; so does the exact route to Europe, which is supposed to be Germany. But different publically available sources of information do not specify an exact country, and raise the likelihood of delivering gas to Central Europe and South East Europe via Italy - which would be the same route that the Trans Adriatic Pipeline (TAP) will take.
Second, the capacity of the pipeline and the costs of construction are not clear. According official estimates by the project producer, the target annual amount of gas to be conveyed to Europe under this project is determined as 35 billion m3/y, and construction of Turkey's section of pipeline will cost 4 billion USD. But there are some apparent contradictions in this respect. On the one hand, the overall construction cost of the project has not been made public, and nor is there an open feasibility study. Generally, in international construction, this kind of technical information is available in advance. It has been alleged that Som Petrol and Turang Transit Tasimacilik won a tender for ITE worth 20 billion USD. However, the company officially denies this. On the other hand, if the expected 35 billion m3/y capacity is accurate, it conflicts with the information from open sources, that the first step will provide 15 billion m3/y. Thus there are troubling contradictions here, contrasting with normal procedure by international consortiums, which normally provide such information in accordance with a detailed timeline.
Figure 1. Iran-Turkey-Europe pipeline route

The other concern, indeed challenge, is investment in the gas sector, which due international sanctions is seriously lacking in Iran, both in terms of infrastructure and technical capacity. To fully exploit the country's main gas assets, i.e. the South Pars fields, development needs to completed in phases - which cannot be done due to technical and financial constraints. In this respect, the ITE pipeline needs to attract investors. However, Turkey, according to Energy and Natural Resources Minister Taner Yildiz, having looked at the feasibility of TPAO investing in Iran's South Pars gas field, has decided not to invest. Undoubtedly, this is a major challenge to the feasibility of the project.
At the operational level- i.e. in relation to the character of the project - there are further concerns.
The main concern in this respect is that Turkey, while agreeing to deliver Iranian gas to the European market, required official Tehran to give a transit order to deliver Turkmen gas via Turkish territory. All the parties reached an agreement back in 2012. But, according to information leaked to the media, the Iran National Iranian Gas Company (NIGC) gave the Oil Industry Investment Company (a private entity) the right to transport Turkmen gas to Turkey's territory and to undertake all transit responsibilities. Additionally, the gas that Turkey will buy from Turkmenistan can be used in its domestic market. Further, the transit fee for Iranian gas, under the agreements reached, was postponed, which is a concern in this longer-term view. Under these conditions, obtaining Turkmen gas makes no strategic sense for Turkey, if there is no possibility to sell it on the European market. The related issue here - on Turkmen gas - is the price. Iran paid around 515 USD per 1000 cm2 of Turkmen gas in last solar year and the price of Iranian exported gas to Turkey was 416 USD. Thus, the Turkmen gas via Turkey would be the most expensive. Taking into account that gas prices are a source of contention between Ankara and Tehran, Turkey has submitted a formal complaint against Iran with the International Court of Arbitration in regards to the price of gas in March 2012, when Iran sold its gas to Turkey at 505 USD per cubic meter. This increased Turkey's natural gas bill by an extra 800 million USD annually. Iranian officials believe that the court will likely rule in favor of Iran.
The other concern about gas prices relates to the visit by the Turkish Energy and National Resources Minister to Tehran in January 2014, which was followed up with an offer promptly accepted by Iranian Oil Minister Bijan Namdar Zanganeh. Under the terms of the agreement, Tehran will reduce its gas prices if Turkey doubles its gas imports —from 10 billion cubic meters (bcm) to 20 bcm. Currently, Turkey imports gas from multiple sources. Looking forward, beyond Iran and Turkmenistan to Iraqi gas, the Turkish domestic market will face a gas surplus. This means that Turkey's short-term objective needs to be a pipeline that will deliver to the European market. For example, the TAP pipeline, which will deliver Azerbaijani gas to Europe by early 2019. Turkey needs to look at TAP's capacity. If Turkey will be importing gas from multiple directions, it needs to think carefully about transfer fees, price and delivery options.
Future prospects and the TANAP conundrum
The Trans-Anatolian gas pipeline (TANAP), a proposed natural gas pipeline from Azerbaijan through Turkey to Europe, can be also a good option to deliver gas from Iran. Actually, a major concern with the ITE is that the planned route of the pipeline to a large extent duplicates the TANAP project. At the same time, there will be no capacity concern with TANAP, as in the first stage its capacity will be 18 bcm, gradually increased to 23 bcm by 2023, and finally - according to SOCAR – to 31 bcm in 2026. This suggests that there is simply no need for an additional pipeline for Iranian gas via Turkish territory.
Map 1. Southern Gas Corridor, TANAP and TAP pipelines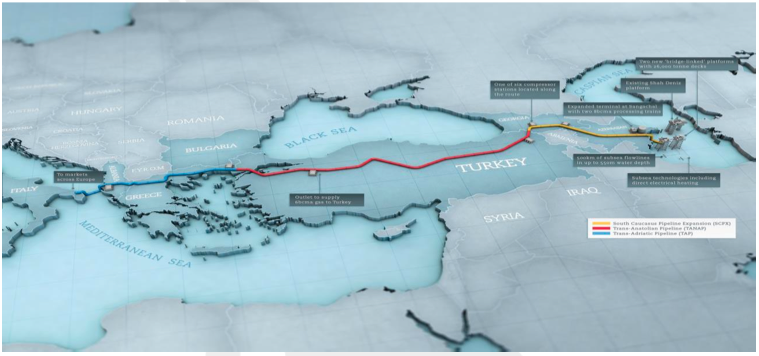 TAP also provides the option of exporting extra gas to Europe via the Trans- Adriatic pipeline. Indeed, back in 2010, the TAP consortium declared that the pipeline would not transport Iranian gas under the current political circumstances. Delivering Iranian gas to the European market was ruled out as an option at that time, and the TAP consortium's decision was carefully considered.
Ultimately, the option for delivering Iranian gas to European markets depends largely on the future of the interim agreement reached between the world powers and Iran. Whether the EU and U.S. sanctions on the Iranian gas and oil sector will be entirely revoked remains an open question. If a final agreement on the Iranian nuclear deal is reached in July, then the political green light for delivering Iranian gas will be a realistic option, something that a few years ago seemed unthinkable.
Policy Brief published with thanks to the Caspian Center for Energy and Environment of ADA University, a Natural Gas Europe Knowledge Partner

The views expressed in this policy brief are solely those of the author in his private capacity and do not in any way represent the views of the institution.