Frontera Signs Moldova Concession
Houston-based independent Frontera Resources said January 10 it signed a concession agreement with the government of Moldova January 2.
It said the agreement gives Frontera the exclusive right to explore for, produce and develop hydrocarbon resources within an area comprising approximately three million acres (12,140 km² in southern Moldova. The agreement lasts 50 years, including an initial exploration phase of up to 10 years and contains standard royalty and other provisions, said Frontera, adding that its exploration focus is on the onshore Dobrudga Basin.
Frontera was chosen following a bid round by Moldova two months ago. It has exploration and minor oil production interests in Georgia, in the Caucasus.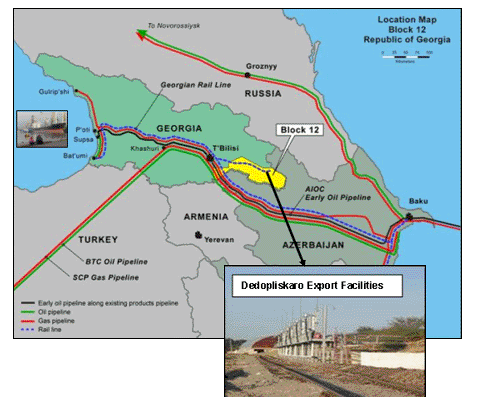 Map showing Frontera's block 12 in eastern Georgia and its rail export depot for crude at Dedopliskaro, plus regional oil and gas export infrastructure, including the BP-operated Baku-Tbilisi-Ceyhan pipeline (Photo credit: Frontera)
Mark Smedley