Frontera Expands into Moldova
Houston-based independent Frontera Resources Corp. said November 16 it has been chosen as winner of the bidding for exploration and production of hydrocarbons in the Republic of Moldova.
It said that both parties are set to conclude respective agreements, subject to the negotiation of suitable terms as outlined in the initial bidding process, and said the bidding was conducted by the Agency of Geology and Mineral Resources of the Ministry of Environment of the Republic of Moldova.
Moldova is an independent non-EU republic sandwiched between Ukraine and Romania.
Frontera's focus has been on Georgia
Frontera describes its focus as the 'Greater Black Sea' region, but its sole interest to date is a 100% working interest in Block 12, an area of 5,060km2 (1.3mn acres) in eastern Georgia in which it is a minor producer and exporter of crude oil and is also appraising the South Kakheti gas complex.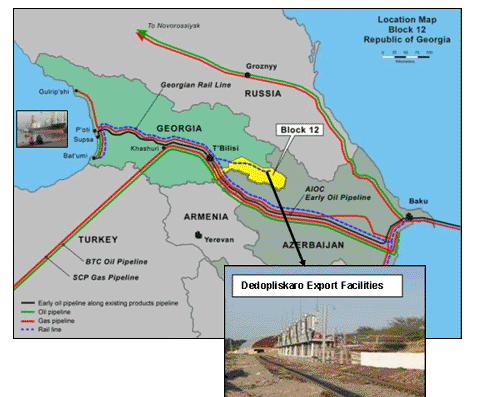 Map showing Frontera's block 12 in eastern Georgia and its rail export depot for crude at Dedopliskaro, plus regional oil and gas export infrastructure, including the BP-operated Baku-Tbilisi-Ceyhan pipeline (Photo credit: Frontera)
In its 1H 2016 results, released September 30, it reported a $10.9mn loss due to ongoing exploration efforts. It also accused Georgia of discouraging domestic gas exploration "in favor of preserving existing gas import monopolies."
Currently Georgia's main source of gas imports is Azerbaijan, but it also buys from Russia's Gazprom and is increasingly looking to source from Iran.
Gazprom contracted to supply up to 100mn m³ to Georgia's Gazko+ during 2H2016, having supplied 0.3 bn m³ to Georgia's Dzheotransgaz. Iranian state news agency IRNA reported in September that Georgian state GIEC had began some gas imports from Iran
Mark Smedley