Finnish Gasum Profits Halved
Finland's main gas supplier Gasum saw its operating profit halved in 1H 2016 to €68m, from €133mn in January-June 2015.
Natural gas deliveries declined to 13.2 terawatt-hours of gas (1.22bn m3), down from 14.2 TWh in 1H 2015. LNG deliveries also slipped back to 2.4 TWh, from 2.7 TWh. Biogas sales were 0.037 TWh, double the year-ago level.
Gasum said lower profits were due to a 14% decline in revenues to €445.3mn because of lower sales volumes and a lower margin as the price of its oil-indexed Russian gas imports fell. Gasum's 51%-owned LNG marketing subsidiary Skangas accounted for €76.1mn of group revenue (1H 2015: €111.5mn).
Gasum CEO Johanna Lamminen noted the arrival of Finland's first ever LNG at Skangas's Pori terminal on July 10, adding: "I would like to extend many thanks to the entire project organization. We are now able to offer LNG across the segments from maritime transport and industry to energy production and heavy-duty road transport. Commercial deliveries from the Pori terminal to customers will begin in September."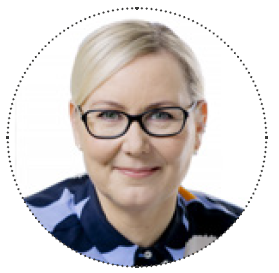 Gasum CEO Johanna Lamminen (Photo credit: Gasum)
Gasum is 100% owned by the Finnish state: 73.5% at arms length through state agency Gasonia and 26.5% directly. According to Finnish Government's policy issued May 12, 2016, the state must maintain a majority holding of at least 50.1% in Gasum.
Finland's gas consumption in 2015 was 3bn m3 in 2015, according to Eurogas, whereas just over five years ago it was headed for 5bn m3/yr. The country has no gas pipelines connecting it to the rest of the EU, but a new pipe is to be built by 2019 to Estonia.
Mark Smedley