EU Funds Balticconnector to Finland
EU governments on July 15 agreed to a commission (EC) proposal to invest €263mn in key energy projects, of which the lion's share will go to build a gas pipeline that will link Estonia and Finland.
Balticconnector, which once built will end Finland's dependence on Gazprom, will receive a €187.5mn EU grant. It is a 7.2mn m³/d (254mn ft³/d) bi-directional subsea gas transmission project that is scheduled for completion in 2019.
Its backers, Estonian gas and power grid operator Elering and Finland's Balticconnector Oy company, applied for the grant in April and have now received the maximum permissible 75% EU funding towards its estimated €250mn cost. For most projects, EU funding has been capped at 50%. But this venture is seen by the EC as "strengthening the security of supply in the Eastern Baltic Sea region."
Matti Sainio, project director at Balticconnector, told NGE July 15 that the final investment decision is expected this autumn.
The project consists of an 82-km offshore pipe from Paldiski (Estonia) to Inkoo (Finland) that will operate at 80 bar, plus a 22-km onshore pipe in Finland at the same pressure, and a 47-km onshore pipe in Estonia at 55 bar, and gas metering and compressor stations at Kersalu (Estonia) and Inkoo.
The EC said that works to enhance the Estonian-Latvian interconnection will additionally be granted €18.6mn. It already granted Balticconnector €5.4mn towards studies.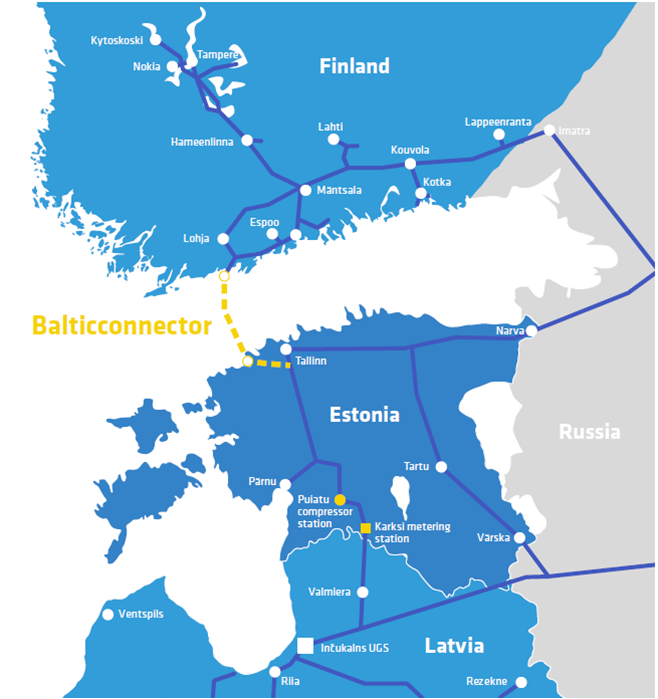 The route of the pipeline's subsea section (Map credit: Balticconnector)
Finland received its first LNG cargo at the weekend, which is being used to commission the country's first new import terminal during August; this too will help end Finland's 100% dependence on Russian gas imports.
Estonia's connections via Latvia to Lithuania – which since 2014 has had an LNG import terminal – mean that neither Finland nor its Baltic neighbours will be entirely dependent on Gazprom, and countries on either side of the new pipeline should have access to regasified LNG in the event that those on the other side do not.
Finland's gas consumption in 2015 was 3bn m³, according to Eurogas, almost equivalent to the roughly 2.6bn m³/yr capacity of Balticconnector. Estonia consumed 0.6bn m³, Latvia 1.3bn m³ and Lithuania 2.5bn m³ last year, according to the same Eurogas data.
Of the €56.9mn other EU grants made July 15, half (€29.9mn) went to build a 100-km electricity line between Dobrudja and Burgas in Bulgaria; smaller amounts will go on studies for Greek projects.
Under the EU's Connecting Europe Facility, €5.35bn was allocated to trans-European energy infrastructure for 2014-2020. The latest €263mn comes from that. A second 2016 call for proposals with an indicative budget of €600mn is ongoing and will close on November 8.
Mark Smedley