Eustream Signs Eastring Feasibilty Contract
Slovak gas transmission system operator Eustream has signed a feasibility study contract for Eastring – the planned pipeline to connect central and southeast European countries. The contract was awarded to Hungarian engineering and consultancy company Euroil.
Following the signing of the contract in late August, work on the study began September 5 in Bratislava. The first working meeting was held with representatives of Euroil as well as representatives of all Eastring project partners: Bulgartransgaz EAD, Romanian Transgaz, Hungarian FGSZ and Eustream. All four are transmission system operators (TSOs).
Eastring is designated a Project of Common Interest (PCI) by the European Union and hence eligible for some funding. "We are are happy that we can make this important step with the direct financial support from the European Union," said Eustream's CEO Rastislav Nukovic.
The study will define all necessary technical, economical, financial and environmental details of the future pipeline including optimal routing as well as to carry on the in-depth market testing. Half the cost will come from the European Commission under the Connecting Europe Facility fund. The study will not be finished until next June and its findings will serve as the basis for next decisions on the project parameters, said Eustream.
Eustream is expecting to be shipping less gas from 2019, when Nord Stream 2 opens up, although it should have financial security as Gazprom has a long-term ship-or-pay contract for 50bn m³/yr, which does not expire until late the next decade. Among the sources of gas Eastring could carry is Black Sea offshore gas, where a number of companies are exploring off the western coast.
William Powell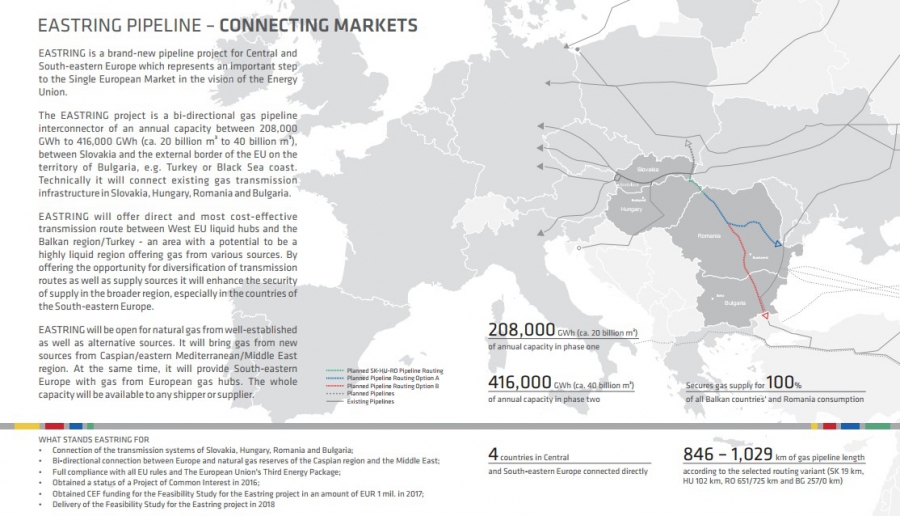 Map and graphic credit: Eastring consortium