Eurogas: Don't Take Robust Gas Grid for Granted
A strong gas network is a pre-requisite to achieving low-carbon, efficient and renewable energy at low cost, said Eurogas secretary general Beate Raabe. She spoke January 23 as the European Network of Transmission System Operators for Gas (Entsog) presented its Ten-Year Network Development Plan (TYNDP) to stakeholders.
The actual Entsog report was published a month ago. Entsog said at the time that current gas infrastructure in Europe "already achieves many of the aims of the internal energy market" (see map below for recent grid additions). However it listed 34 projects, most to be delivered by 2020, that could further improve security of supply, market integration and competition.
Raabe now has said the TYNDP is "a reminder that the well-performing gas network we already have in Europe today is an invaluable asset in achieving the EU's climate and energy goals". She noted that, whilst Entsog scenarios for meeting EU climate targets result in either a rise or fall in gas demand by 2030, "the indigenous production decline leads to imports increasing or remaining stable."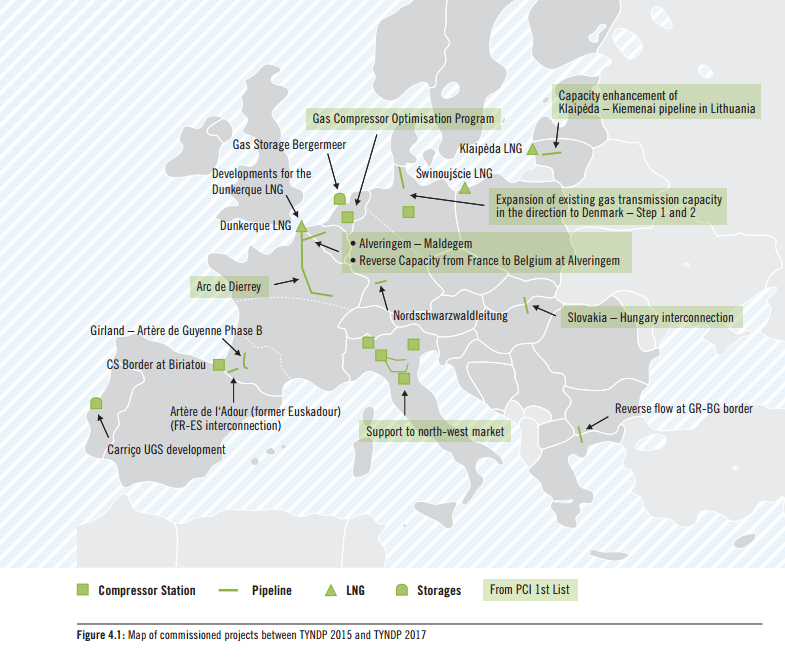 Graphic credit: Entsog TYNDP 2017 executive summary p41
Reinforcing Europe's gas grid though can bring benefits such as sustainable energy, security of supply, and diversification of sources, she argued.
Switching from coal and oil to gas in power generation, heating and transport vastly reduces emissions of carbon dioxide – up to 50% in power generation -- and pollutants such as nitrogen oxides (NOx), sulphur dioxides (SOx) and particulates.
The current cold weather shows how EU citizens who have access to the gas grid and have opted for gas heating enjoy warm homes, she added. Bulgaria has an electricity crisis. In Germany, there was so little wind and sun in December that power generators had to turn to gas, and the gas grid.
The long-term decline in EU indigenous production is being compensated by additional LNG, and piped gas including via the Southern Gas Corridor from Azerbaijan by 2020.
Among LNG terminal projects in the TYNDP are the Greek Revithoussa terminal expansion (due for commissioning this year), a 5th tank and 2nd jetty at Zeebrugge (2019), plus Canary Islands mini-terminals at Tenerife (2020) and Las Palmas (2021) that have all reached final investment decisions. Not yet having reached FID but listed among several that are making progress is the Krk floating import terminal in Croatia (2018).
Several planned transmission and storage projects are also listed in the TYNDP.
Mark Smedley