Black Sea Oil & Gas Awards Romanian Midia Feed
Carlyle International Energy Partners' wholly owned subsidiary Black Sea Oil & Gas has awarded UK-based Xodus Group the front-end engineering and design (Feed) contract for the facilities needed for the development of its Ana and Doina gas discoveries in shallow waters of the Romanian sector of the Black Sea, it said November 17. BSOG is operator with 65%.
BSOG CEO Mark Beacom said: "With this award we take a major step forward in delivering this offshore gas development in Romania's Black Sea with expectations that we will reach final investment decision in 2017. We look forward to once again working with Xodus Group."
Xodus Group CEO Wim van der Zande said: "The development of the XV Midia Shallow Block is of strategic importance to gas production in the region and we are pleased to be continuing to support BSOG on its plans to develop the Ana and Doina discoveries. Xodus Group continues to grow experience in the Black Sea and the new contract allows us to draw on our global expertise of delivering fully integrated engineering projects."
BSOG's other asset is the Pelican Block concession in the Romanian Black Sea where it is the operator and holds a 65% interest.
BSOG offshore blocks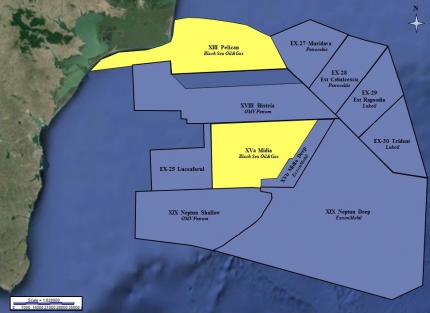 (Credit: BSOG)
William Powell