Can LNG Be a 'Magic Fuel'? [NGW Magazine]
The prevailing theme at the 2018 Word Gas Conference (WGC) in Washington, DC last summer was natural gas a fuel of the future. In April, WGC's companion gathering, LNG 2019 in Shanghai, China, offered the liquefied version of natural gas as a critical component of a sustainable future.
From opening comments from the CEOs of two of the world's biggest LNG developers to commercial and technical presentations from more than 240 speakers, sustainability was a prevailing theme: sustainability of production and sustainability of consumption.
The CEO of US supermajor ExxonMobil, Darren Woods, reminded the conference's opening plenary of the role natural gas can play when displacing coal in power generation, offering governments around the world the prospect of less carbon-intensive economic growth.
"Substituting natural gas for coal in power generation provides an immediate, large-scale, and proven option to make significant progress in lowering global emissions and improving air quality," Woods said. "That's why gas demand is projected to outpace overall energy demand in the coming decades, and why many people refer to natural gas as the 'fuel of the future.' I would argue it's also the fuel of the present."
In the same session, Chevron CEO Michael Wirth noted that the world needs energy, but it also wants a clean environment. Natural gas, and LNG delivered globally, can meet those two divergent goals – much more effectively and reliably than any other fossil fuel and, indeed, most renewables. In the US, he said, two-thirds of the 14% reduction in energy-related CO2 emissions since 2005 have been attributed to natural gas – or about 80 times greater than reductions achieved by putting more electric vehicles on the road.
"Simply put, there is no realistic, achievable plan to reduce greenhouse gas emissions and address climate change; there is no environmental solution of any kind, that doesn't include a major role for abundant, reliable, cleaner natural gas," Wirth said.
Even Andy Calitz, CEO of Canada's first LNG project, the Shell-led LNG Canada project on BC's northern coast, touched on the emissions reductions achievable from natural gas.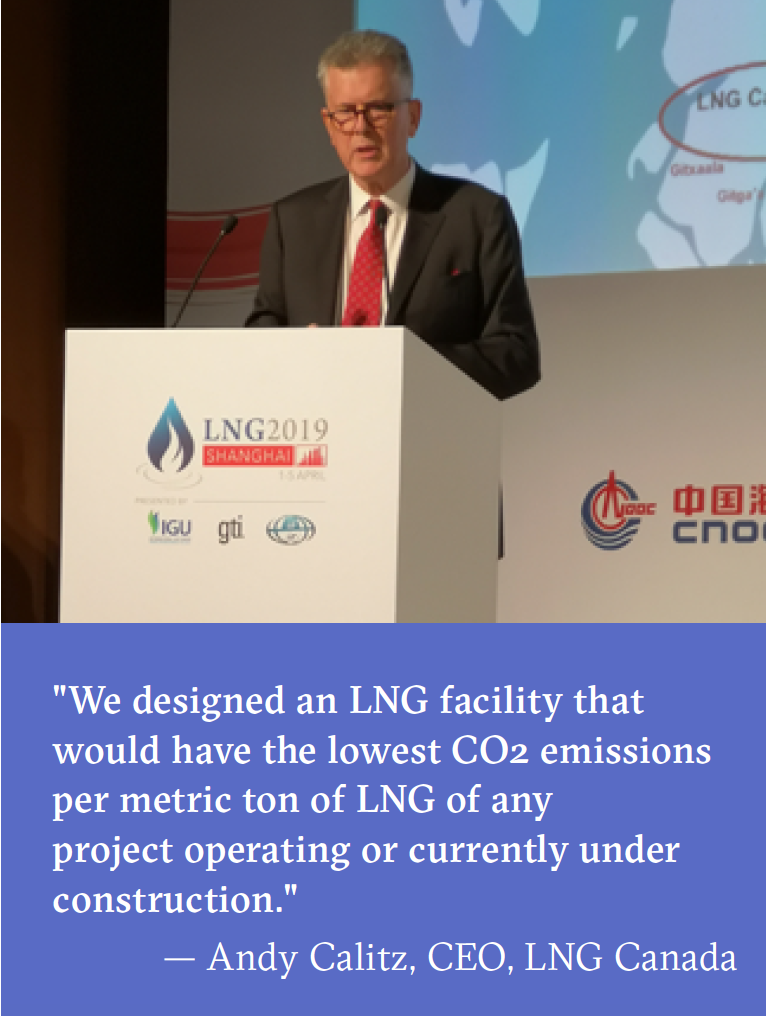 "We designed an LNG facility that would have the lowest CO2 emissions per metric ton of LNG of any project operating or currently under construction," he told a commercial session later in the week. "BC has established an emissions intensity target of 0.15 mt of CO2/mt of LNG – we beat that."
In short, said Bob Dudley, CEO of British major BP, LNG can be seen as a "magic fuel" for helping achieve ambitious – some would say unreachable – greenhouse gas emission reductions targets and moving the world to a net-zero position in the second half of the century.
"In many ways LNG is a 'magic fuel' for what the world has to do in terms of this energy transition, but it's also got to be credible, because it is a greenhouse gas," Dudley told a plenary session titled LNG: A Sustainable Fuel for a Sustainable Future.
Earning that credibility, Dudley said, relies on the industry being able to demonstrate to the world that it can move natural gas to liquefaction terminals without losing any along the way, that it can transport the LNG to markets without losing any along the way, that it can burn re-gasified LNG "very, very efficiently.
"As good as gas is in comparison to other fuels, it can be better, and the world needs it to be," he said. "In time, our aim should be for the sustainability of gas to bear comparisons with renewables, and one way to do that is to minimise methane emissions."
For Peter Coleman, CEO of Australian gas and LNG developer Woodside Energy, reducing methane emissions needs to be the focus of the industry going forward, not just from existing infrastructure but also in designing new liquefaction terminals, new pipelines, new production facilities.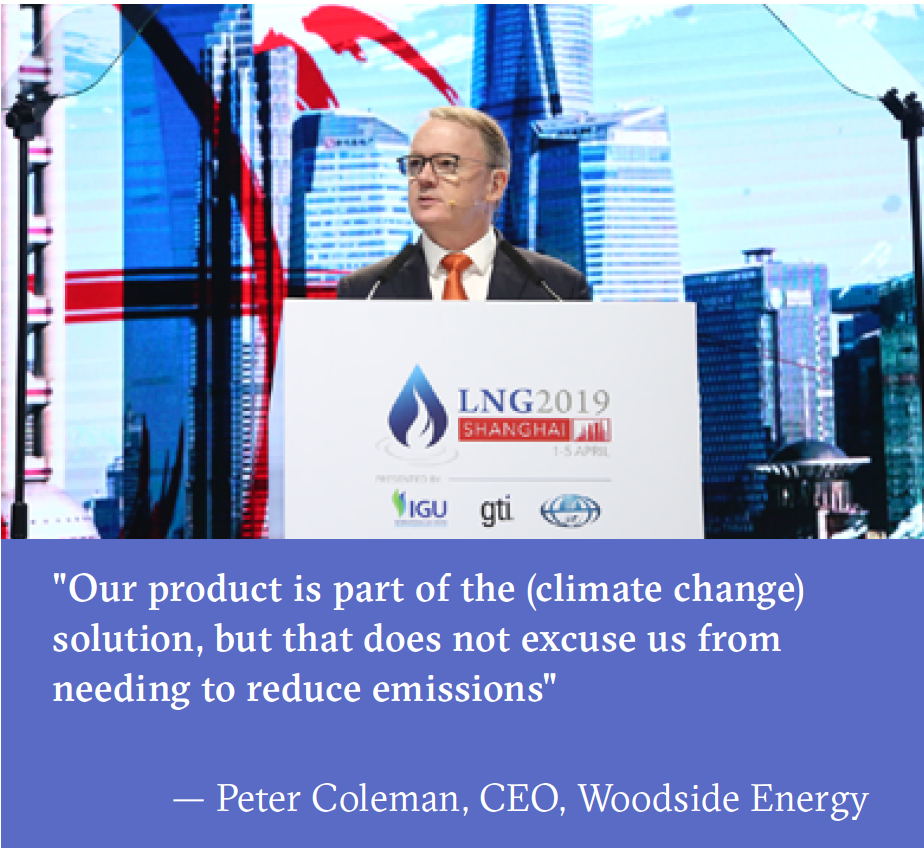 "Our product is part of the (climate change) solution, but that does not excuse us from needing to reduce emissions," Coleman said, stressing that such reductions need to start at home. "We need to improve our own operations, increasing energy efficiency, reducing methane emissions across the natural gas value chain and investing in bio-sequestration."
Swaying public opinion to the benefits of natural gas, BP's Dudley said, remains a major challenge for the industry – with many still adamantly opposed to any fossil fuel, even natural gas, remaining in the global fuel mix.
"You'd be surprised that people think it should go away; it should all be renewables, that it's a race to renewables," he said. "But it's got to be a race to reduce emissions and all these things our industry can do – we are good at solving big, complex problems."
The methane emissions theme – highlighted at WGC in Washington – was a key talking point in Shanghai: one session on the opening day was devoted entirely to the topic, and it was raised frequently in many of the remaining three days of the event.
Keisuke Sadamori, a director of the International Energy Agency (IEA), told a session on managing methane emissions that indirect emissions from the production, processing and transportation of natural gas account for between 15% and 40% of its full lifecycle emissions – and methane emissions account for nearly two-thirds of those total emissions.
"Eliminating methane leaks and reducing flaring are some of the most cost-effective ways to provide drastic reductions to the emissions intensity of oil and gas supply," Sadamori said. But methane can leak at virtually any point in the natural gas value chain, he said, and efforts to reduce those leaks need to include all options.
Spain's main natural gas transmission company Enagas is already tackling many of those source points for methane emissions in its systems, gas assets general manager Rodriguez Suarez told the same session, and between 2013 and 2018 was able to reduce venting and fugitive emissions by 38%.
By 2021, Suarez said, Enagas is targeting an 85% reduction in fugitive emissions and is counting on a robust leak detection and repair (LDAR) program to identify and mitigate most of its fugitive emissions. Still, he said, there is always room for innovation and new technologies to be brought into play to reduce uncertainties associated with detecting and quantifying them.
But global efforts against methane emissions go far beyond earth-bound detection and repair programs. In 2021, Environmental Defense Fund (EDF), in partnership with Harvard University and the Smithsonian Astrophysical Observatory, will launch MethaneSAT, a compact satellite designed to pinpoint the location and magnitude of methane emissions virtually anywhere on earth.
Mark Brownstein, EDF's senior vice-president of energy, told LNG 2019 that reducing short-lived pollutants like methane – a more powerful greenhouse gas than even CO2 – along with carbon is critical if the rate of global warming is to be slowed. But, he said, it can only be done with a combination of robust data, deep analytics of that data and technological innovation – the kind of innovation that MethaneSAT will bring to the equation.
"The data MethaneSAT collects will help companies and countries identify emission sources, see opportunities to reduce them, and track those reductions over time," Brownstein said in a blog posted the day after his Shanghai presentation. "The data will be available to the public at no cost, so that we all can make sure both industry and governments are getting the job done."